We are hiring for a year-round full-time Greenhouse Grower position located in Morris, CT.
White Flower Farm is seeking to fill the following position immediately.
Do you have a passion for plants? Do you enjoy working as part of a team? Do you love working outdoors? If so, then this may be the job for you!
Summary
Greenhouse growers are responsible for all care and maintenance of greenhouse products. They are responsible for crops in assigned houses and for recognizing and reacting to crop problems.
Essential Responsibilities
Watering:
Check plants daily. Water thoroughly and carefully, checking for dry spots and paying special attention to newly potted seedlings. Avoid over watering and between watering wilting.
Housecleaning:
Empty ccompost barrels and bins frequently. Keep houses free from debris by cleaning up after project and keep weeds under control.
Inventory:
Maintain inventory of crops in assigned houses. Report any culls to the supervisor — discard empty pots/dead plants from culls immediately.
React to crop problems:
Report crop problems to the supervisor (examples: wilt, insect damage, leaf spots, distorted leaves, etc.). Research what the problem is and take corrective action immediately.
Lifting:
Ability to read schedules, pick and load plants and fill orders during shipping season.
Pesticide application:
Obtain Private Applicator's license. Practice safe spraying procedures (PPE, mixing, loading, record keeping, clean up) and participate in spraying duties.
Oversee greenhouse temperatures:
Report any problems or abnormalities to the supervisor (examples: low temperatures, vent distortions, deflated houses)
Every third weekend duties. Water and check temperatures, ventilation and/or furnaces.
Additional assignments as needed. (May include covering, fertilizing, shading, cutting back, pruning).
Required Skills
Motivation, dependability.
Unfailing attention to detail.
Excellent interpersonal communications skills. Ability to work as part of a team.
Ability to adapt to constantly changing priorities.
Willingness and ability to learn a wide variety of aplant terminology.
Position Requirements
Ability to to lift 40 lbs. or more and walk to multiple greenhouse locations and other buildings at the nursery.
Ability to perform repetitive tasks.
Ability to perform work indoors and outdoors in various weather conditions.
Generous benefit package offered!
---
We are hiring for a year-round full-time, entry-level Soil Specialist located in Morris, CT.
Summary
The Soil Specialist supports the Potting department by assuring that soil is made to specification and is ready consistently for efficient workflow. The Soil Specialist assists the Lead Potting Coordinator transporting plants from propagation to the potting department and loading potted product on trailers and delivering to the greenhouses.
Essential Responsibilities
Mix soil per soil recipes ensuring consistent quality and availability for the potting line.
Understand and report soil component inventory and pot inventories.
Perform materials handlings responsibilities using the forklift, skid steerer and tractor.
Label plants as they are potted.
Return work orders with potted quantities in a timely manner to plant production coordinator.
Maintain all soil equipment — assist maintenance department with greasing fittings, oil changes, tighten and replace belts as needed.
Take direction and communicate with Plant Production Coordinator, Lead Potting Coordinator, Store and Greenhouse supervisors and growers.
Help keep area in and around Potting clean at all times.
Maintain tractors, New Holland and Bobcat fluid levels and perform daily inspection.
Perform all potting and production duties when required.
Load and unload delivery trucks.
Work in other departments when needed.
Required Skills
Valid Driver's License.
Forklift, skid steerer and tractor skills.
Responsible and focused on safety at all times.
Ability to perform without supervision and within a team.
Nursery experience preferred.
Good communication skills both written and verbal.
Physical endurance for walking, standing, and materials handling.
The ability to lift 40 lbs. or more.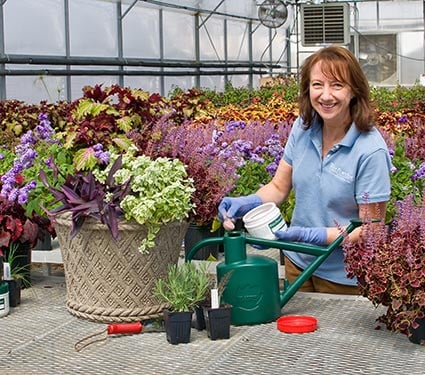 If you are interested in joining our team, your options are many:
In person: apply at our headquarters, located at 30 Irene St, Torrington, CT 06790
Monday - Friday 9 a.m. to 3 p.m.
Online: Click here to complete the attached PDF version of our application and email to [email protected]
Postal mail: Manager of Human Resources
White Flower Farm
30 Irene Street
Torrington, CT 06790