White Flower Farm is seeking to fill the following year-round and seasonal positions for the Spring Season starting in mid - late February in our Morris, CT and Torrington, CT locations.

Assistant to Head of Gardener.

This is a full time year round position in our Morris, CT location.

Working under the direction of the Head Gardener, the Assistant to Head Gardener is responsible for participating in the care and maintenance of the garden areas on the Farm grounds as well as assisting in the supervision of all seasonal staff. While working as a lead member of the Grounds team, the Assistant works closely with the Head Gardener to learn cultural requirements, watering techniques and planting processes for all gardens and containers. Additionally, the Assistant participates in the Product Development process in all categories related to garden plants.

Essential Responsibilities
Garden Activities: Participate in all garden-related activities. Keep all designated garden areas in impeccable condition. Perform maintenance duties including weeding, edging, raking, deadheading, planting, staking, fertilizing, composting, supervised pruning, and mulching. Ensure garden areas are free and clear of obstructions and kept as neat and clean as possible. Organize garden equipment and tools each day, storing them in their proper locations. Communicate with customers and provide them with guidance and advice for their gardening inquiries. Supervise seasonal staff in their daily gardening tasks under the direction of the Head Gardener.
Planting Projects: Work with the Head Gardener on planting projects. Spring planting includes perennials, annuals, and shrubs. Fall planting includes bulbs.
Watering: Participate in watering duties related to the display gardens and planted containers. Learn the watering systems at the Nursery and become familiar with the watering needs of each display garden/container, watering when necessary. Share weekend watering duties as necessary.
Product Development: Participate in the product development process involved in trialing and evaluating new products within all garden plant categories. Actively contribute new product ideas. Attend new product brainstorming sessions when possible. Attend garden walks as assigned.
Winter Work: Provide support for product development projects and garden design. During the period beginning mid-November until early Spring, also provide assistance to other departments wherever work is available with the goal of continuous learning of plants and production. The work schedule is dictated by seasonal work availability and the assigned departments may change periodically.
Equipment and Machine Operation: Utilize garden tractors in a safe and careful manner. Ensure seasonal staff follow safety guidelines and protocols.
Supervisory Support: Provide Supervisory support to the Head Gardener. Monitor and tend to watering needs of containers and gardens. Oversee administrative duties if required.
Other functions: Provide assistance for seasonal projects when required. Assist in other departments on rainy days. Participate in all WFF events. Perform other related duties as required.
Skills Required
Strict attention to detail and accuracy.
Excellent communication skills.
Self-discipline and focus on work related duties.
Demonstrated understanding of quality and customer service.
Ability to work independently as well as cooperate within a team.
Position Requirements
The ability to lift 50 lbs. or more plus walk, stand, sit and or kneel extensively, and work outdoors in any weather environment.
Valid Pesticide Applicator's license is helpful but not required.
Horticultural knowledge gained from previous experience or education.
Professional gardening experience is required.
Flexible scheduling of hours, may include some weekends.
Microsoft Office experience.
Valid US Driver's License.
Prior supervisory experience.
---
Warehouse Associates (Torrington, CT) - Seasonal schedule; 32-40 hours per week, 7:00 AM - 3:30 PM, Monday through Friday, weekends when needed. We're seeking reliable, motivated, hardworking warehouse staff for Picking, Packing, Material Handling and Stocking our shipping facility. $10.10/hour
Requirements:
Strong attention to detail, accuracy and good communication skills;
Ability to read English;
Lifting weight of 40 lbs., standing for long periods, and perform repetitive tasks such as bending, lifting and pulling carts;
May be required to work in areas such as a freezer/cooler at temperatures between 28-38 degrees; and
Good attendance and punctuality.
---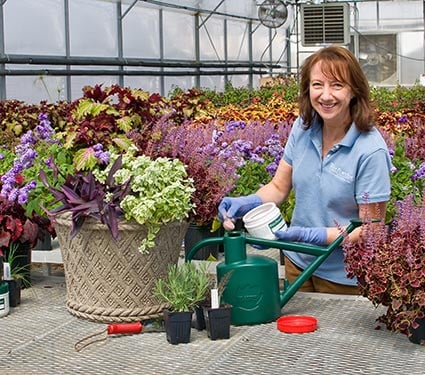 If you are interested in joining our team, your options are many:
In person: apply at our headquarters, located at 30 Irene St, Torrington, CT 06790
Monday - Friday 9 a.m. to 3 p.m.
Online: Click here to complete the attached PDF version of our application and email to [email protected]
Postal mail: Manager of Human Resources
White Flower Farm
30 Irene Street
Torrington, CT 06790