Farm Fresh Beef
Naturally Raised Angus from White Flower Farm
Available November 2018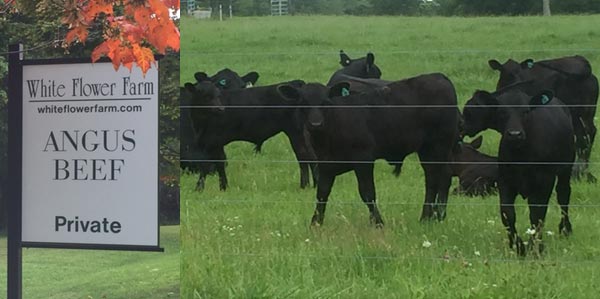 MAKE A DATE TO VISIT OUR PASTURES AND CHOOSE YOUR ANGUS COW FROM OUR HERD OR LET US SELECT ONE FOR YOU. YOU WILL BE REWARDED WITH HEALTHY AND DELICIOUS BEEF FOR YOUR FAMILY AND FRIENDS.
HERE IS WHAT YOU NEED TO KNOW:
At White Flower Farm, we maintain a small herd of Black Angus cattle from which we annually sell all the steers and an occasional heifer. These animals are bred on our farm and spend their entire lives outdoors on our pasture. Each day, they receive a small ration of grain which serves to gather them together so we can check their wellbeing. Their water comes from the same well that serves our house. There are no chemicals of any kind in their feed or environment. The pasture grazing is supplemented year around with hay from our fields. The grain ration is increased in the last couple of months before harvest to add sweetness and tenderness to the meat. When they are harvested at about 18 months of age, they have never been hungry or force fed, never roughly handled, never touched by a cattle prod or chased by a dog. We are proud to provide a life with the dignity and freedom from fear that they deserve.
For further information or to schedule a visit or place an order, please email us.
WHAT CAN YOU BUY AND HOW IS IT PRICED?
We offer either whole or half animals which are normally committed to well in advance with a deposit of $500 for a whole cow and $250 for half which payment goes towards the full price.
The total cost of the transaction is based on the hanging weight of the animal. The hanging weight is the weight of the skinned carcass minus the head, feet, hide and offal. From our experience and past history, our animals at that stage hang at about 700 pounds.
We charge $4.75 per pound of hanging weight for a whole cow and $5.00 for a half cow, so the total cost for a whole cow is roughly $3,325 and for half a cow $1,750. That figure includes the cost of slaughter but not the processing, which is outlined below.
HOW MUCH MEAT DO YOU GET?
When you buy a whole or a half a cow, you can decide how your beef is cut and packaged according to your tastes and needs. It might sound overwhelming at first but it is part of your learning process and part of the fun too. The total weight of your finished products will depend on your preference for cuts, bone-in versus boneless, and the fat content of the ground beef. The rule of thumb is that a 700 pound carcass will deliver about 450 pounds of finished product of which roughly half will be ground beef.
HOW MUCH FREEZER SPACE WILL YOU NEED FOR YOUR BEEF?
You should plan on approximately one cubic foot of freezer space for every 15-20 pounds of meat. Accordingly, for ½ of a steer, you will need about 7 cubic feet.
WHAT CUTS OF BEEF DOES A WHOLE COW PROVIDE?
You can, as mentioned above, adjust the processing to meet your own needs but the following example is a common "cut sheet".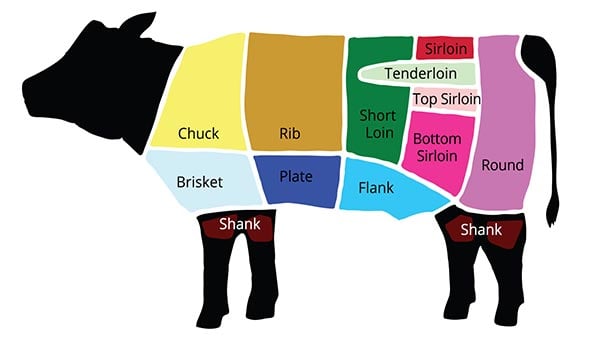 THE STEAKS:
18 NY strips
20 Ribeyes
12 London Broils
4 Flat Irons
2 Flanks
10 Boneless sirloins
THE ROASTS:
2 Tenderloins
2 Briskets
6 Chucks
4 Shoulder Clods
4 Eye of rounds
2 Rumps
6 Sirloin tips
THE OTHER CUTS:
Beef stew and Kabob
Short Ribs
Ground Beef
Liver, tongue, heart, marrow, neck, and dog bones are also part of the package if desired.
YOUR PROCESSING COST is paid directly to the service provider of your choice.
Please note that the animal you purchase for your own consumption, not for commercial use, can be processed at a USDA exempt custom processing plant. Upon request we will provide you with a short list of such plants in your area.
For further information or to schedule a visit or place an order, please email us.