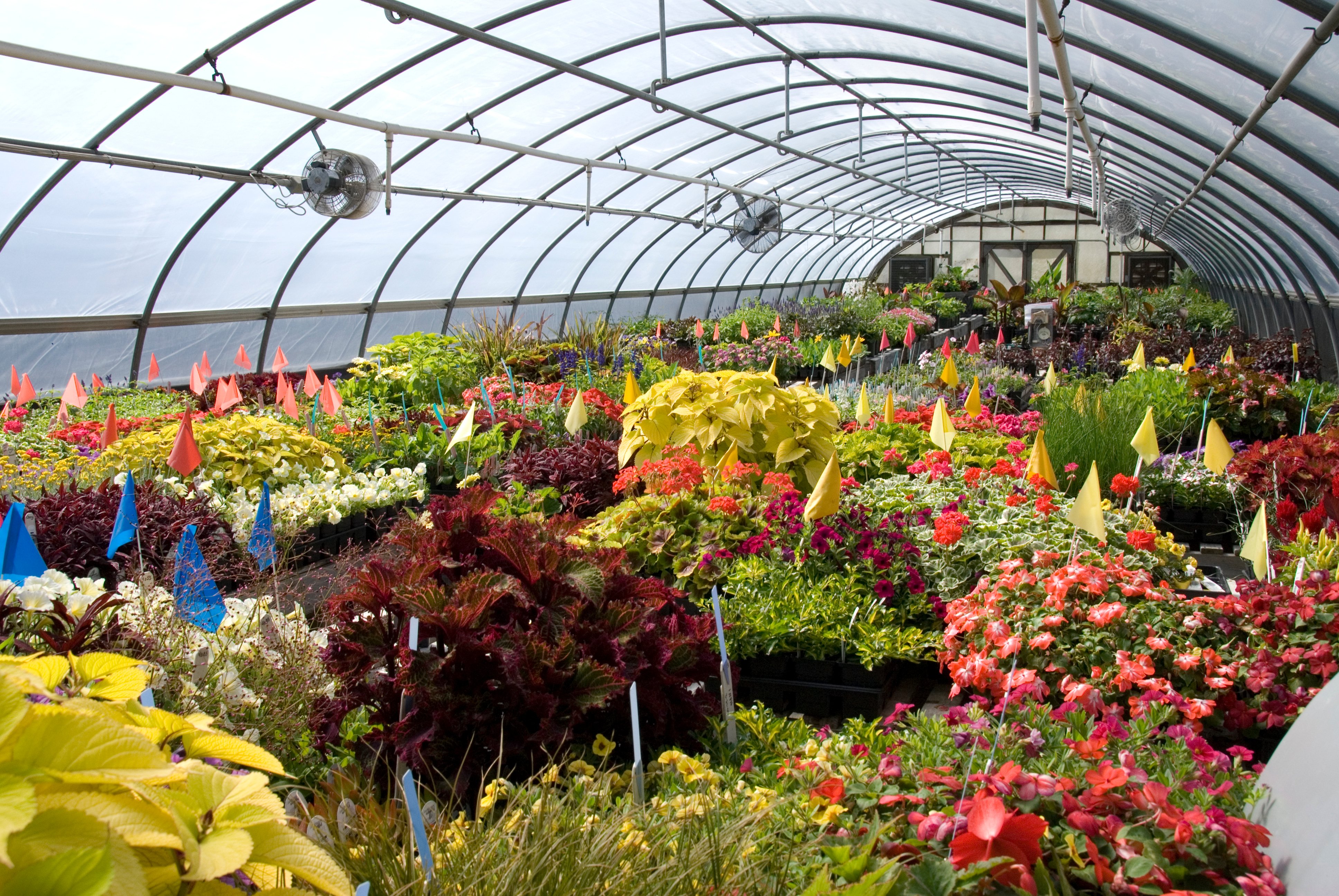 Tips for Creating Beautiful, Successful Patio Pots
In our part of the country, the high and low temperatures of spring are beginning to even out, and the danger of frost will soon be past. That's when we pot up collections of annuals (and sometimes a few perennials) to decorate our porches and patios. Each spring, our staff members have fun creating new plant combinations. To help you create yours, here are a few tips: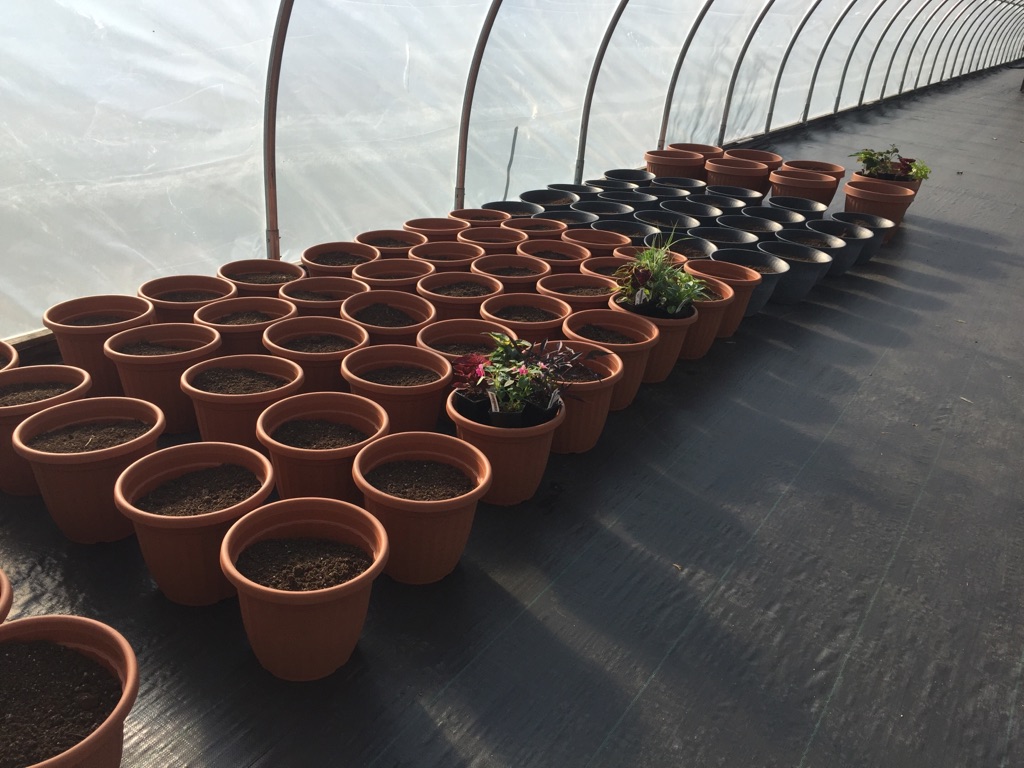 Selecting Container Pots
Start by selecting container pots. The variety is limitless, which is both a good and bad thing. The advantage is you have lots of choices – terra cotta, glazed, cast iron, plastic, footed, self-watering, etc. ­– but choosing too many pots in too many colors or styles can create a look fails to unify and isn't very appealing. As a general rule, you'll create a sense of visual harmony by choosing a grouping of pots that goes well together even before you add the plants. Then, as you fill them with annuals and perennials, it may look best to pot the same or similar plants in a variety of pots, or pot a variety of plants in the same or similar pots. When in doubt, keep it simple. Less can be more.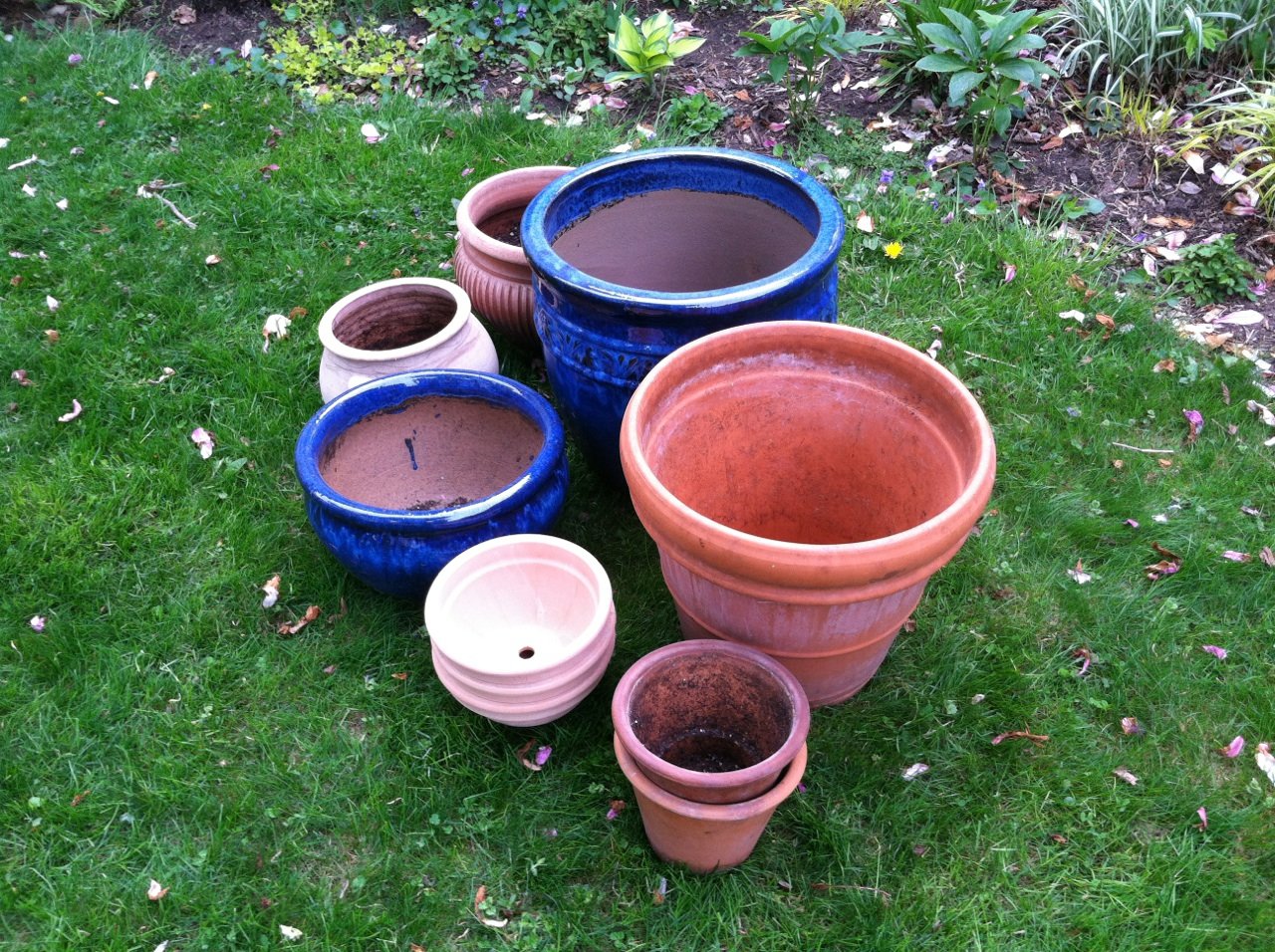 Remember to choose pots with at least one drainage hole, says our nursery manager Barb Pierson. If a pot has no drainage hole, drill one. If that's not possible, fill the bottom of the pot with gravel, river rocks, or Styrofoam peanuts to create a space for drainage.
Choose the right size pot for your plantings: Barb's rule of thumb is that 3 plants generally need a 12" opening, and 5 plants require a 16–18" opening.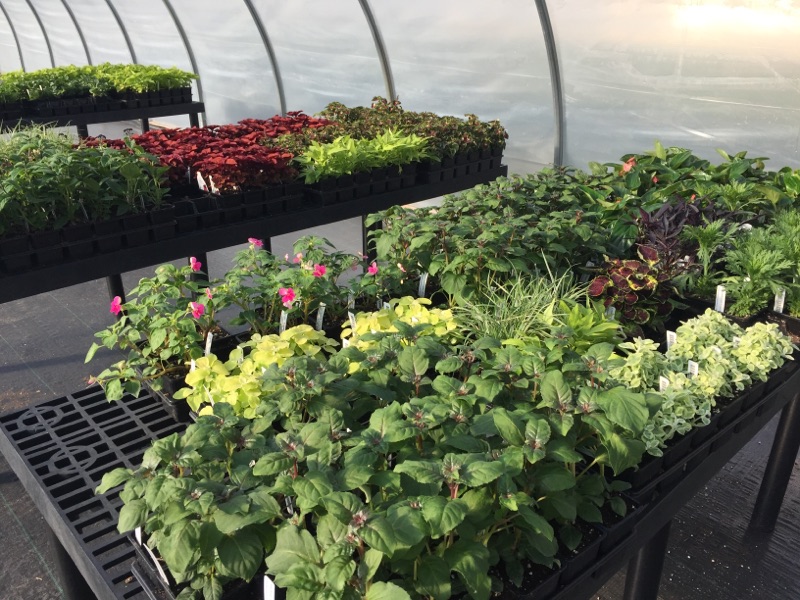 Know Your Site
Will your pots be in blazing sun all day? No problem! Choose zinnias, lantanas, salvias, and other heat lovers. Part-shade is very forgiving for most varieties. Are you designing pots for shade? Look for impatiens, fuchsias, caladiums, some varieties of coleus, and some types of begonias.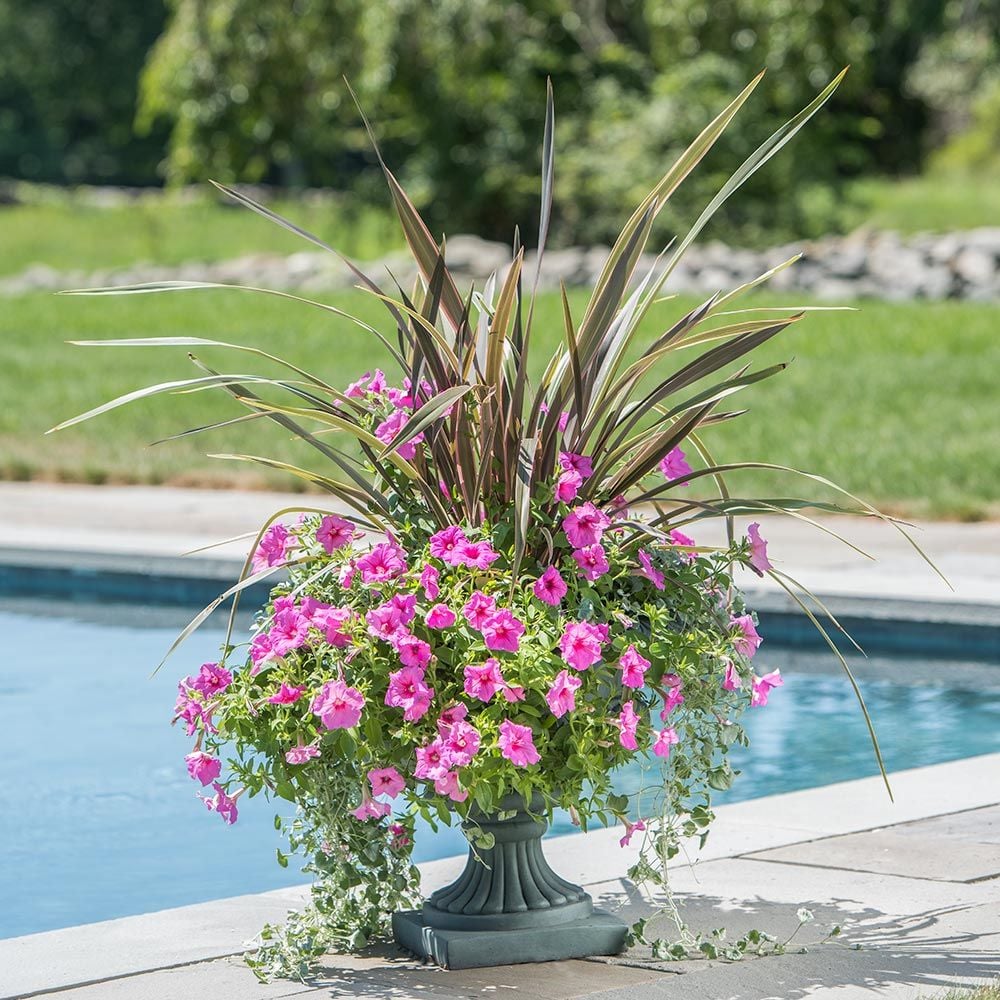 Play With Colors & Textures
To create a pleasing combination, play with plant groupings until you get something you like. Here at the farm, our staff members do this in the greenhouses where the annuals are grown. Customers are invited to "play with plants" at our Annual Container Workshops. Another way to experiment with various combos is to pull up images on your computer screen and create a collage. Or, collage the old-fashioned way by cutting out catalog photos and creating groupings of images until you're satisfied with what you see.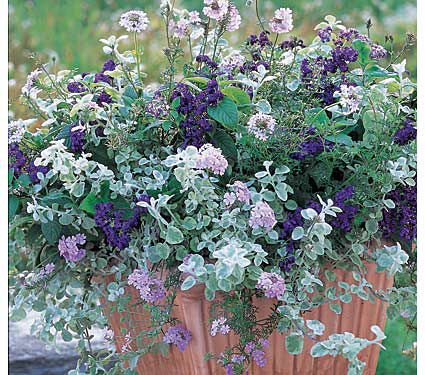 For best results, most patio pot combos should contain 3 types of plants: a thriller (which will be the tallest variety in the combo), a spiller (to cascade over the sides), and a filler (to fill in around the middle). Larger combos tend to have multiple spillers and fillers, but the thriller is generally a single, tall plant such as a grass, elephant's ears (colocascia), caladium, upright coleus, begonia or fuchsia, or a vine such as a low-growing clematis on a tuteur.
As you're working, pay attention to colors and textures. Are you using hot colors (red, yellow, orange, and lime), cool ones (blues, lavenders, whites and grays), or pastels (soft pinks, soft yellows, and baby blues)? Do you have a range of blossom forms and foliage types?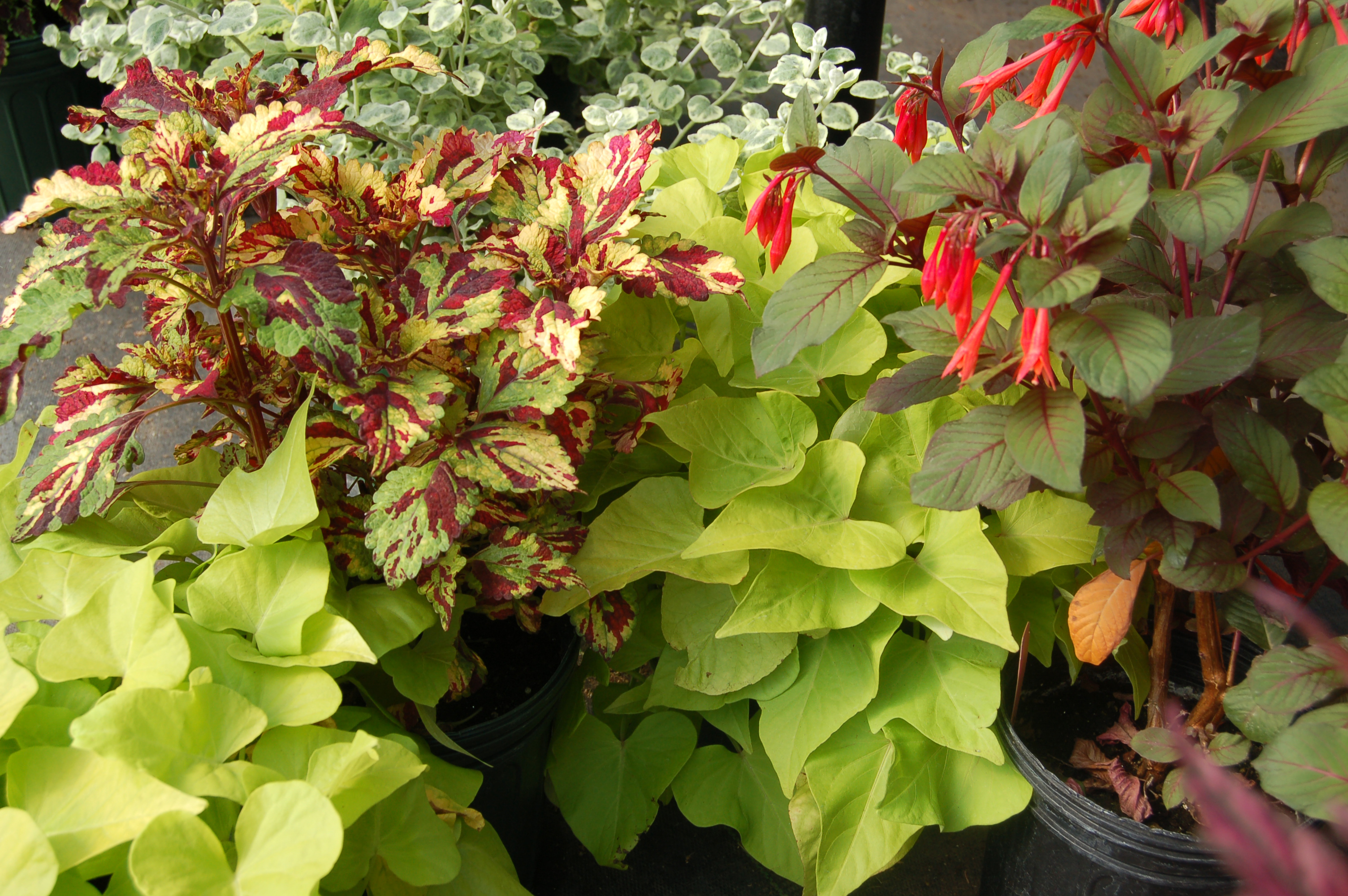 The Right Planting Mix
To begin your potting, fill your container with planting mix. Barb recommends a mix of ¾ high quality potting mix combined with ¼ compost. (The mix is also great for raised beds.) Water the mixture thoroughly until it is evenly moist but not soaking.
Now position your plants: Before you take them out of the pots they came in, set them atop the planting mix and arrange them in a way that will promote best growth and work best for your site. (If the pot is to be set against a wall or doorway, the "thriller," or tall plant, is best positioned at the back-center area of the pot. If the pot will be viewed from all sides, the thriller belongs in the middle.) Once you've settled on an arrangement, plant your annuals in the container pot. Be sure to fill in with soil around them. (You can use the tip of a trowel or even a large spoon to add more potting mix where it's needed.) Water again to dampen the soil that's been added, and let the combo settle.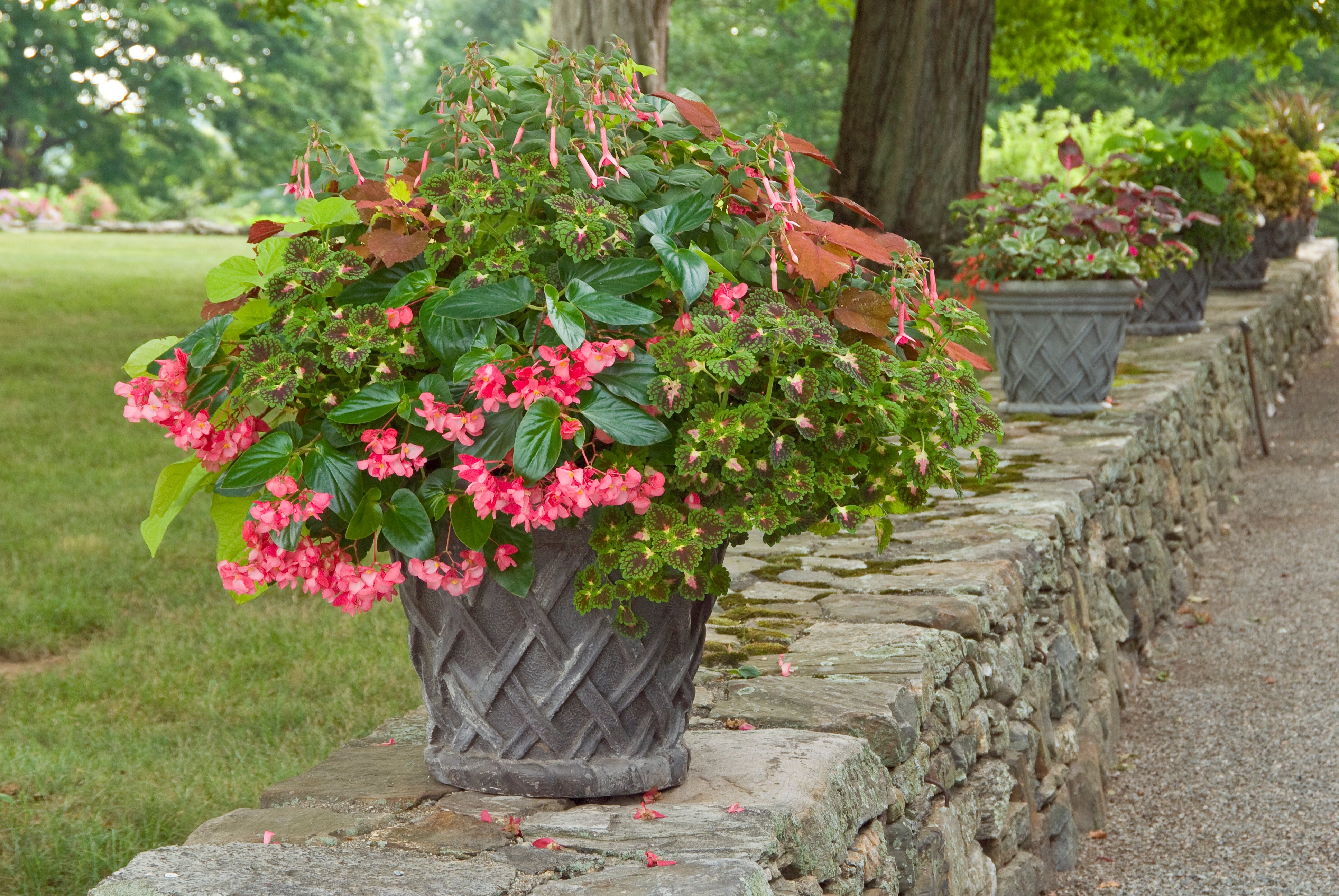 Feeding & Watering
Over the course of the season, check your pots for moisture daily and water as needed. Larger pots need less water. (In dry summers, container pots may need to be watered daily.) How do you know when your container pots need water? Look for the soil to shrink a bit from the sides of the pot, Barb says. When that happens, it's time to water. You can also test by sticking your finger in the soil mix. It it's dry an inch or so down, the plants need a drink.
Feed your plants. Annuals give their all in a single season, and they appreciate a bit of food to keep their blossom and foliage shows going. Barb recommends using a blossom-boosting fertilizer such as our All-Bloom. It makes all the difference, she says.
As the plants grow, trim back varieties that are more aggressive than others. Some varieties of coleus, and trailing plants including ipomoea (potato vine) and helichrysum are vigorous growers. Don't be afraid to get out the scissors for some judicious pruning. Pinching back plants including impatiens and coleus also helps encourage branching so you get bushier plants.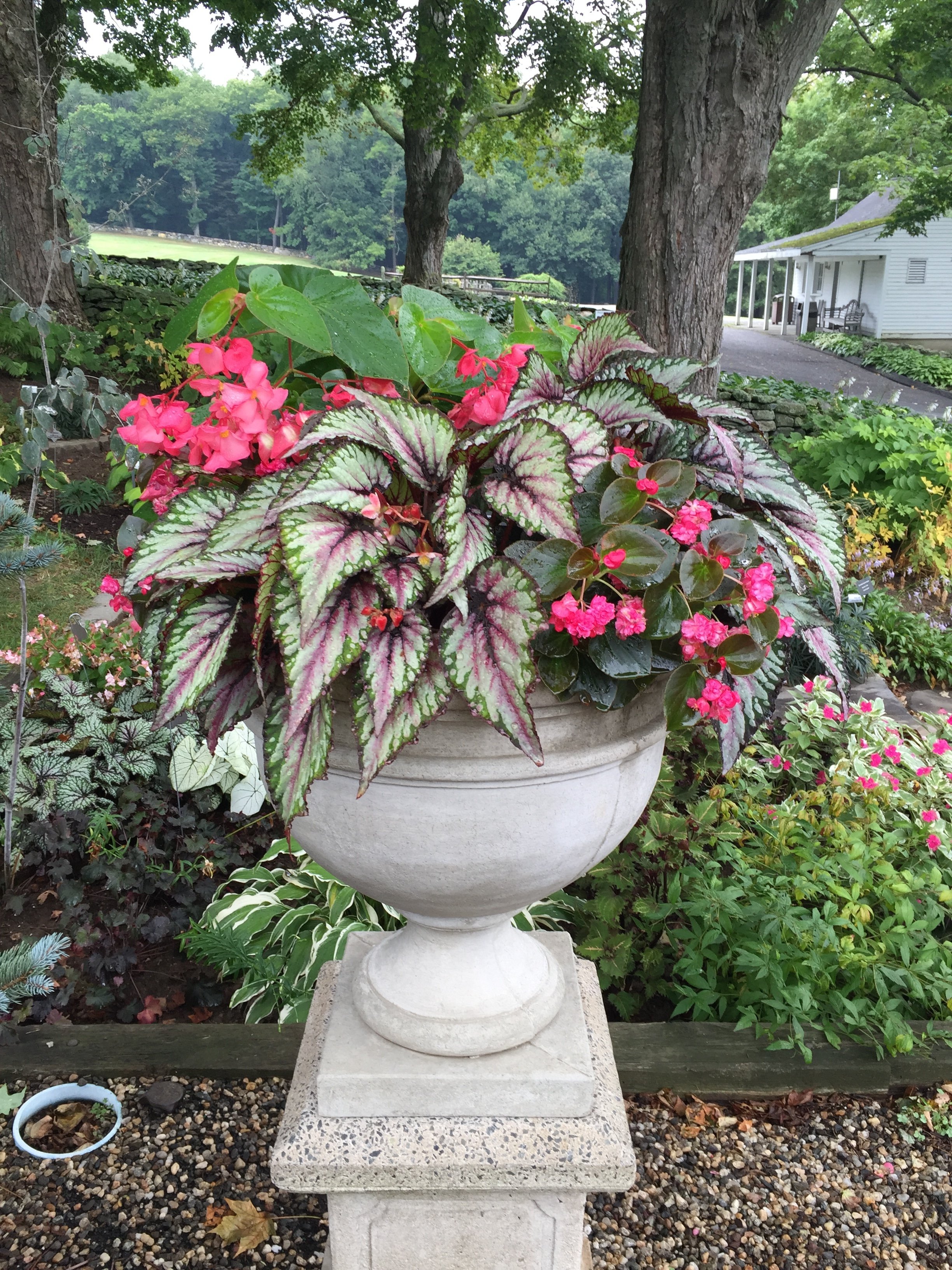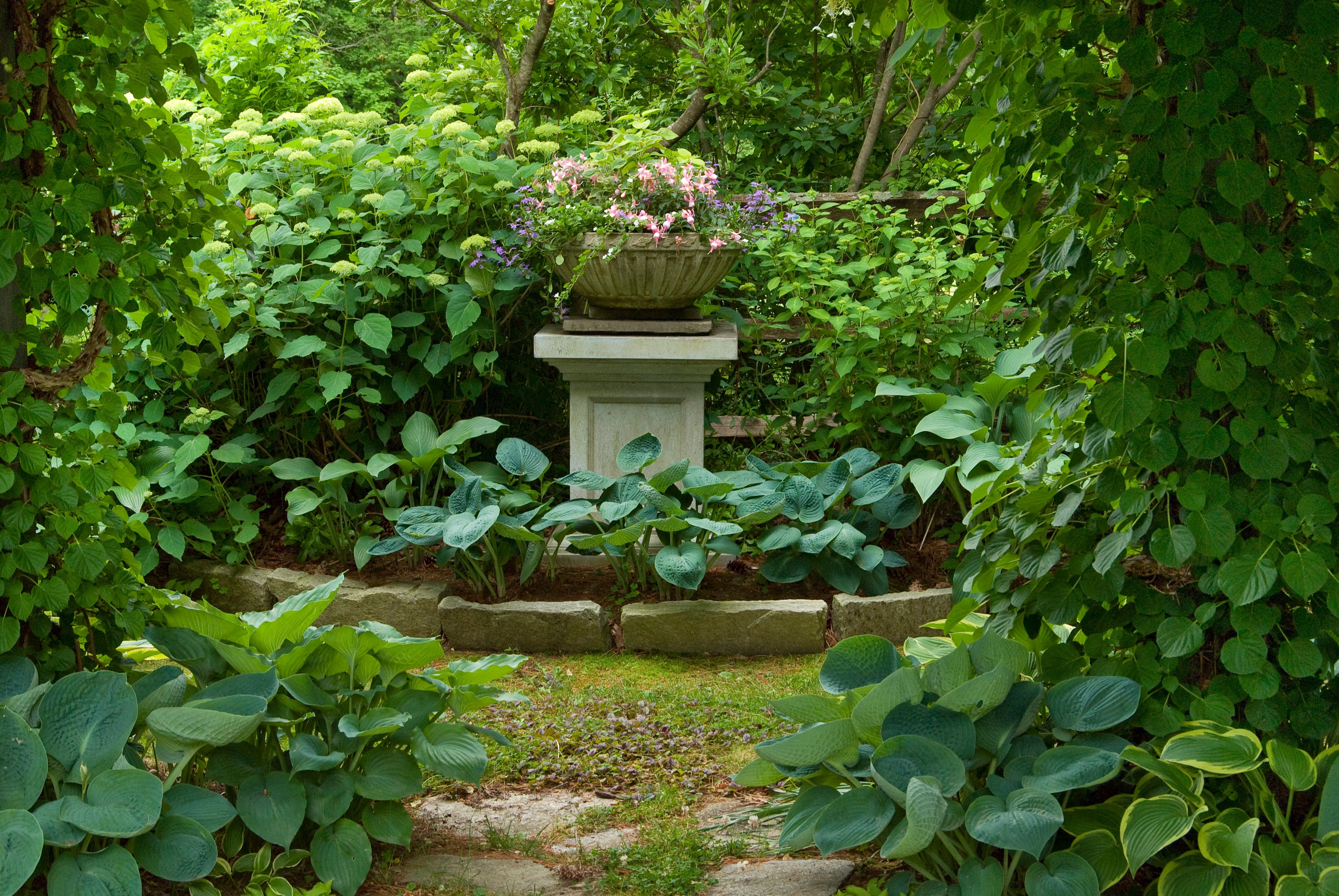 Not Just for the Patio
Colorful container pots are a joy to behold all season long, and they're not just for the patio. Pots also can be sited in garden beds and mixed borders, and in front of hedges and walls. A container pot full of colorful blossoms makes a lovely focal point when silhouetted against a green hedge or sited at the end of a path.
If we can help with your combinations, you know where to find us.