Around here, Amaryllis are generally enjoyed as indoor plants during the winter months. But last spring, we planted some especially cold-tolerant Amaryllis bulbs in our annual garden beds, and the results were gorgeous. To encourage you to enjoy the same stunning sights in your own garden, this year we're offering a few varieties of Amaryllis for spring planting in the garden. To plant outdoors in Zones 7 to 10, select a well-drained location in full sun. Locating bulbs in a protected, south-facing site will help ensure success. Plant each bulb with its shoulders 1″ above the soil. In areas where there is some frost but temperatures remain above 10°F, plant bulbs slightly deeper. Blooms will appear 4–6 weeks after planting. In fall, provide a layer of winter mulch.
For gardeners in climates that are colder than Zone 7, dig up the bulbs in the fall and bring them indoors. Cut off the foliage just above the bulb and store them in a dry, cool (55°F), dark place such as a basement or closet. When the chance of frost has passed in the spring, plant the bulbs outdoors in a sunny location.
Bred in Holland using cold-tolerant species, this pristine beauty produces an abundance of double, snowy white blooms with a hint of green deep inside.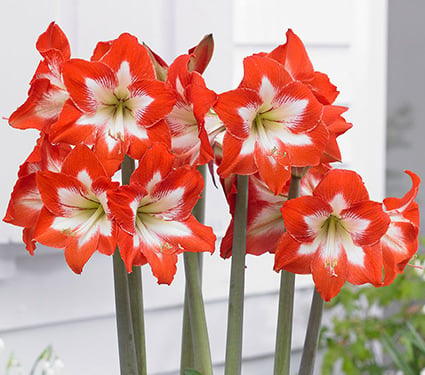 This beauty is bred from cold-tolerant species and can be a stunning feature of your summer garden. Eyecatcher® produces large 5½″ orange-red blossoms with bold white stars. It's a lovely surprise in your sunny border.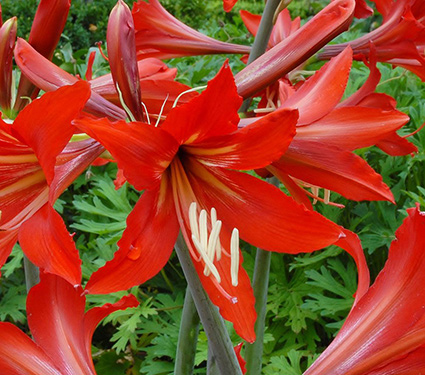 The fiery red, white-blazed blooms of this striking Amaryllis will make quite a statement in your summer garden. The blossoms appear atop tall stems, and the white anthers protrude dramatically, adding one more note of distinction.