Go behind the scenes with one of our Customer Service team members
By Jonathan Chesler
In today's world of e-commerce, it should come as no surprise that White Flower Farm processes the vast majority of its orders online. But the convenience of technology notwithstanding, about a fifth of our orders still come through our call center. Beyond the thousands of phone orders placed during the season, there are three times as many calls regarding order status and changes, product availability and features, and plant selection and care after purchase. Gardeners, it seems, like to talk to gardeners.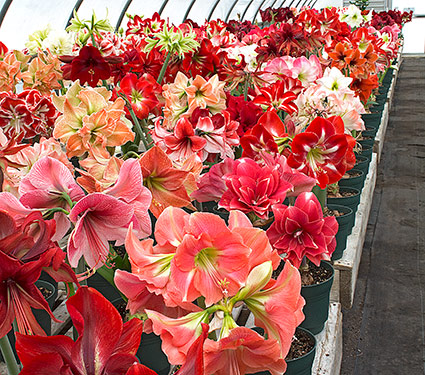 White Flower Farm's call center takes up only a modest amount of space in our shipping facility in Torrington, CT, and about half as much space as it used to in the Paleolithic, pre-internet days. The industrial building, converted from a former ball-bearing plant, provides us with the large open area required to efficiently store, package, and ship orders. Fifty cubicles are laid out in a grid in a large room with two walls of factory-style windows filling the center with natural light, allowing us to display along the sills all of the plants and hard goods that are offered in the catalog and on the website. In fact, the call center is ringed with pretty much everything sold by the company, so that agents can answer customer questions and refer to the specific products right in front of them.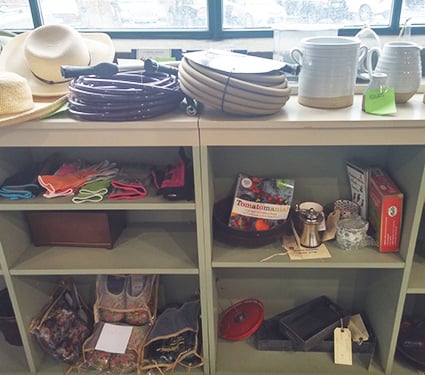 Experienced supervisors sit at the head of each row. Most have been on staff for several years and have many years if not decades of gardening experience. There are a few master gardeners present, and White Flower Farm has sent agents to the UConn Master Gardener course for the structure and breadth of knowledge it offers. Several supervisors and agents have years of experience in customer service, including one who came from Aetna and another who worked in customer service settings in a half-dozen places before joining the staff at White Flower Farm. I was new to the department. While my official title is assistant to the head gardener, I spend several of the colder months, when our gardens are dormant, helping out in customer service.
Lauren, the training supervisor, started showing me the ropes in the weeks before Thanksgiving. After an overview of the call center and how to field calls and enter requisite order data, she had me sit in and listen to incoming calls while she answered. In short order, I was answering and she was listening. Once the training wheels came off, Lauren was readily available whenever I had a question for her.
Agents who come in without much gardening experience are quickly brought up to speed with close training and frequent refreshers. There is lots of knowledgeable help only a cubicle or two away, either in consultation with a fellow agent or a supervisor. There are a daunting number of complex details for agents to keep in mind. Agents not only have to master the software and phone systems required to take and place orders, they need to know about product availability and potential substitutions (for example, different varieties of Amaryllis), shipping options, and a heck of a lot about hundreds of plants, garden products, and gardening.
I thought coming into the call center with several years of experience in horticulture would prepare me well, and it did, but every day someone would ask me a challenging question about some plant I don't know well, or some growing condition I hadn't considered. One customer wanted to know if we could ship a box of Honeybell fruits to California, a state that generally blocks most citrus shipments. After some research, we found out that yes, only certified vendors like White Flower Farm are allowed to ship citrus to California.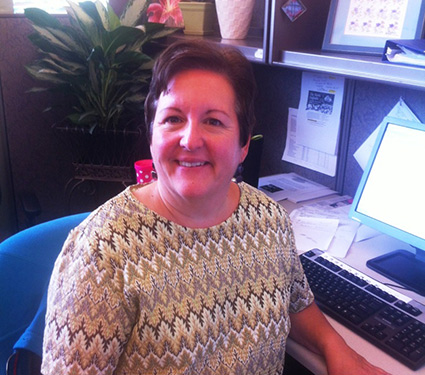 Cathy, our senior horticulturist, keeps agents up to speed on terminology, the company's catalog and website offerings, and where to find information in both. She also showcases seasonal and new plants at meetings, and sends out Horticulture Quizzes and Challenges. Would you, our reader, like to take a Horticultural Quiz? Here's a typical one for you. (Answers appear at the end of the post.)
How long does it take to force a Dutch variety of Amaryllis into bloom?
Why should Amaryllis be turned every few days once they begin to grow?
Why is the shipping of all tender plants dependent on temperature and weather?
What one factor determines how tall an Amaryllis flower stalk may get?
Why might Amaryllis growth be greenish-yellow when the box is opened?
In addition to ensuring thorough training and supervision, Michelle, the customer service department manager, holds weekly meetings. Despite the universal eye-rolling that the word 'meeting' tends to engender, there are too many details that change too often not to touch base regularly. Michelle goes over the big picture –including details of phone and web order volume, and statistics regarding calls – and gives us other relevant information, such as how quickly orders are moving and how weather will impact shipping. It's a high-wire act to ship live plants during the busiest season of the year, and we want customers to get their plants in a timely fashion, and in as beautiful and healthy a condition as they were when they left our greenhouses.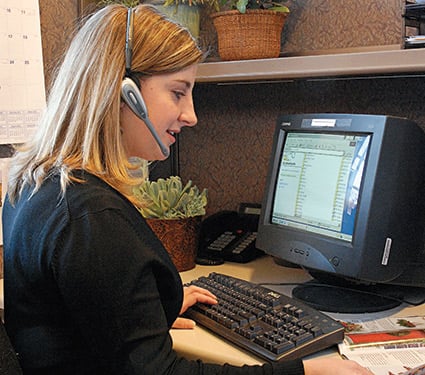 New or popular plants are presented at meetings along with examples of how they are packaged, labeled and shipped, so we can anticipate commonly asked customer questions and see how plants are packaged for transit. Lastly, those of us in the trenches are asked for our input. In this way Michelle keeps her fingers on the pulse of the center and hears directly from us about how customers are feeling, what concerns are coming up, and how we can best deal with them.
The types of questions customers ask tend to shift over time. At the start of each season, we answer a lot of questions about products, then availability, and then queries about shipping and how items arrive, such as what the heat packs are and how to dispose of them. (They're used to ship tender plants in cold weather, and they should be tossed in the trash.) As Christmas approached last year, questions switched to expedited shipping, and returns. Shortly after, enviably organized people began ordering out of our Spring 2018 catalog.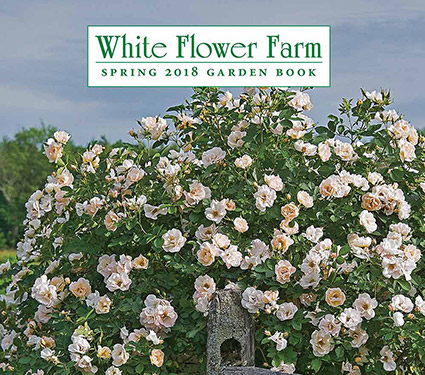 When answering calls, we start with a short script that begins: "Thank you for calling White Flower Farm . . ." Despite being scripted, the agents are sincere, and the introduction reminds us to be so. Once through the introduction, we need to verify existing customer information or enter a new customers' details. While this housekeeping can feel tedious for existing customers, I found that in about half of calls, an address, email or phone number had changed, either for the customer or one of their gift recipients. In several cases, a spouse or partner wanted email confirmation and tracking of a surprise gift order to go to a different email address than the one we had on the account. Clarifying these details is essential to ensuring that everything arrives where and when it should.
The most common calls are about product availability, shipping dates and times, and questions regarding order processing through the website. Shipping questions can pose a challenge, especially when products are requested to arrive before, after, or between certain dates. Like most e-tailers, we are dependent on shipping companies like UPS, and the unknowns can be tricky to navigate.
Just as with any of our plants, White Flower Farm agents are carefully selected, provided with good growing conditions, trained and tended with good supervision and care, all with the aim of providing the best service possible to our customers. As a call center 'ephemeral,' I bid my colleagues goodbye for the season and have returned to the greenhouses and garden beds of Morris, Connecticut. I look forward to returning to the call center in the fall. In the meanwhile, Thank you for calling White Flower Farm.
Answers to the Horticultural Quiz, above:
How long does it take to force a Dutch variety of Amaryllis into bloom?
8-10 weeks. Because we start shipping bulbs in mid-November, Dutch varieties generally do not bloom in time for Christmas. If it's a holiday flower show you're after, we also offer South African Amaryllis. These bulbs are harvested earlier than their Dutch cousins and take 6-8 weeks to bloom. They begin shipping in late September, which generally means you'll have blooms in time for the winter holidays.
Why should Amaryllis be turned every few days once they begin to grow?
Amaryllis leaves and stalks bend toward the light, and without being turned, the stalks stand a much greater chance of flopping over (and of being damaged) as they bend. Periodically rotating the bulb helps keep the growth even and straight.
Why is the shipping of all tender plants dependent on temperature and weather?
Tender plants shipped below threshold temperatures will not survive the cold or, if they do, may take a very long time to recover. Weather can be a factor, as a snowstorm can delay a truck. Tender plants shipped in cooler weather are bundled up with heat packs that extend the ability to ship them, but eventually the heat pack is no longer effective, and the added delay may be too much time.
What one factor determines how tall an Amaryllis flower stalk may get?
Available light. In lower light levels, Amaryllis stalks extend as they "search" for the light.
Why might Amaryllis growth be greenish-yellow when the box is opened? Amaryllis that have started to grow in the box, will not have had the necessary light to produce chlorophyll. They generally "green up" in a few days.