There's a Clematis for virtually every garden situation: choose the taller varieties to cover an arbor or a trellis, and grow the shorter and non-climbing types through shrub roses and small trees. You can also select Clematis varieties with different bloom times for flowers in virtually every season except winter. Flowering periods begin in early spring with the compact alpinas and macropetalas, then progress through early summer with the large-flowering hybrids, and continue through late summer with the texensis and viticella varieties to a flourishing finish with the exuberant Sweet Autumn Clematis (C. terniflora, also known as C. paniculata).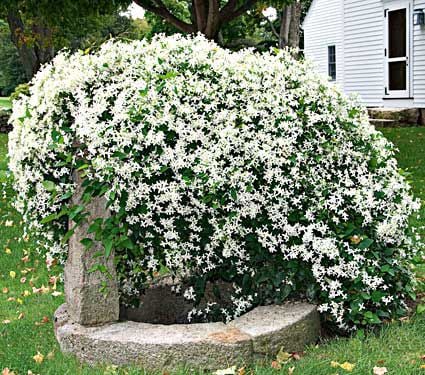 The vining Clematis climb upward on supports to create aerial floral displays. Try pairing two varieties with blossoms similar in form but different in color to play off against each other, or combine with Climbing Roses for a glorious contrast of color and form. Clematis also partner wonderfully with other vines, shrubs, and small trees, adding a second season to spring bloomers such as Lilacs or Crabapples.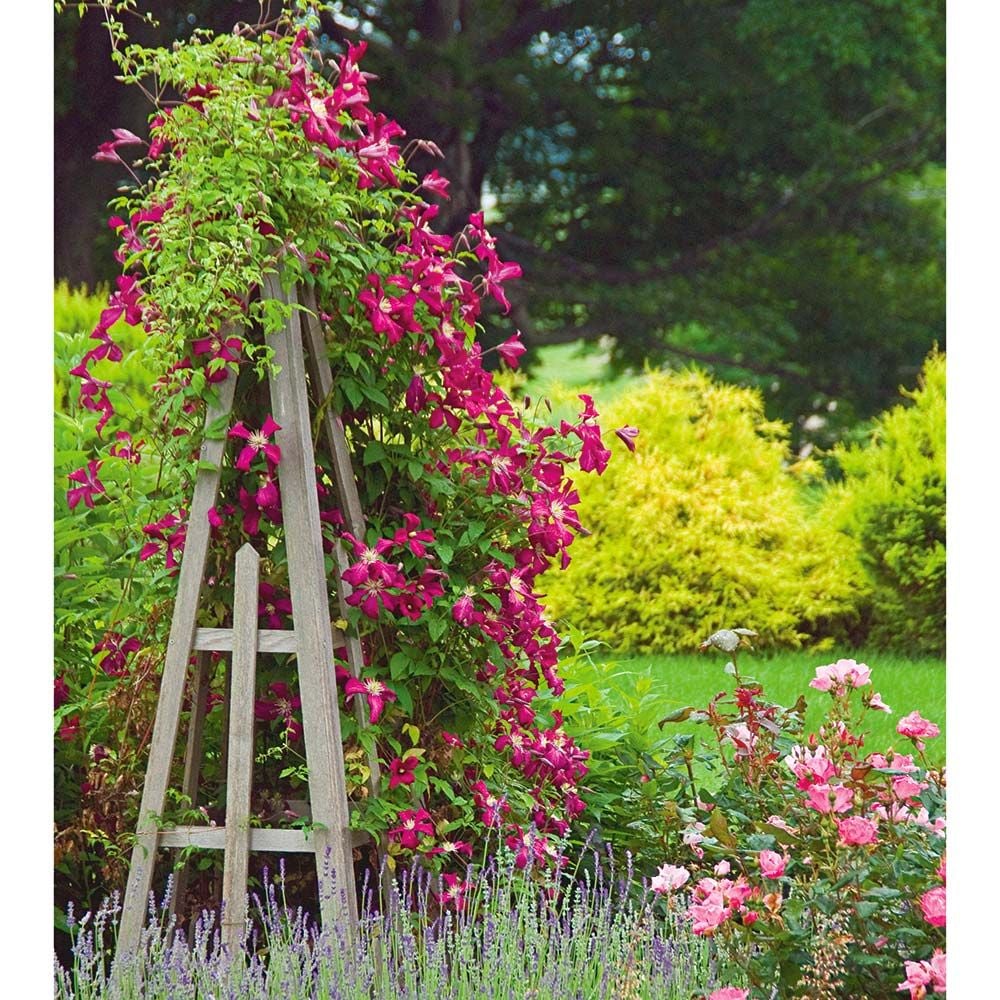 Because a Clematis climbs by twining its stems and leaf petioles around any narrow support, it is equally happy on trellising made of lathe, wire, bamboo, or rustic twigs. If you want the Clematis to grow up through a Rose, shrub, or small tree, plat it about a foot away from the base. With large trees, choose a vigorous variety and attach black nylon netting on the trunk for something it can cling to.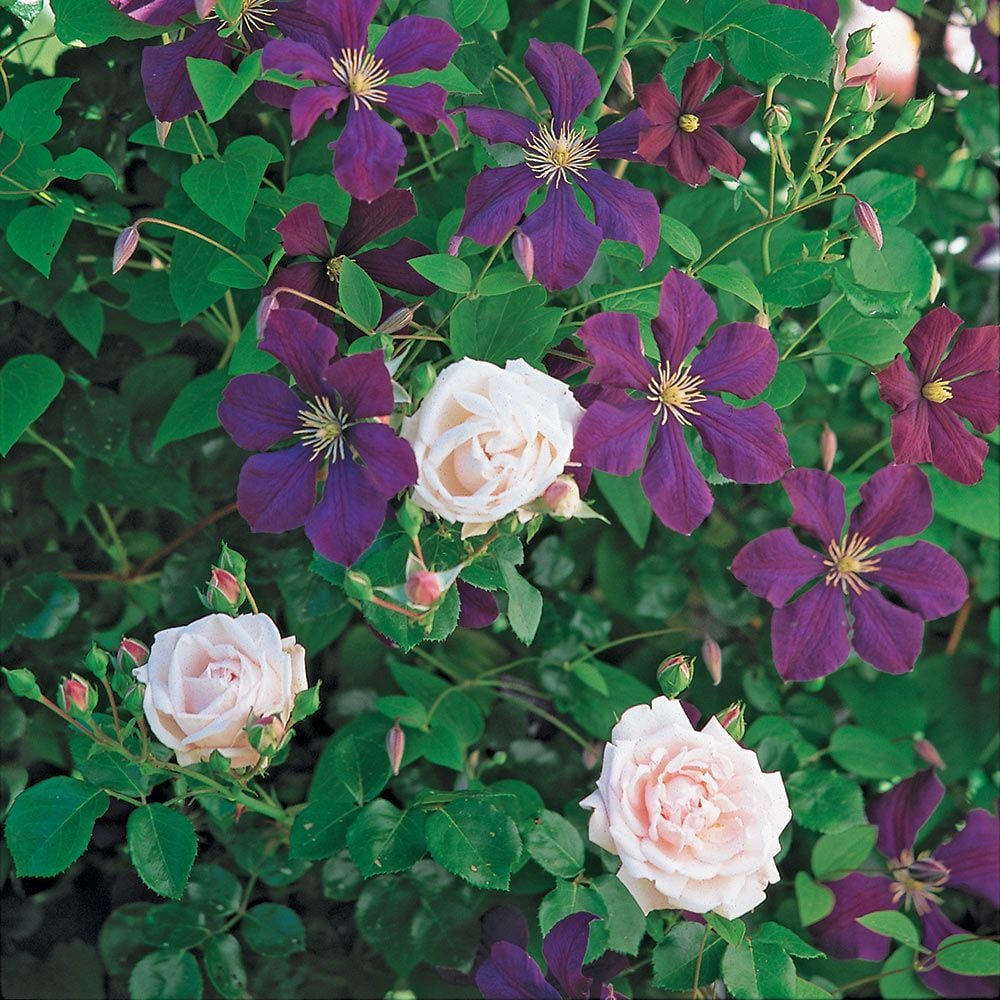 Non-climbing Clematis species have a more upright, clump-forming habit and can be supported by pushing twiggy branches into the soil near the plant's crown in early spring or by placing grow-through supports (such as those for Peonies) around the crown. Or, just let them ramble informally through neighboring plants like Shrub roses or along the ground or stone walls.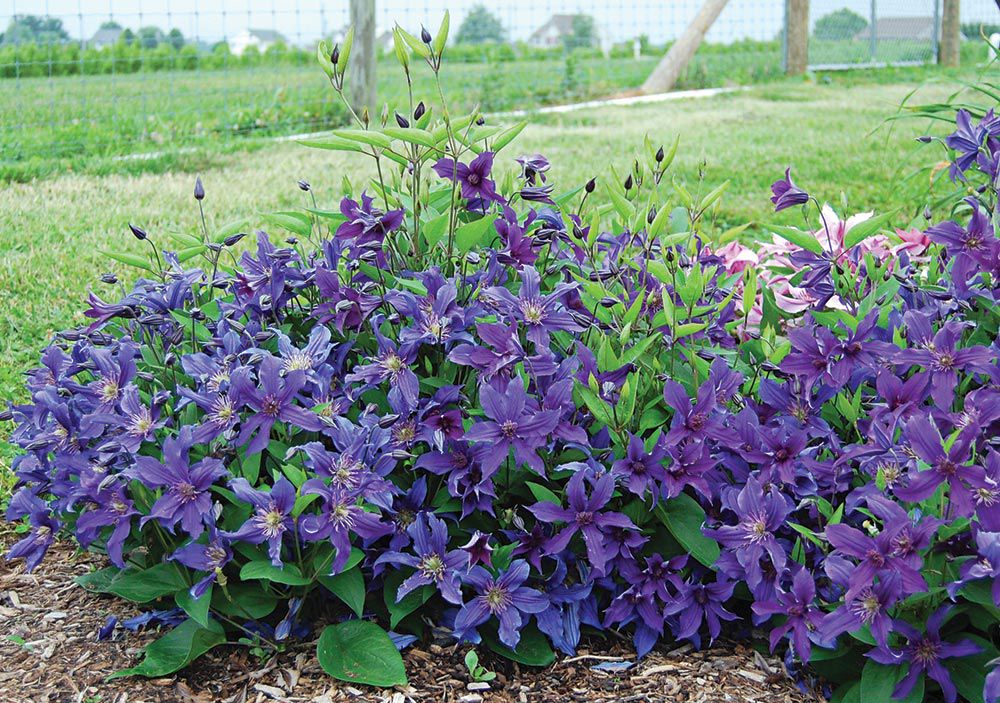 In general, Clematis need at least six hours of sun; some varieties are adapted to partial shade, and all benefit from afternoon shade in the South. Plant the crown of bareroot Clematis fully 3-4in  below soil level. They require shade at their roots — apply a 2in mulch (keep mulch about 4in from the crown) or underplant with annuals or shallow-rooted perennials. A neutral soil is preferable, and provide about one inch of water weekly. Clematis is a heavy feeder; apply a low nitrogen fertilizer such as a 5-10-10 in spring, when the buds are about 2 inches long. Then, add a balanced 10-10-10 fertilizer every 4-6 weeks throughout the growing season.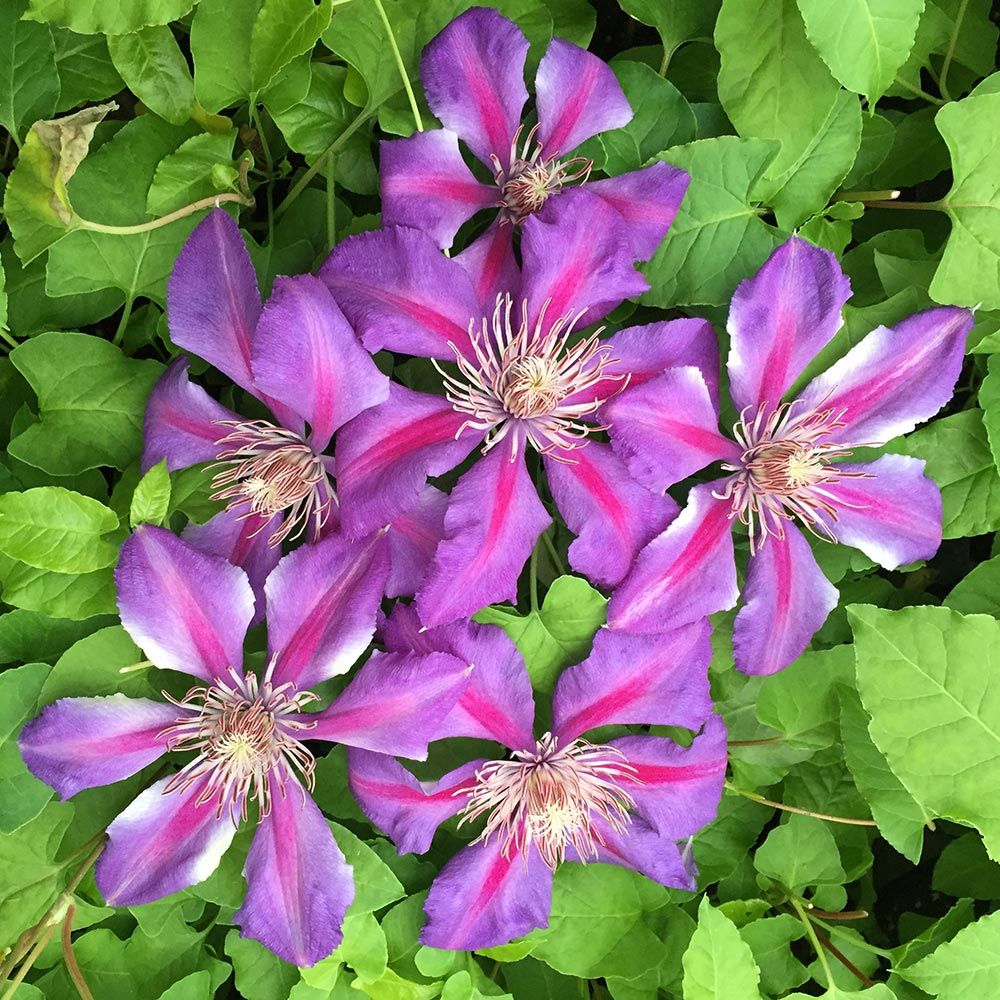 The main reason for pruning is to increase flowering, but not all clematis are pruned in the same way. They are divided into three major pruning groups depending on their bloom season; our Gardening Help section explains these specifics. However, dead or damaged stems may be removed at any time. Early in the first spring after planting, prune the stems of all Clematis varieties down to the lowest pair of healthy buds. Thereafter, prune to control size and shape or to encourage more profuse bloom. Older vines that are only flowering on a small area at the tops of the stems can be rejuvenated by cutting them back severely, to about 18in. Wait until after the first flush of bloom to perform the surgery. Gardening with Clematis can become a rewarding addiction — you can't stop with just one variety or one type.