The benefits and delights of growing Citrus indoors are numerous. For starters, these small trees with glossy green leaves are lovely to look at. When in flower, the scent of their blossoms is pure heaven. Then, of course, there is fresh, homegrown fruit to enjoy. A few easy tips will help you succeed in maintaining a healthy and productive Citrus plant.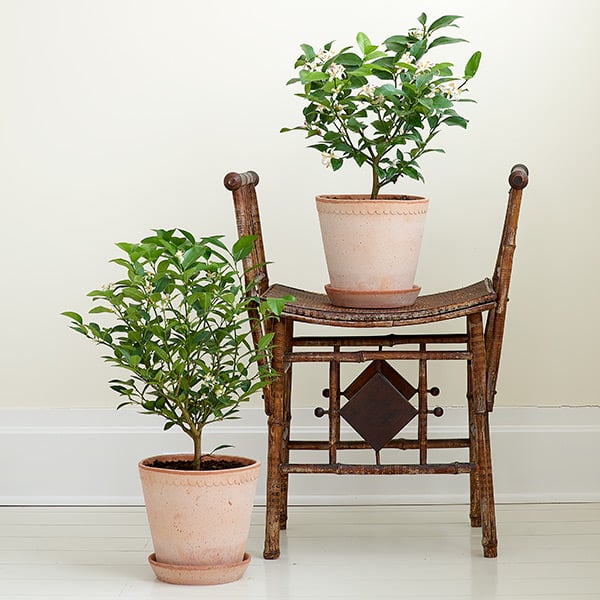 When you receive your plant, do not be alarmed if it begins to drop flowers, fruit, and/or foliage, as this is the plant's reaction to being shipped. Citrus plants need at least 4–6 weeks to acclimate to a new location and this acclimation can take longer if the plant is receiving less than 6 hours of direct sun per day. During this time, DO NOT fertilize the plant, as this will cause further stress. Once the plant is acclimated—which means the plant is able to produce and maintain new growth—you can begin fertilizing according to our recommendations mentioned below.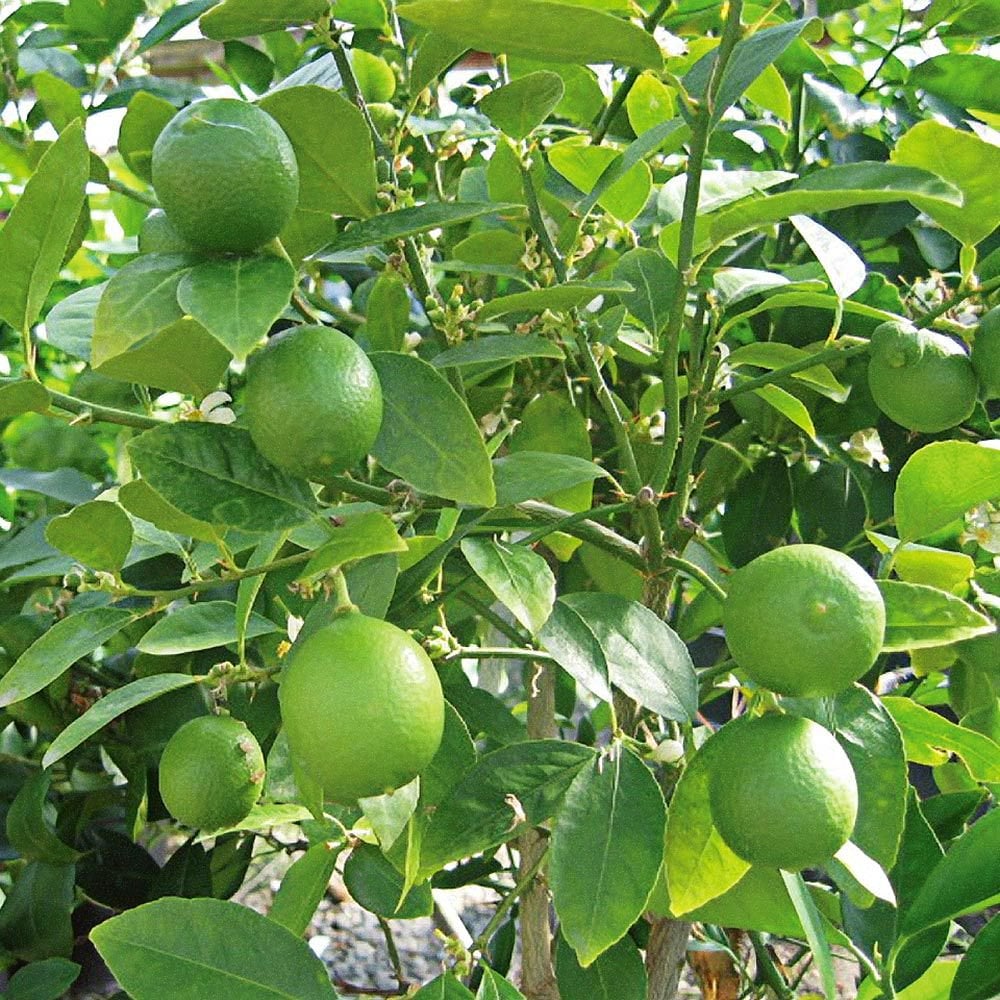 In most of the United States, these plants must be grown indoors, at least during the winter. Fortunately, their rootstock will keep them a manageable size (to no more than 4–5′ in a container), so they can summer on the patio and spend the winter in a greenhouse, an enclosed porch, or near a sunny, south-facing window. Move the plant outdoors in late spring if you'd like, but wait until the weather is warm and settled.
Gardeners in Zone 10 and warmer can grow Calamondin Orange and 'Meyer Improved' Lemon outdoors. 'Meyer Improved' Lemon is hardy in Zone 9 as well. Set the pot outdoors in a sheltered, lightly shaded spot, increasing the exposure to sun and wind each day. Check the moisture of the potting mix and water thoroughly if it's dry. At the end of one week (give or take a day or two), your plant will be ready to go in the ground. Choose a spot for your plant that receives full sun (at least 6 hours of direct sun each day) and is protected from drying winds. Planted in the ground, our Citrus will grow approximately 10′ tall.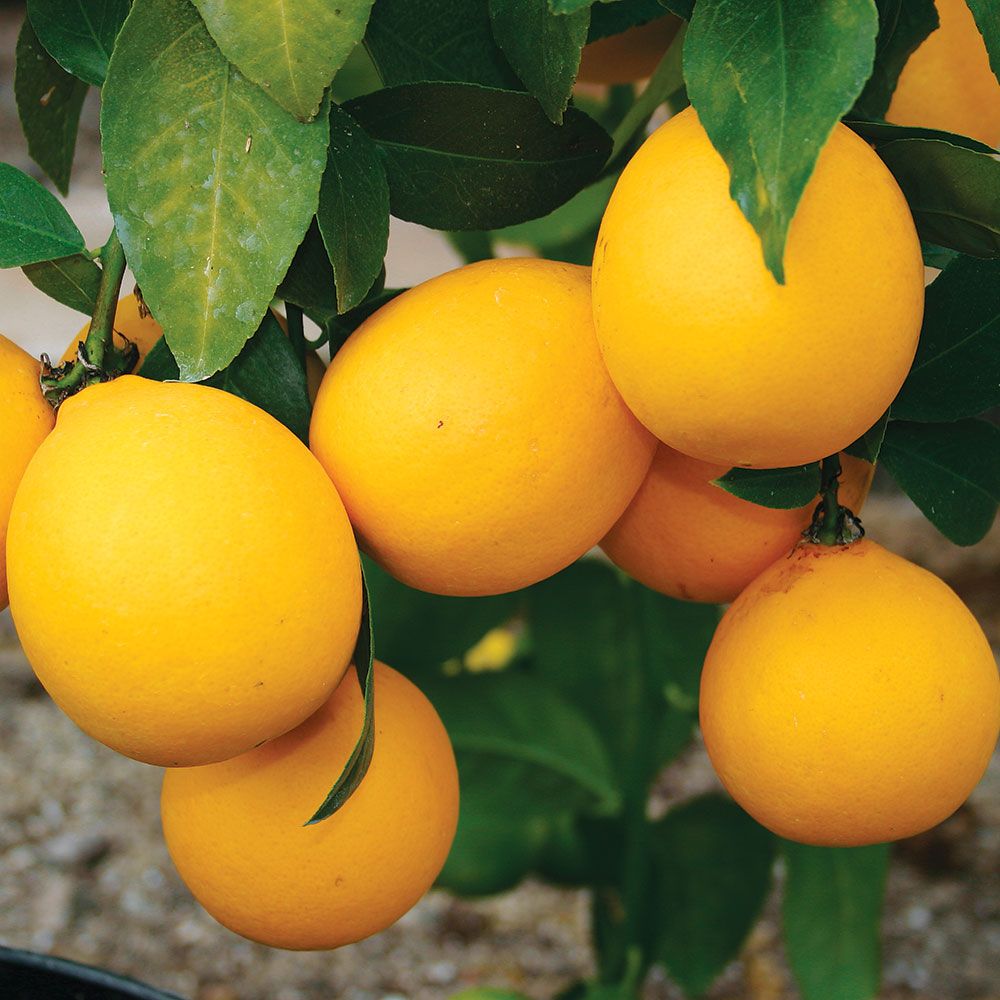 Since Citrus plants are heavy feeders, we include a nutrient spray and a slow-release fertilizer with all varieties. For the nutrient spray: Once your plant has acclimated to its new home (about 4-6 weeks from receipt of plant) and when it is warm enough to spray your plant outdoors in your area, add all of the product to 4 oz of water in a spray bottle (not included). Move the plant to a shady location and spray the leaves. Avoid spraying the blooms. Apply weekly until gone. For the slow-release fertilizer: Once your plant has acclimated to its new home (about 4-6 weeks from receipt), uniformly spread complete package contents on the soil at the base of your plant. Do not mix with water or apply to foliage.
Prune Citrus at any time of the year except winter. Pinch growing tips and cut back leggy branches to help a spindly tree fill out. Suckers (shoots growing from below the graft or emerging from the soil) should be cut back as soon as they're noticed.
To learn more, watch our short video "How to Grow Citrus Plants" below.