In time for Mother's Day, those of us who love gardens and gardening thought it would be lovely to celebrate a handful of legendary female gardeners. From England's Vita Sackville-West, Gertrude Jekyll and Beth Chatto to New York's Beatrix Farrand and Lynden Miller, these are women who have deepened our understanding of plants; taught us how to choose them, care for them, and combine them to create beautiful gardens; furthered the evolution of garden design; and instilled in us an appreciation of green spaces and their crucial importance to the life and well-being of people, communities, and the planet. Scroll below to read more about these remarkable women, listed here in more or less chronological order, and to see just a few of the plants they have taught us to cherish.
Gertrude Jekyll (1840–1932)
Gertrude Jekyll trained as an artist and initially set out to become a painter, but it was in the garden that she found her full and truest expression. As a designer and horticulturalist, her credits include more than 400 gardens in England, Europe and North America. Her work is characterized by a painterly use of color and a more naturalist style of planting than had previously prevailed in England. Jekyll's long association with architect Sir Edwin Landseer Lutyens, a pioneer in the Arts and Crafts movement, began with their collaboration at Jekyll's home, Munstead Wood in Surrey, where Lutyens designed the residence, and Jekyll created the gardens. Lutygens and Jekyll went on to other collaborations, cementing a professional partnership that came to typify the English country style of the period. "The 'Lutyens-Jekyll' garden had hardy shrubbery and herbaceous plantings within a structural architecture of stairs and balustraded terraces," writes a keen-eyed Wikipedia source. "This combined style, of the formal with the informal, exemplified by brick paths, herbaceous borders, and with plants such as lilies, lupins, delphiniums and lavender, was in contrast to the very formal bedding schemes favoured by the previous generation in the 19th century. This 'natural' style was to define the 'English garden' until modern times." In addition to her other talents, Jekyll was a prolific writer and gifted photographer who wrote countless magazine articles and more than 15 books. Among the best-known are Colour Schemes in the Flower Garden, Home and Garden, and Wood and Garden. In 1911's Colour Schemes in the Flower Garden, Jekyll writes, "I am strongly of the opinion that the possession of a quantity of plants, however good the plants may be themselves and however ample their number, does not make a garden; it only makes a collection. Having got the plants, the great thing is to use them with careful selection and definite intention. Merely having them, or having them planted unassorted in garden spaces, is only like having a box of paints from the best colourman, or, to go one step further, it is like having portions of these paints set out upon a palette. This does not constitute a picture; and it seems to me that the duty we owe to our gardens and to our own bettering in our gardens is so to use the plants that they shall form beautiful pictures . . . It is just in the way it is done that lies the whole difference between commonplace gardening and gardening that may rightly claim to rank as a fine art. . . . In practice it is to place every plant or group of plants with such thoughtful care and definite intention that they shall form a part of a harmonious whole, and that successive portions, or in some cases even single details, shall show a series of pictures. . . . it is to be always watching, noting and doing, and putting oneself meanwhile into closest acquaintance and sympathy with the growing things."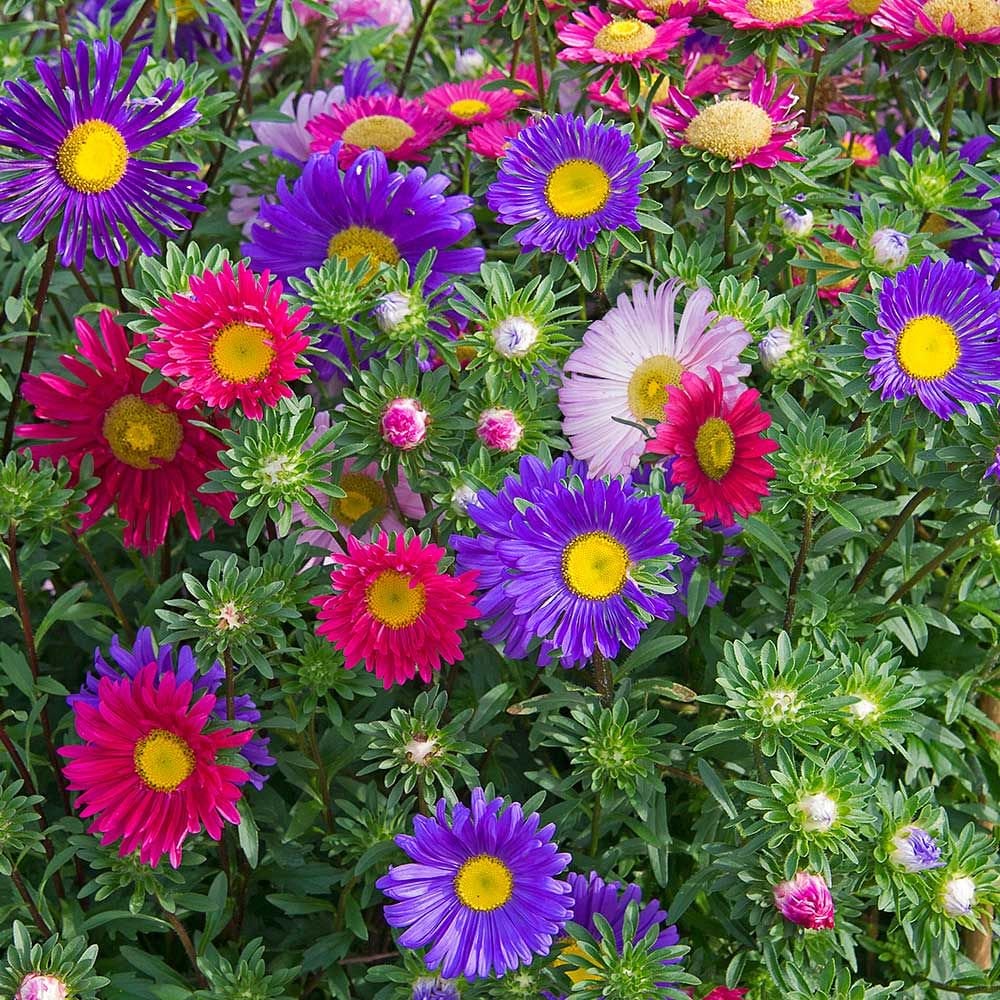 "I have a little space that I give entirely to China Asters," Gertrude Jekyll wrote in Colour Schemes in the Flower Garden. "I have often had the pleasure of showing it to some person who professed a dislike to them, and with great satisfaction have heard them say, with true admiration: 'Oh! But I had no idea that China Asters could be so beautiful.'" In summer and fall, when gardens could use a burst of fresh color, our White Flower Farm mix explodes into bloom. A favorite of floral arrangers, the 4 varieties featured in the collection flower in a harmonious blend of pinks, whites, and purples.
Beatrix Farrand (1872–1959)
Beatrix Farrand (née Jones) was born in 1872 into the upper echelons of New York society. Her family maintained homes in New York City and Mount Desert Island in Maine. Farrand was niece to novelist Edith Wharton. The novelist Henry James (who was also a dear friend and literary peer of Wharton's), knew Farrand as "Trix." Farrand's family members included many enthusiastic gardeners, and she was drawn to botany and landscape gardening at a young age. In her early 20s, she studied under mentor Charles Sprague Sargent, a Harvard University professor of botany and the founding director of Boston's Arnold Arboretum. In 1893, she undertook the study of landscape gardening, which did not then exist as a specialized degree. When her career started around 1895, women were not permitted to design public projects. Farrand concentrated instead on residential gardens, and her social connections combined with her talents swiftly put her at the pinnacle of the profession. In 1888, she was the only female selected to be among the founders of the American Society of Landscape Architects. From her early years designing gardens for her neighbors in Bar Harbor, Maine, Farrand moved on to some of the works for which she is best known: Dumbarton Oaks in Washington, D.C., the Abby Aldrich Rockefeller Garden on Mount Desert in Maine, gardens on the campuses of Yale, Princeton, and Occidental universities, and the East Colonial Garden and West Garden at the White House, both of which were later redesigned. Connecticut-area residents can find examples of Farrand's work at Wharton's home, The Mount, in Lenox, MA, and at the Hill-Stead Museum in Farmington, CT. Farrand's early interest in native plants can be traced to the summers her family spent in Maine. At Dumbarton Oaks, Farrand created a variety of gardens – from the Fountain Terrace to the Kitchen Garden – on a 53-acre site situated at the highest point in Georgetown. Open to visitors today, the gardens at Dumbarton Oaks include formal structural plantings such as aerial hedges, arbors, and fountains that gradually yield to more naturalistic plantings.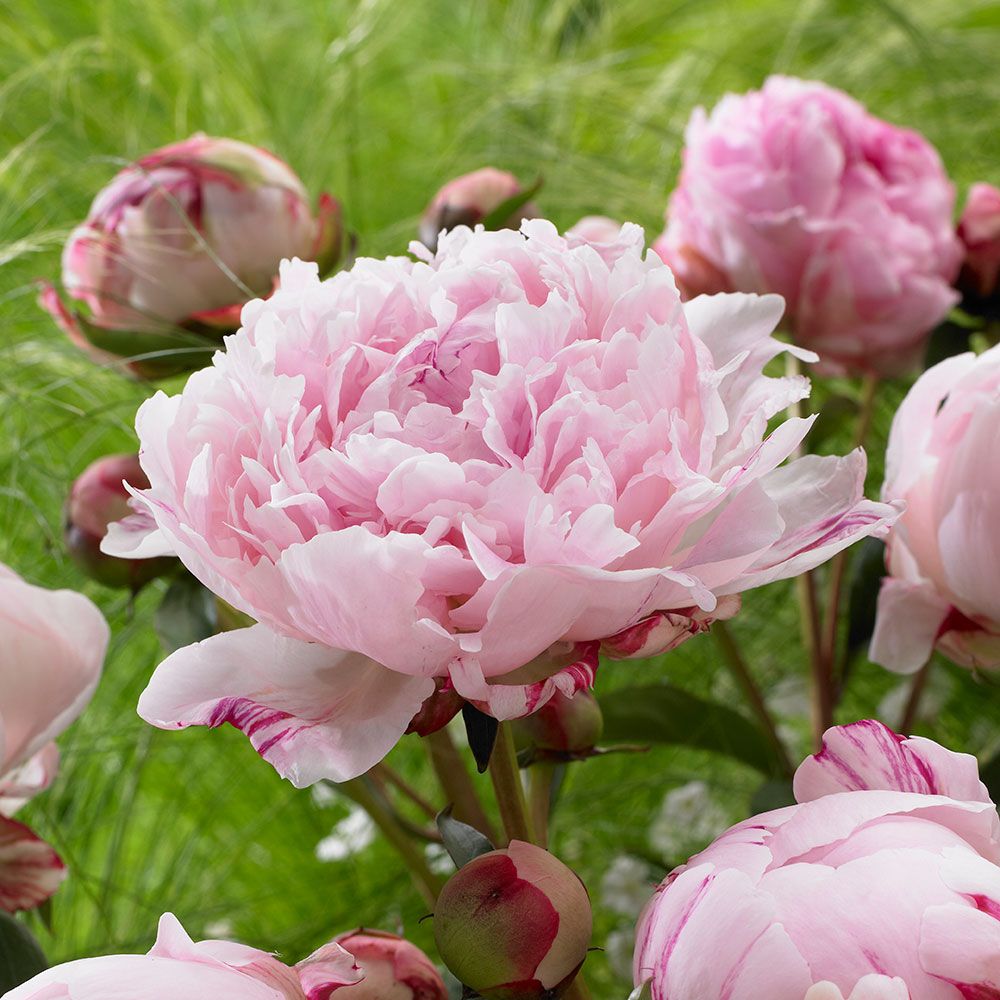 In the Sunken Garden at the Hill-Stead Museum in Farmington, CT, Beatrix Farrand created an octagonal garden around a gazebo. The 36 garden beds feature more than 90 varieties of annuals and perennials, a collection of plants that bloom in tranquil colors of pink, white, blue and silvery-gray. Among the plants Farrand uses in several beds is a pink peony. In her honor, we chose Peony 'Sarah Bernhardt,' a 1906 heirloom that produces fragrant double blooms in a deep pink that grows lighter toward the edges. The vigorous plant is a most reliable bloomer, and it is a winner of the Royal Horticultural Society's Award of Garden Merit.
Louise Beebe Wilder (1878–1938)
Born into an affluent Baltimore family, Louise Beebe took an early interest in gardening. When she married the architect Walter Robb Wilder and 1902 and moved to Balderbrae, a rural residence in Pomona, NY, she transformed the landscape around the house, creating structural elements including terraces, pathways, a walled garden, a grape arbor, and fountains, and planting beds and borders. When she and her husband moved to Bronxville, NY, she undertook the design of Station Plaza and founded a local Working Gardeners Club. As her reputation grew and her career blossomed, she designed residential gardens across the country, authored 10 books, and contributed a great many stories to newspapers and magazines including The New York Times, Horticulture, and House & Garden. Her 1918 book Colour in My Garden, whose title pays homage to Gertrude Jekyll's Colour Schemes in the Flower Garden, is perhaps her best-known title. Her gardens also reflected Jekyll's influence, and she believed, as she put it, in creating gardens that were "formal in design but most informal in execution." This style meshed beautifully with social changes of the period that dovetailed with the decline of large estate gardens and the rise of suburban gardening.
In her 1935 book, What Happens in My Garden, Wilder writes about a white garden she has seen in Wales. ". . . since the mild summer evening on which I once saw a white garden beautifully carried out it has lingered in my mind as . . . one of the loveliest gardens I ever saw. This white garden . . . was planted entirely with white-flowering plants and . . . inclosed [sic] by stone walls of a warm pinkish gray. . . . We saw this garden first at twilight, that witching hour, and through the tall iron gates, above which swung a Clematis starred with immense white blooms, the effect was almost as if a mist had crept up from the river and finding the haven of this quiet inclosure [sic] had swirled around and about, rising here in wraith spires and turrets, lying there in gauzy breadths amidst the muted green. It is impossible to describe its beauty at this dim hour – so soft, so ethereal, so mysterious, half real it seemed. And yet when we saw it at noon of the next day it was no less arresting, though in a different way. . . . Looking at it, we did not speak in whispers as we had done the night before." Wilder thought it would be lovely to create a white garden of her own. "I am sure a little enclosed white garden, or even a winding border of white flowers against a green background, would be a possession of which one would not easily tire. It would always suggest peace and harmony, yet there would be no lack of interest. Frayed nerves would find it remedial."
In the all-white Moon Garden here at the farm, Phlox 'David' is a tall, luminous presence. These perennial plants are free flowering, maintaining a full display from mid-July well into September. 'David' has a vigorous growth habit and produces sturdy stems that will not be pushed around by wind and weather. Furthermore, it has the best mildew resistance of any white Phlox we have ever encountered. It makes a fine companion for other denizens of the Moon Garden including, among others, Shasta Daisies, and white-flowering Delphiniums, Lilies, and Dahlias.
Vita Sackville-West (1892–1962)
The award-winning English poet, novelist, journalist and diarist is equally renowned as a garden designer. Together with her husband, the author and diplomat Sir Harold Nicolson, and a series of head gardeners, she created the Sissinghurst Castle Garden in the Weald of Kent, England. Upon Sackville-West's death in 1962, the garden was bequeathed to the National Trust for Places of Historic Interest or Natural Beauty. It currently attracts upwards of 200,000 visitors per year. It is particularly famous for a structure that centers on axial walks that open into separate and distinct "garden rooms" including its famous white garden, and its collection of old garden roses. Sackville-West once wrote: "My liking for gardens to be lavish is an inherent part of my garden philosophy. I like generosity wherever I find it, whether in gardens or elsewhere. I hate to see things scrimp and scrubby. Always exaggerate rather than stint, masses are more effective than mingies."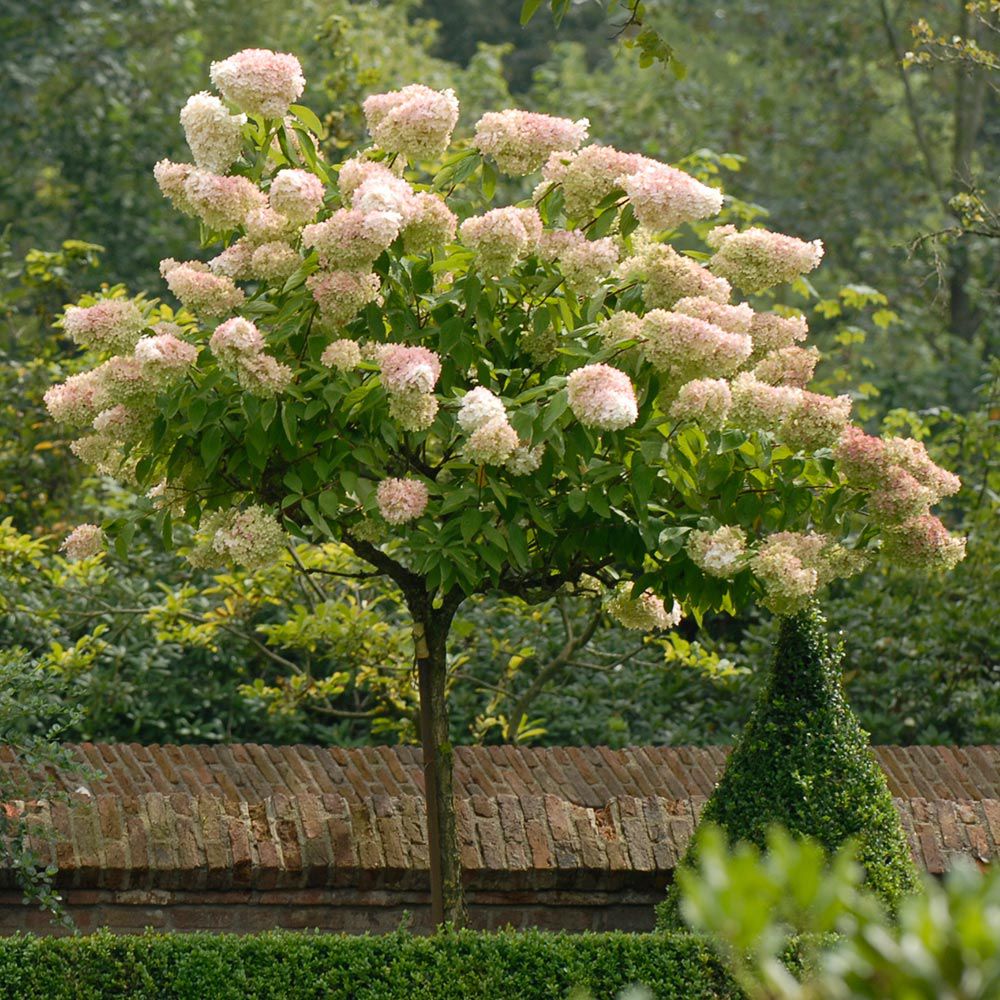 "Vita did not at first plant many hydrangeas at Sissinghurst," writes English gardener, writer, author, cook, and teacher Sarah Raven in Vita Sackville-West's Sissinghurst: The Creation of a Garden. (In addition to her other credits, Raven is married to Adam Nicolson, the grandson of Vita Sackville-West, and she and her family have lived at Sissinghurst.) "[Vita] had the climber Hydrangea petiolaris on one of the east-facing walls, but at least initially she had reservations about them – the coarser ones reminded her of 'coloured wigs'. She probably associated them with more formal Edwardian borders, a look she was trying to avoid, but seeing them in other people's gardens looking good, she began to like them more." On an autumn outing, she caught sight of a stand of Hydrangea paniculata 'Grandiflora.' "It was with a startled pleasure that I observed three bushes growing in a cottage garden as I drove along a secret lane," Sackville-West wrote. "They looked like pink lilac. Tall, pyramidal in shape, smothered in pointed panicles of flowers, they suggested a bush of pink lilac in May. Yet this was September." The owner of the cottage garden told her the hydrangea had been blooming for three months. "It starts off by flowering white; then turns into . . . pink . . . Then it turns greenish, a sort of sea-green, so you never know where you are with it, as you never know where you are with some human personalities, but that makes them all the more interesting."
Jane Grant (1892–1972)
Born in Missouri, and raised in Kansas, Grant moved to New York intending to become a singer. But the lifelong feminist took a detour into journalism, eventually becoming the first full-fledged female reporter for The New York Times. She wrote for the Times for the next 15 years. In 1925, Grant and her first husband, Harold Ross, launched The New Yorker magazine. When Grant and Ross divorced in 1929, Grant continued her work in journalism and remained active in feminist causes. In 1939, she married William Harris, editor of Fortune magazine. The two left Manhattan and settled in Litchfield, CT. There, in 1950, they founded a mail-order plants business they called White Flower Farm.
This large-leaved, evergreen Rhododendron was named for Grant, and it gives you some idea of how we feel about it (and her). Our specimen plant is close to 30 years old and has never missed a year of bloom. Its deep pink buds mature to the palest of pinks, very ruffled. Plants retain the free-flowering habit and the felty indumentum (on the under side of the leaves) of R. yakusimanum, but their form is closer to that of the other parent, R. smirnowii.
Beth Chatto (1923–2018)
When Beth Chatto died in 2018 at the age of 94, The Guardian hailed her as "one of the most influential horticulturalists of the past 50 years." A pioneering naturalist, her reputation rests on the Beth Chatto Ltd. plant nursery, which she founded in Essex in 1967, her Beth Chatto Gardens, which remain open to visitors, and her authorship of a handful of indispensable books whose common theme is the importance of choosing the right plants for the right places. Beth Chatto's Damp Garden, The Dry Garden, and Beth Chatto's Gravel Garden, all contain wisdom gleaned from the author's years of creating and maintaining gardens. All stress plant "suitability" for various sites, the encouragement of sustainable plant communities, and the possibility of maintaining ecological convictions while still creating aesthetically pleasing gardens. In the 1970s, The Guardian reports that "she won 10 successive gold medals at the RHS Chelsea flower show, where she introduced ecological ideas into garden design, demonstrating the possibilities of natural plant groupings, while also achieving the highest aesthetic standards. In those days nurseries arranged their plants for maximum visual impact regardless of differing plant needs. Chatto's approach was a revelation and immediately established her significance as a guide to better and more environmentally friendly gardening techniques. She stressed the importance of looking at the whole plant, foliage as well as flowers, and judging the quality of a plant by observing it throughout the seasons." In her own gravel garden, a former parking lot that occupies just under 1 acre of sandy soil in her 15-acre garden, the sign reads: "The Gravel Garden is not irrigated. It is a horticultural experiment where we hope to learn which plants survive extreme conditions, as a help to all gardeners facing hosepipe bans." (A reference to water restrictions that prohibit use of hoses for irrigation.) Among the plants she featured in this arid expanse is Eryngium 'Miss Wilmott's Ghost.' Distinctive in both color and form, it shrugs off drought and poor soil conditions. Chatto planted some to great effect amid mounds of Purple Sage.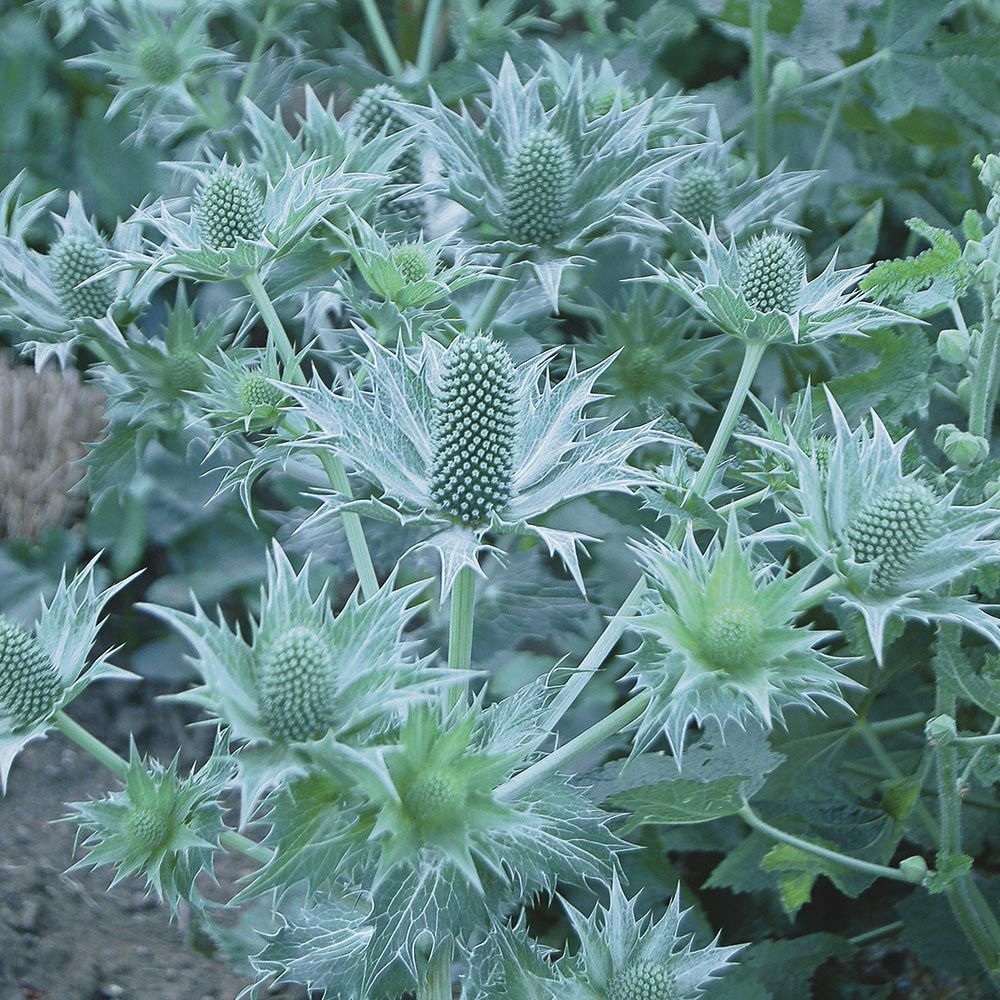 This Sea Holly is the giant of the genus with large (2½") cones of pale blue that appear almost white at a distance, and 6" wide gray bracts that are dramatically veined in silver. These generally biennial perennials offer a distinctive form and unusual color, but its their remarkable ability to thrive in poor soil and full sun that makes them a treasure for gardeners dealing with drought.
Lynden Miller
New Yorker Lynden Miller, who maintains a weekend home in Sharon, CT, is a renowned plantswoman, public garden designer, and author of the inspirational book Parks, Plants, and People. Miller began her career as a fine arts painter before abandoning the easel for the garden. In 1982, she put her painter's eye to work restoring the Central Park Conservancy Garden in New York. Her success led to commissions to design gardens for other public spaces including New York's Bryant Park, the New York Botanical Garden, Madison Square Park, and Wagner Park, and to improving the landscapes for schools and landmarks including Columbia, Stony Brook, and Princeton universities, and the United States Supreme Court. In the aftermath of 9/11, she created the Daffodil Project, which has resulted in the planting of millions of daffodils in parks, schools, and housing projects all over New York City. Miller is perhaps best known for the bravura mix of colors, textures and forms she creates in mixed perennial and shrub borders that have four-season appeal, and for her passionate advocacy for public gardens. "Beautifying your city brings environmental, social, and economic benefits," she writes in Parks, Plants, and People. "When office workers step outside and find themselves surrounded by life-affirming natural elements – changing seasons, tall trees, wide lawns, flowers, birds, bees, butterflies – something positive happens to them. People respond to beautiful surroundings by respecting and protecting these places and by sharing this beauty with one another." In her book, Miller names a great many favorite plants for mixed borders in the Northeast. Among them are roses. "Roses should be incorporated into the plantings whenever possible," she writes. At her garden in Wagner Park, "they go well with Perovskia atriplicifolia [Russian Sage] and Verbena bonariensis." Miller particularly favors newer cultivars. "I was not a great fan of roses in the days when many of them had to be treated with chemicals to combat pest and diseases," she writes. "Today, however, wonderful new roses are available, including fine shrub roses that are hardy, long-blooming, and disease resistant."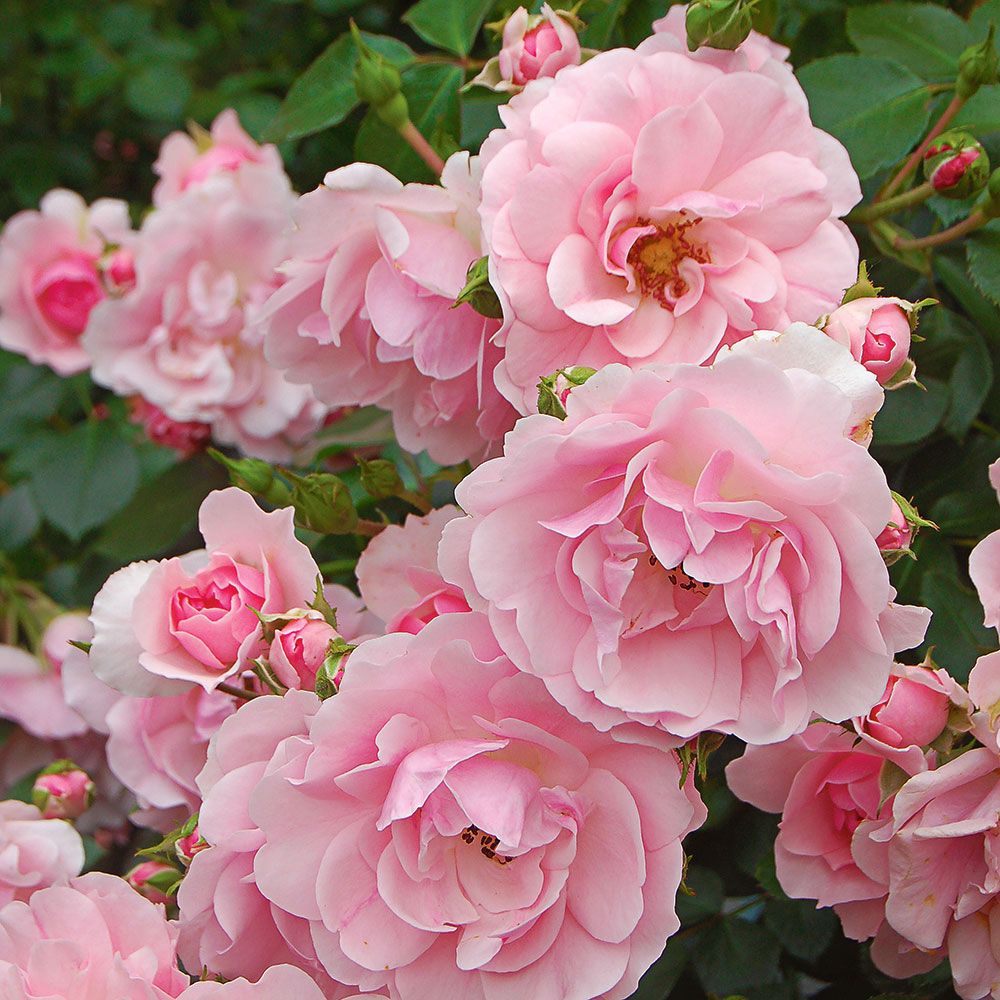 In Miller's honor, we chose to highlight this modern Shrub Rose, which was named World's Favorite Rose in 1997. The compact bush features clusters of dainty shell pink flowers and glossy, disease-resistant foliage. The parade of bloom from Bonica® continues until frost and is followed by an abundance of bright orange-red hips. It's an ideal choice for beginners.