In March, when the White Flower Farm display gardens are just waking from their winter sleep, the staff's work detail is mostly about clearing away debris and making plans. But there is at least one notable exception: The Hellebores are showing plump buds that are ready to pop.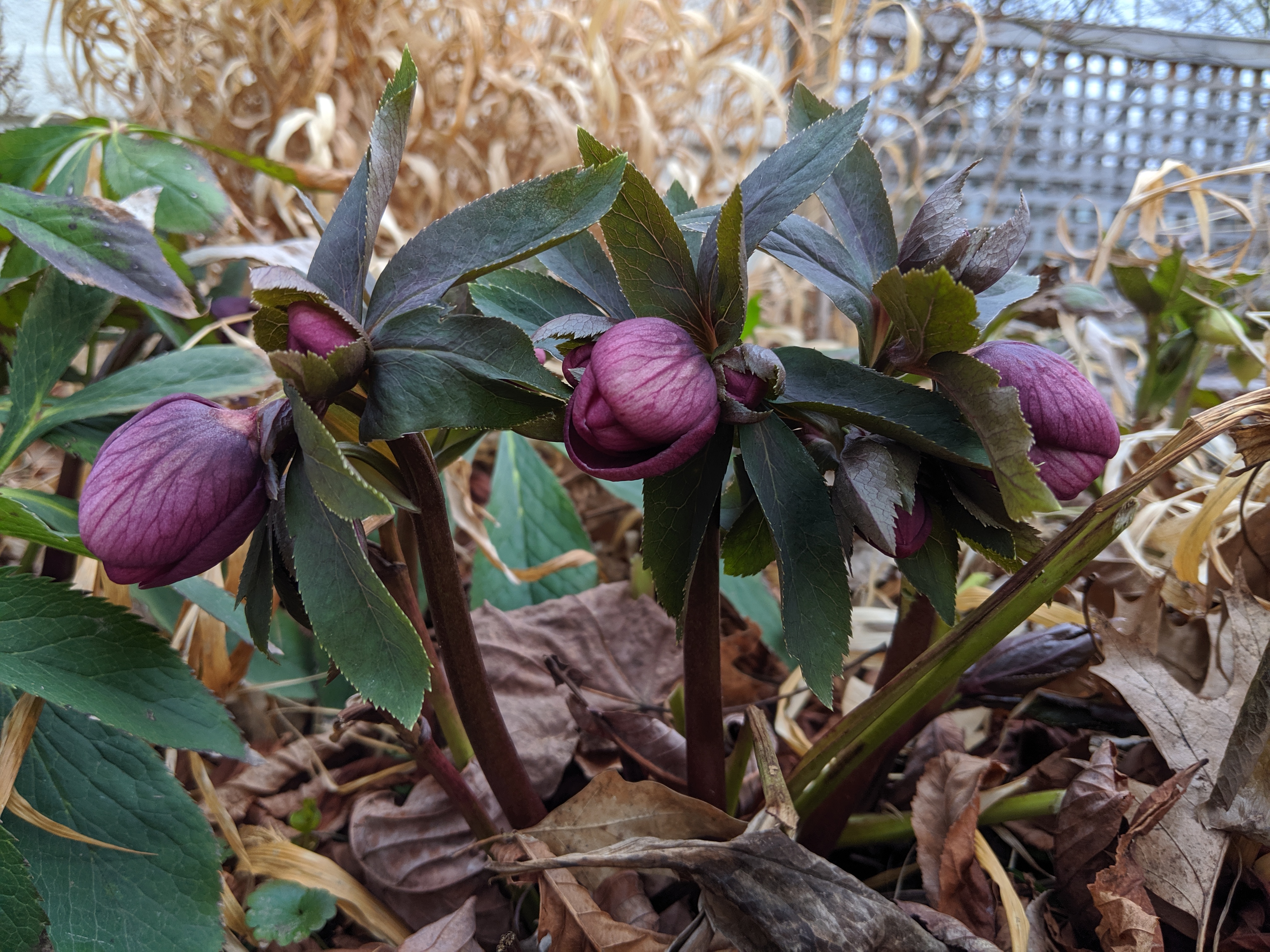 In cold climates like ours, these rugged, beautiful perennials are one of the earliest signs of spring. Their habit of flowering in late February and March, during the season of Lent, and the Rose-like form of their blossoms, are why they are often called Lenten Roses. Gardeners prize these plants for their flowers and their foliage, and for a robust, cold-hardy disposition that makes them fuss-free, long-lived additions to any shade garden.
One of Spring's Earliest Bloomers
Winter might not be fully over when Hellebores stoically send up their buds. Unlike other early performers that might get nicked by frosts, Hellebores are just fine in cooler temperatures. Plant them wherever you need a cheering early spring display.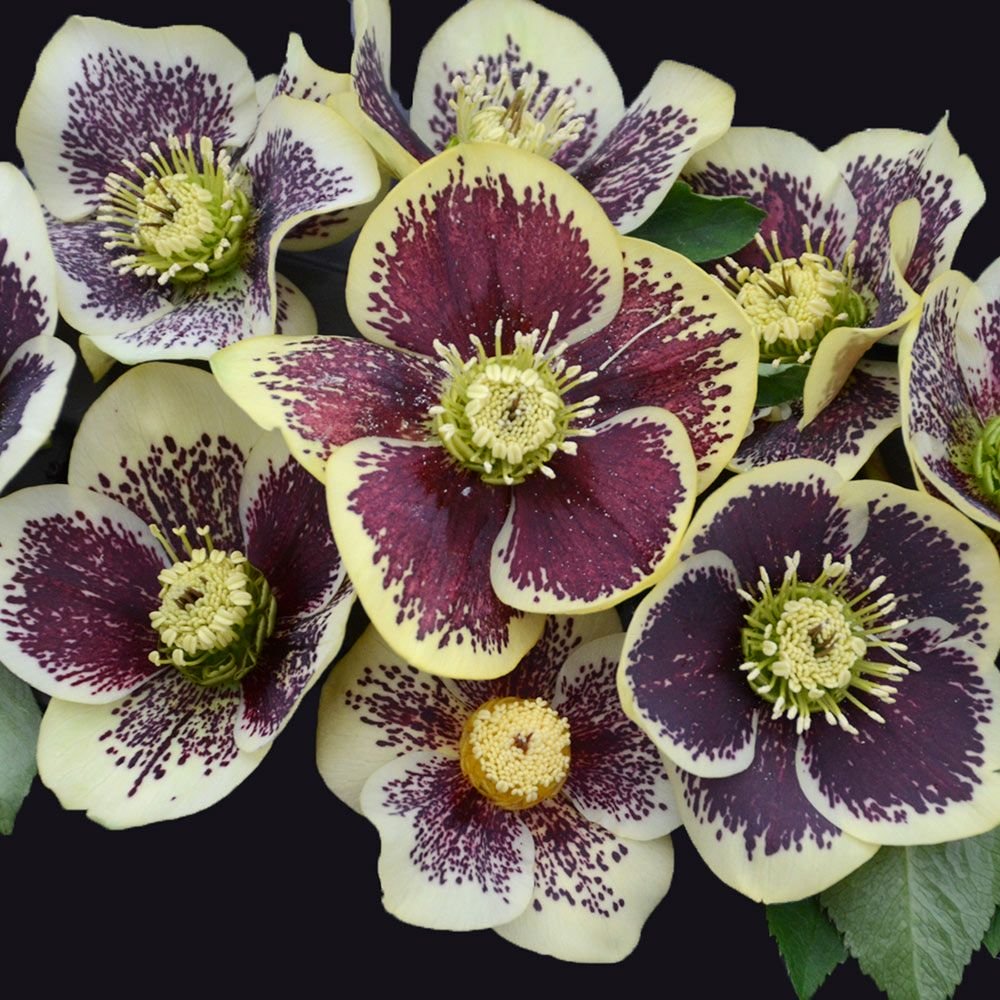 Hellebores come in a disarming array of colors – from pearly white and cream to butter yellow, rose, burgundy and almost black, with blossom forms ranging from single to doubles, all accented by a center of yellow stamens. Single Hellebore flowers are intriguingly complex in their anatomy but always large enough to notice from a distance. Showy doubles offer layers of petals. Many Hellebore blooms feature design details. There are freckles. There are hems and bands of contrasting colors. Breeders are developing varieties that have upward-facing flowers, which some regard as an improvement on the nodding or partially hidden blossoms that are characteristic of most earlier and classic cultivars.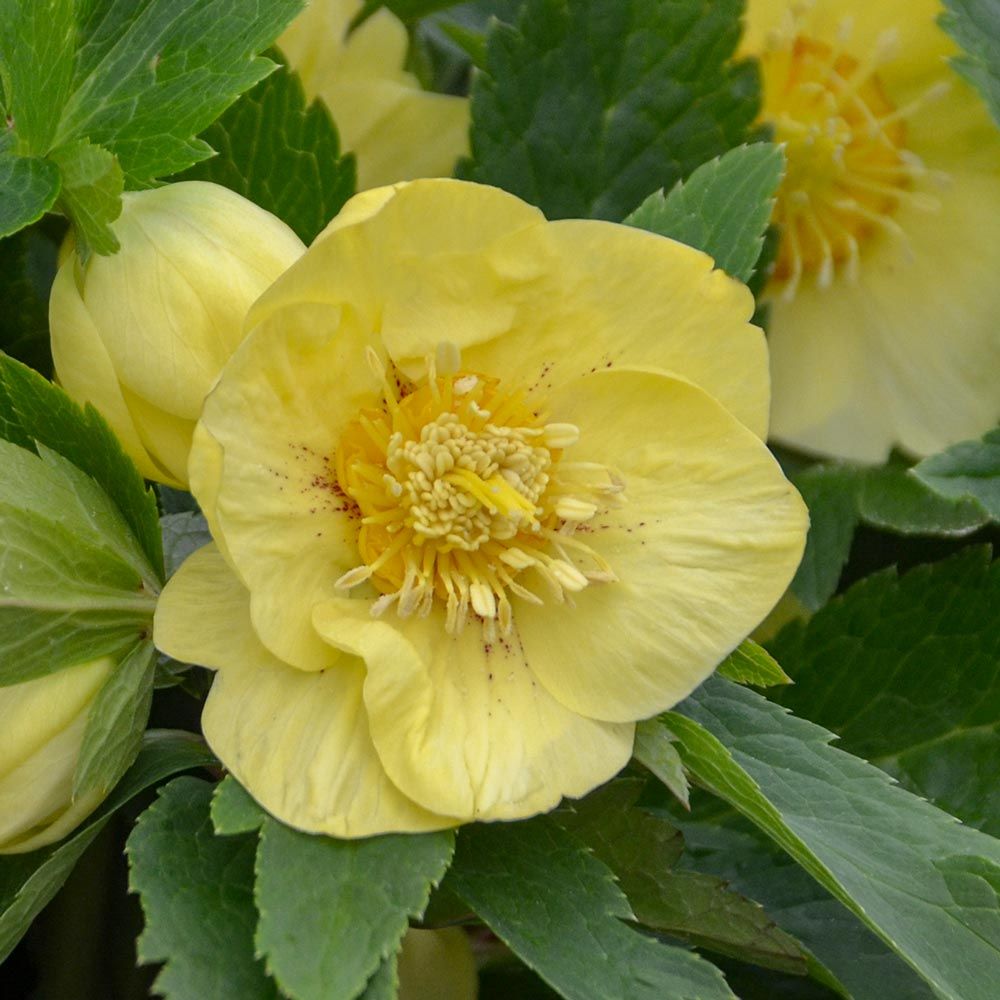 The appeal of Hellebores lasts far beyond early spring. The flowers don't fizzle when warmer weather arrives. The colorful blooms remain over an impressively long period. Months go by, and even as the flowers fade, they remain beautiful. Some would say they get better as time passes and the colors deepen or blanch.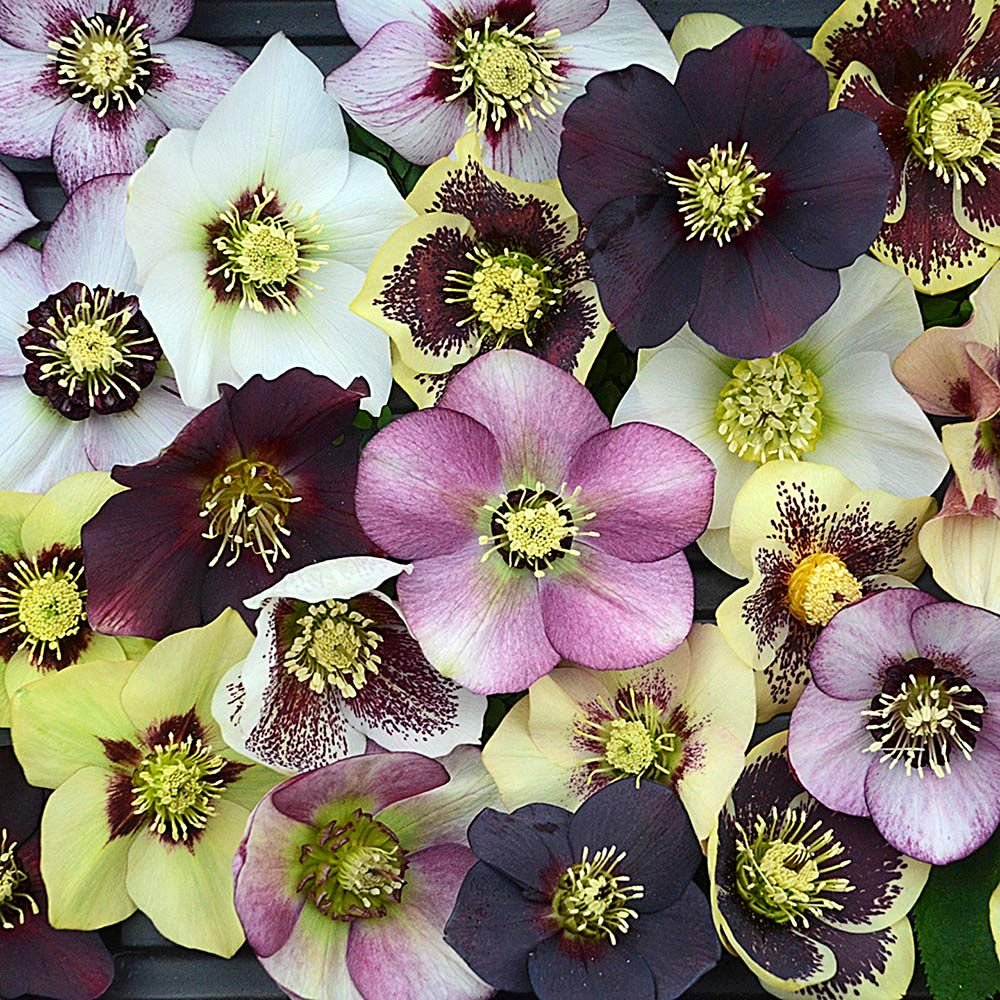 Ornamental Foliage for All Seasons
While Hellebore flowers often get the most attention, the glossy dark green, palmate foliage is of equal value in any shade garden. In many climates, the leaves are evergreen unless covered by snow. (In winters that are cold but not particularly snowy, Hellebore foliage may get scorched or tattered, but affected leaves can be pruned away, and as spring comes, the plants send up plenty more.)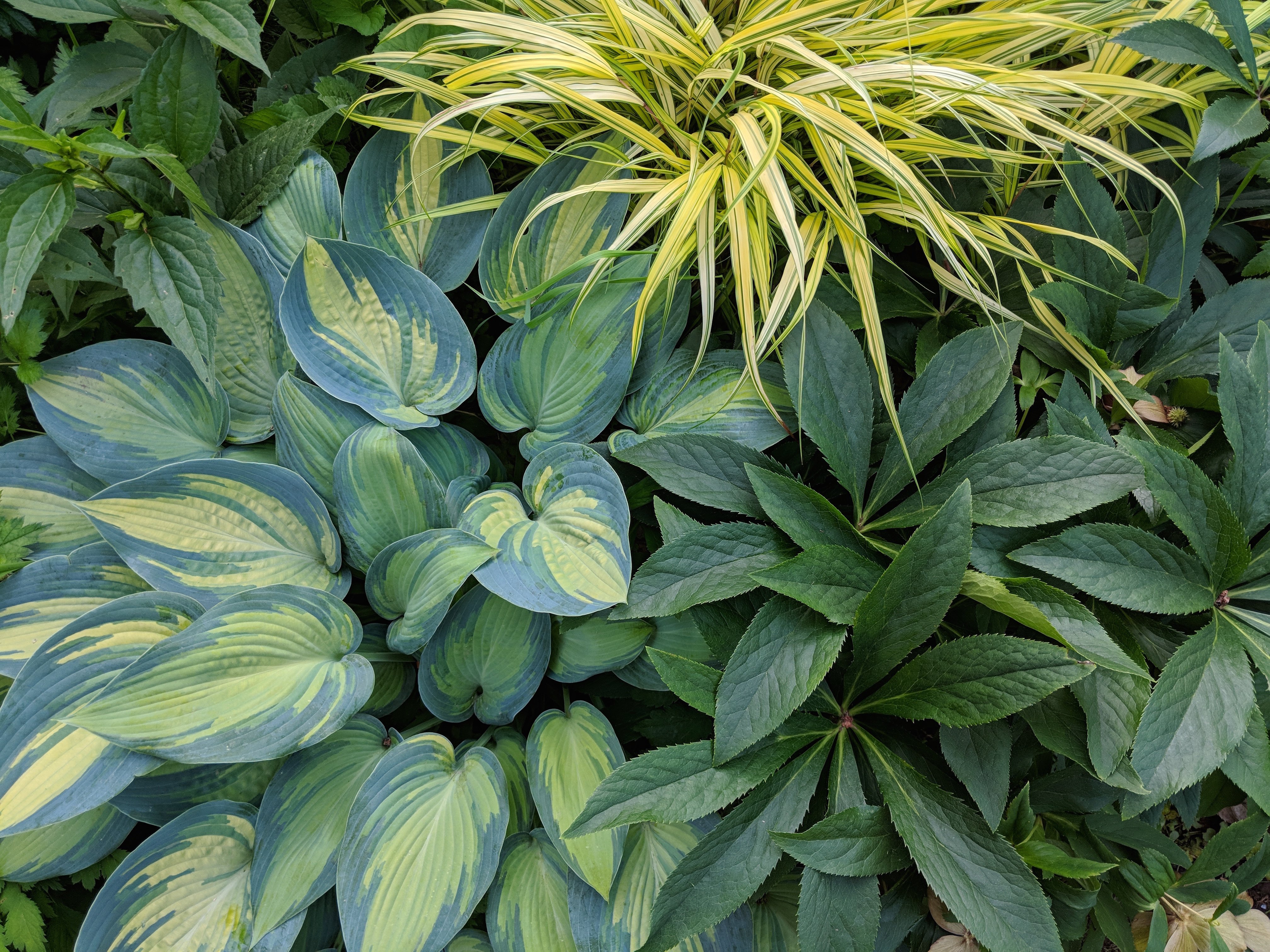 In an additional boon for gardeners, the leathery, serrated leaves are unappetizing to deer and voles (as well as other pests), which give Hellebores a wide berth.
It should be noted that Hellebore leaves, stems and roots are toxic and can cause a dermatological reaction in some people so we recommend wearing gloves and long sleeves when handling or cutting them. (Additionally, no parts of the plant should be eaten by humans.)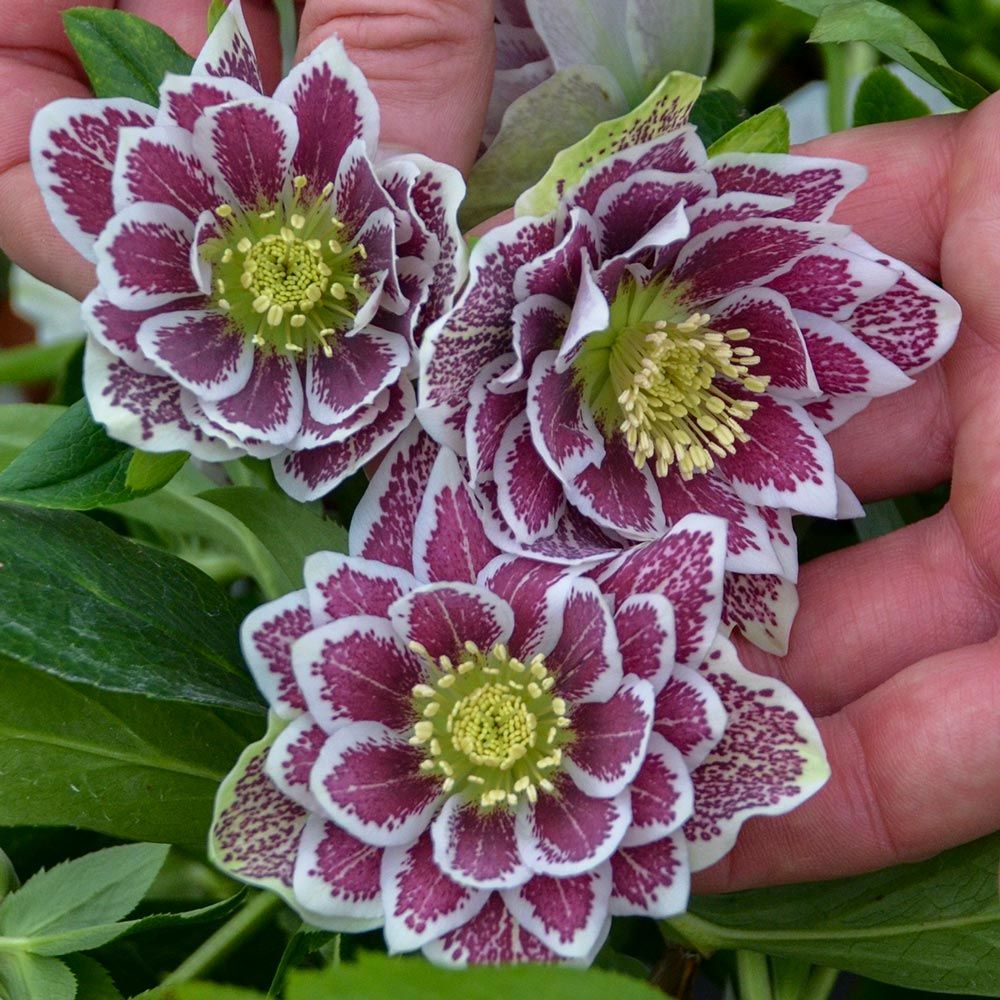 Caring for Hellebores
Hellebores prefer dappled shade and a compost-rich, well-drained soil. Under these conditions, they are trouble-free, but patience is imperative. These are not fast-paced perennials. Hellebores slowly but reliably gain size and bud count every year. When planting them, remember to give them sufficient space to expand. The winning formula is dappled shade and generous spacing.
In circumstances when Hellebore foliage gets beaten down by snow or tattered by the cold, some gardeners question whether to snip the foliage in autumn or wait until spring. In colder climates, you might as well snip it off in autumn and let the buds swell leafless. In warmer parts of the country, Hellebores may remain evergreen without suffering any damage. In that case, prune off leaves in late winter before the buds swell to make room for new growth. New leaves initiate rapidly no matter which way you play it.
Dividing Hellebores is not recommended. Although these plants may be slow to settle in, once they do, they rarely need division and may resent it.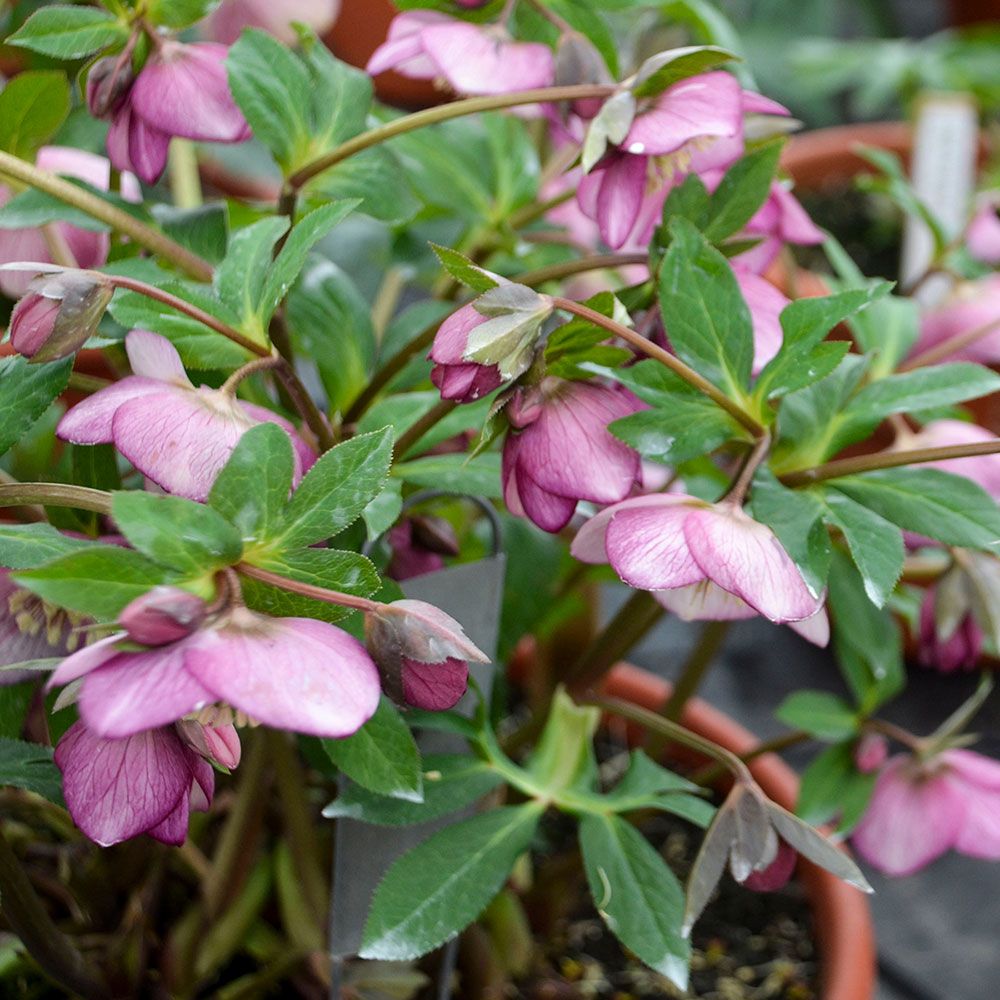 Garden & Landscape Uses
Hellebores are at their best when planted in groups. Mass them in woodland areas where they will naturalize, or plant in 3's and 5's under trees and shrubs, along a pathway, or at the edge of a shady border. Create a dynamic display of contrasting colors, forms and blossom times by planting Hellebores with companionable shade-dwellers including Hostas, Astilbes, Hakonechloa (Japanese Forest Grass), Ferns, Heucheras, and Tiarella.
Hellebores also perform well in containers, and they make an impressive window box display with lasting appeal. Due to their thick, plentiful roots, you'll want to afford them sufficient space for root growth and provide regular water. If winter seems too long, consider hosting a Hellebore or two indoors during the coldest months. On a windowsill, these beautiful plants blossom in the dead of winter. You'll have flowers to carry you through the dullest days.