Every gardener strives to add unique and interesting plants to their gardens, always on the lookout for that perfect addition to complete their own garden masterpiece. Let's be honest, we all want to be the envy of the neighborhood, showcasing an array of colors and textures. Whether you choose a new perennial to create a focal point or another shrub to complete the border, there's always room for one more!
Here at White Flower Farm, we've always offered a wide array of annuals, perennials, shrubs, and plants for the kitchen garden. But we make it a special priority to stock interesting plants you may not find at your local garden center. Our hard-to-find plants come to us mainly through the strong relationships we have with plant breeders all over the world. You'll find some of the treasures they help us find highlighted below. We hope you're tempted to add a few to your garden.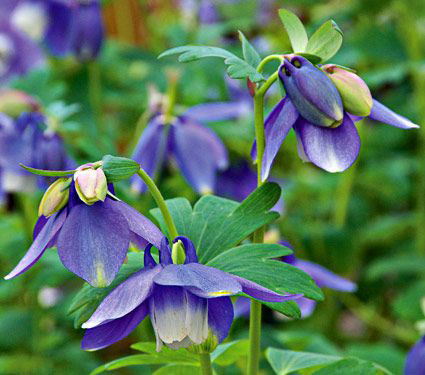 Lacy greens and dancing, late-spring blooms characterize these lovely border plants. They make excellent cut flowers if picked when half open. This gem is a choice plant for the border's edge, rock gardens, and containers. The flowers of Aquilegia 'Blue Butterflies' are a rich purplish blue with white edges and are shown to advantage by the lovely blue-green leaves.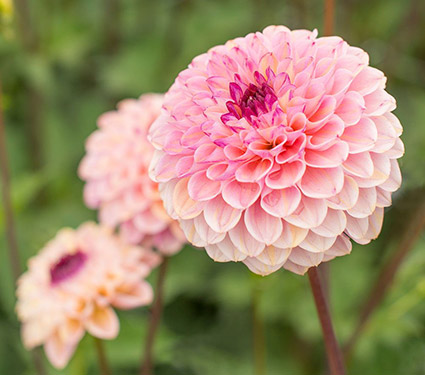 A precise arrangement of tightly cupped, light pink petals is accentuated by deep magenta on this lovely selection of Dahlia 'Wine Eyed Jill.' These hybrids of species native from Mexico to Colombia hold their display in reserve for mid- to late summer and early fall, when most gardens and most vases are looking a little tired. Planted in 3s and 6s, Dahlias serve to fill holes that develop in the perennial border and make excellent potted plants (1 tuber in a 12″ pot).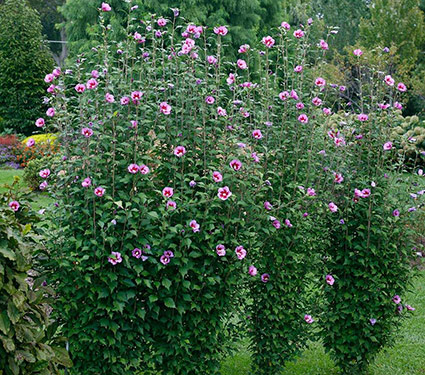 If you're the type who goes for minuscule flowers, then Hibiscus is not a genus for you. The plants produce big bright blossoms that appear endlessly starting in high summer. This award-winning Rose of Sharon forms a narrow, somewhat pyramidal pillar, which makes it ideal for creating screens or vertical accents in the mixed border. The pinkish-purple 5″ flowers have dramatic darker purple-pink flares at the center. Purple Pillar® is sterile, so its blooms never set seed or become a nuisance. The blossoms and unique form make this a compelling addition to yards and gardens.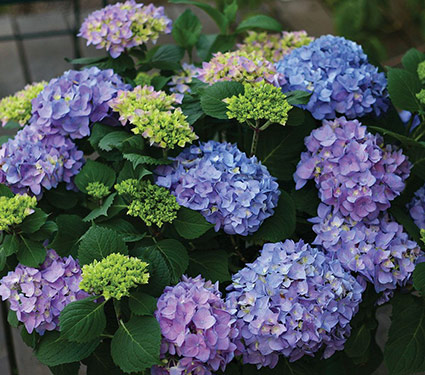 Hydrangea is a valuable genus of some 100 species of shrubs and vines grown for their large and very showy flower heads. Each blossom of this compact, reblooming Hydrangea is composed of a multitude of florets that appear precision cut in a geometric motif. When you add color, which ranges from pink to lavender-blue depending on soil pH, you have a shrub that's a distinctive and delightful addition to the mixed border or landscape. Plants also respond quickly when changing their bloom color from pink to rich blue with a sulfur soil additive.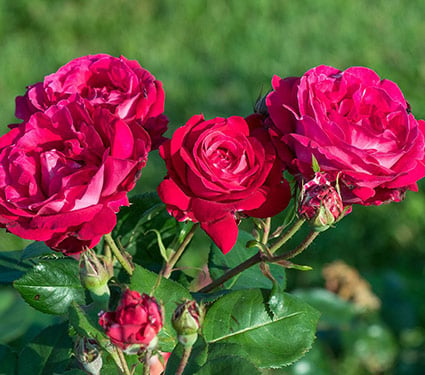 Roses offer colors, perfumes, forms, and habits to suit every garden situation. The tenacious efforts of breeders have yielded Roses with the best attributes of different varieties in new forms. Hybrid Teas, lovely as ever, now combine long bloom periods with the vigor to shrug off pests. A profusion of red blossoms, 3-5 per stem, appears nonstop on this vigorous Hybrid Tea. The fully double 3″ flowers of Rose Sweet Spirit are richly perfumed and handsomely displayed against a backdrop of subtly glossy, dark green foliage. These bushy, mounding plants show increased resistance to black spot and improved tolerance of humidity.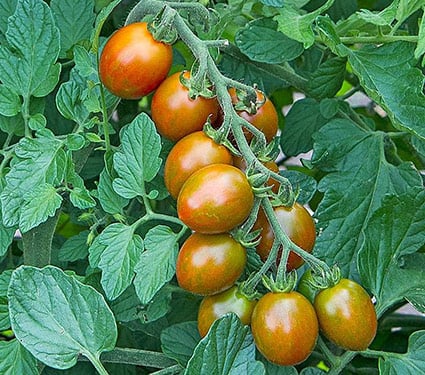 During trials, our staff couldn't get enough of these oval, bronzy red cherries with olive-green accents. Small but meaty, the disease-resistant fruits of Tomato 'Chocolate Sprinkles' have a taste as rich as mini 'Cherokee Purple' Tomatoes. Better still, you'll be harvesting lots of them.  These are indeterminate, and fruits ripen about 50–55 days from transplant.
These garden treasures are truly spectacular. Keep in mind they are often in high demand and supplies are limited.