Enjoying a beautiful garden is easy, but the maintenance can be cumbersome. For some of us, other commitments – jobs, children, spouses – make it difficult to spend every daylight hour in the garden. There are many factors to consider when planning a garden and no two gardens are alike. Each come with their own set of specific needs or requirements that can make it difficult to balance beautiful plants with little maintenance. Your garden might have a great deal of shade, drought conditions, deer in the yard, a small space, or a limited time to tend plants. You might want to attract pollinators, plant natives, or reduce the amount of weeding you're doing. Whatever the aim or circumstances, the key is choosing the right plants for your garden solution.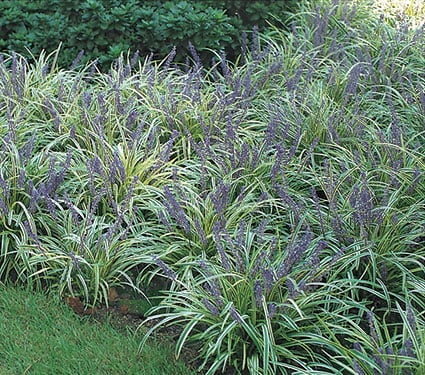 If you live where drought is a frequent fact of life, it's possible to have a lovely garden. Your plant palette is more colorful than you might expect. Even the most drought-tolerant plants do need some supplemental water to become established, however.
One of our favorites to combat drought is Liriope muscari 'Variegata'. There are four species of Liriope (commonly called Lilyturf), all Asian natives, and are evergreen perennials that spread to form deep carpets of grasslike leaves. Plants here are happy in practically any light conditions, including dense shade, and will tolerate prolonged dry spells without a whimper (they require afternoon shade in the South and West and falter in desert regions). If the foliage looks tattered by winter's end, it can be mowed to the ground before new growth starts.
If you have a shady spot in your garden or on your patio, these plants will suit nicely. They will perform beautifully in part shade (which we casually define as 3-4 hours of sun per day) to full shade (spots that receive no direct sun at all).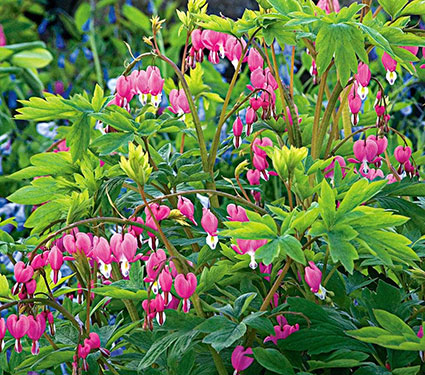 The old-fashioned Bleeding Heart has been a garden favorite for years. It bears long arching racemes of heart-shaped pink flowers. Bloom time starts here in early May and lasts several weeks, subsiding with the arrival of summer heat. Plants often go dormant in mid-summer. Interplant with Ferns and Hostas to fill the breach. If moisture is reliable, they will grow in full sun here in Litchfield. Long-lived and reliable year after year.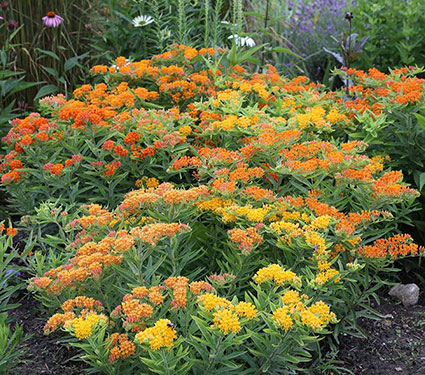 All gardeners know they are never alone in the garden. Insects, birds, earthworms, fungi, deer, voles, and many other creatures may visit or live among the plants and in the soil. By including native plants in your landscape, you can supply local wildlife, such as butterflies, with the food and habitat they need for survival. Native plants are well adapted to local conditions and will often thrive with less care than a non-native plant. One of our favorite native plants is Asclepias Gay Butterflies Mixture.
Of the 200 species in the genus Asclepias, the best known are North American wildflowers. They have small, curiously shaped blooms that appear in dense clusters. These plants provide nourishment for Monarch butterflies through all their life stages, and are essential for their survival.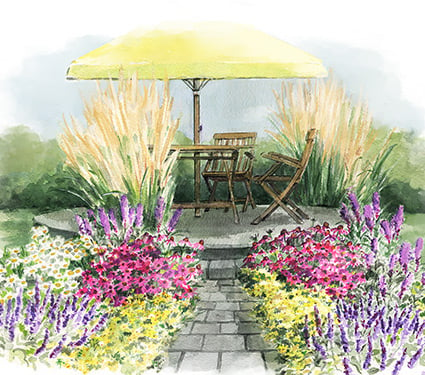 If deer treat your garden like a buffet provided just for them, there's an easy solution. Grow plants that aren't choice items on their menu. Deer will ignore many colorful and attractive plants, and it is possible to create a lovely garden that provides a long season of bloom with varied foliage forms and colors using deer-resistant plants.
Create a serene oasis in shade with perennials that are as graceful as they are rugged, and, just as important to many gardeners, unpalatable to deer. The Tough as Nails Deer Resistant Garden for Shade features a trio of Astilbes with starry pink, red, and white spires and feathery leaves. Their easy-care companions include Lady Ferns, golden Japanese Forest Grass, and Lamium 'Pink Pewter,' a vigorous (but not aggressive), mat-forming ground cover with silver-gray leaves and pretty clear pink flowers.
There are many solutions available for each and every garden and attaining a beautiful yard is not out of reach regardless of the needs your yard may require.