Why grow Tree Peonies?
Tree Peonies are magnificent, long-lived woody shrubs that no garden should be without. Some varieties reach 4–5′ in height, and plants are capable of bearing fragrant flowers up to 10″ in diameter from mid to late spring. Tree Peonies are disease resistant, and deer generally leave them alone. These treasured plants are also great for cold climates. Most of the varieties we offer can be grown in regions that get as cold in winter as Zone 4. Not sure what your zone is? Click here to find out.
Where do Tree Peonies come from?
Tree Peonies, also known as Moutan, are native to China. Dating back to the 6th century, they were originally grown for medicinal purposes. They are widely used today because these hardy shrubs produce exquisite floral displays.
Where to plant your Tree Peony?
Plant Tree Peonies in fertile, well-drained soil with a neutral pH of 6.5-7. To prevent the peony root from rotting, avoid planting in a soggy area or an area that has standing water for any length of time.
Although Tree Peonies will thrive in the full sun, the large silky flowers will fade quickly. Light shade from hot afternoon sun is necessary to protect the flowers, and in China and Japan, small parasols are set over the plants to block the sun's rays. We suggest growing Tree Peonies in filtered sunlight or an eastern exposure that receives morning sun and afternoon shade. Growth will be a bit slower than in the full sun, but the flowers will last longer, especially in the South and warm areas of western Zone 9. Tree Peonies require a year or two to mature, but they are more than worth the wait.
How deep should I plant a Tree Peony?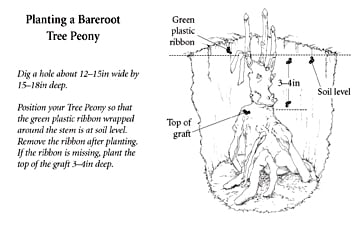 How do I protect my Tree Peony flowers?
Light shade from hot afternoon sun is necessary to protect the flowers, and in China and Japan small parasols are set over the plants to block the sun. If you don't have the parasols or the time to create shade for your plants, choose a planting site that will be protected against drying winds in summer and winter and will receive afternoon shade.
How often should I water my Tree Peony?
Tree Peonies are very drought tolerant once established. Do not overwater and do not plant near an automatic irrigation system. Wait until the soil has dried down to 4″ before watering deeply. Watering too much will kill the roots and is a common reason for failure.
Should I prune my Tree Peony?
Never prune Tree Peonies back to the ground as is done with Herbaceous Peonies. Prune out any damaged or broken stems after plants leaf out. Once your plant has some age and is growing vigorously, you may want to open up the center a bit to encourage flowering on the taller stems and increase air circulation. Tree Peonies are grafted onto Herbaceous Peony roots and occasionally a shoot from the rootstock will arise from the base of the plant. These should be removed immediately.
What can I plant with my Tree Peony?
Hellebores , Alchemilla, Leucojum, Epimedium and Siberian Irises are all lovely in combination with Tree Peonies. If your plants tend toward legginess, underplant with spring-flowering bulbs.
Looking for more information on how to grow Tree Peonies? Check out our grow guide.