Lilies are truly the stars of the summer garden, spangling their luminous, astral-shaped flowers across beds and borders. Whether planted in sun or part-shade, Lilies add reliable interest and characteristic grace to gardens during the hotter months of the year. Their diverse colors and forms, coupled with exquisite fragrances, make them a stellar selection for every garden.
We offer an array of Lilies including Asiatic, Oriental, and Species types plus many interdivisional hybrids. Planting various kinds guarantees a succession of spectacular blooms throughout the summer. Enjoy them outdoors as colorful highlights in your borders or bring cuttings indoors to fill vases and urns galore.
Scroll below for a selection of our individual Lilies and multicolored mixes, presented here in order of blossom time to help you create a pageant of blooms throughout the summer months.
June to July:
Lilies for Early Summer Sparkle
Start the summer with Asiatic Lilies, which are the earliest of our Lily varieties to come into bloom. Colors range from the softest pastels to fiery reds and oranges that practically ignite when the sun hits them. Seldom reaching above 3' tall, the sturdy plants never need staking and are perfect for flower arrangements because of their straight stems and heavy bud count. When sited in a sunny, well-drained garden bed, these Lilies will put on a glorious show for years.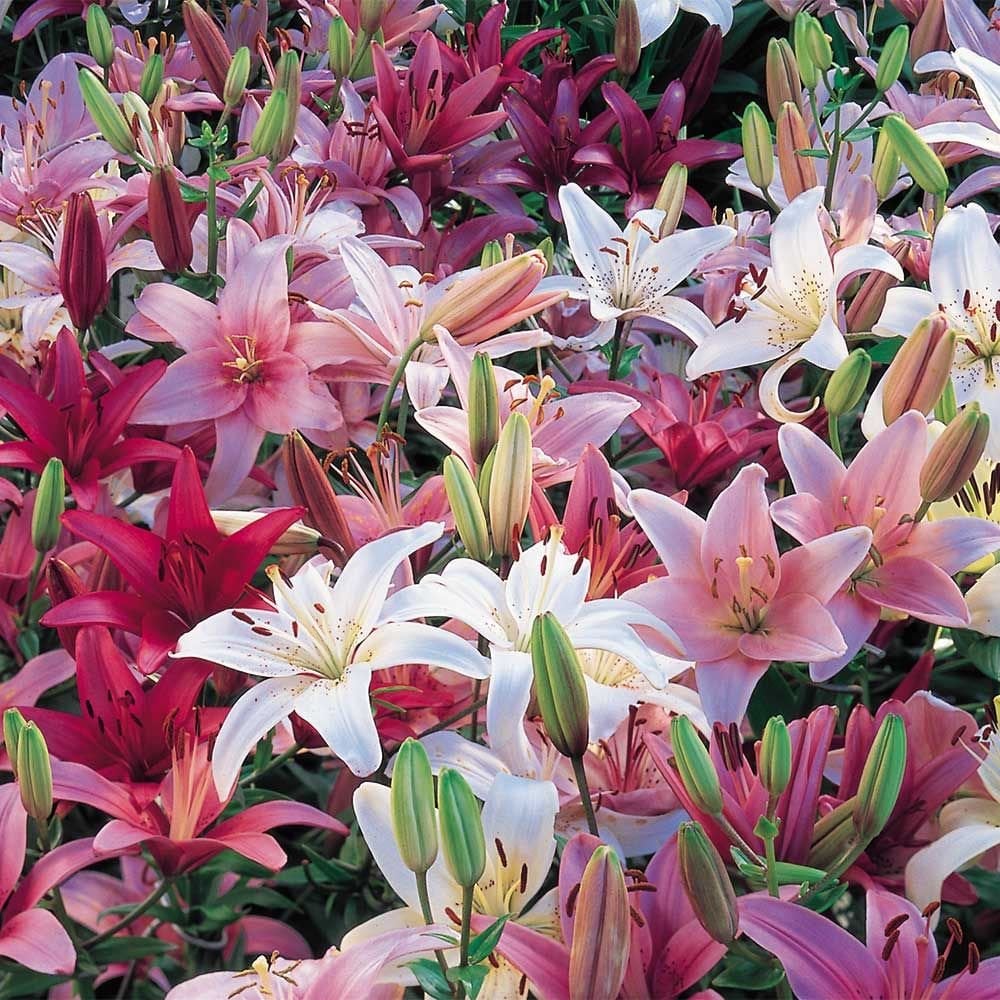 This mix of pink and white Asiatic Lily hybrids offers a refreshing color palette at the onset of warm days in the garden.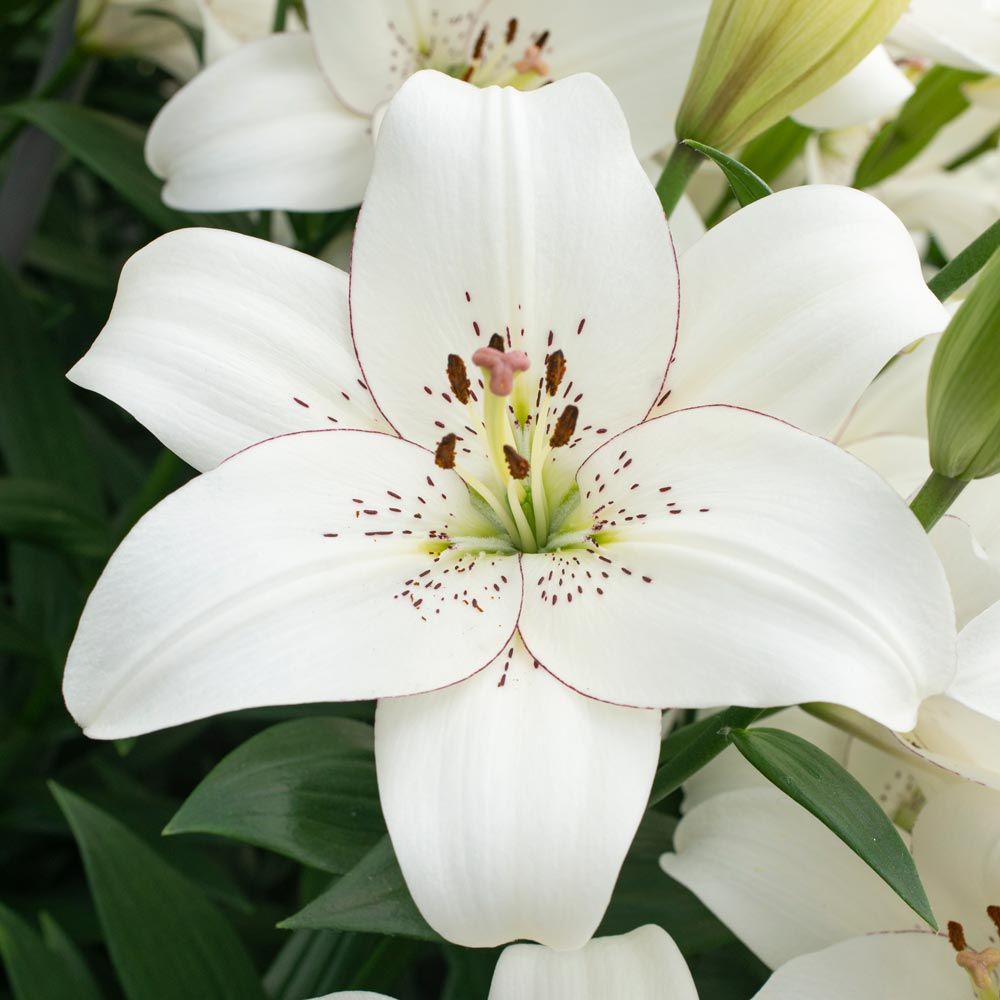 The stunning white blossoms of this cross between an Asiatic Lily and the Easter Lily (Lilium longiflorum) are delicately outlined in purple-black.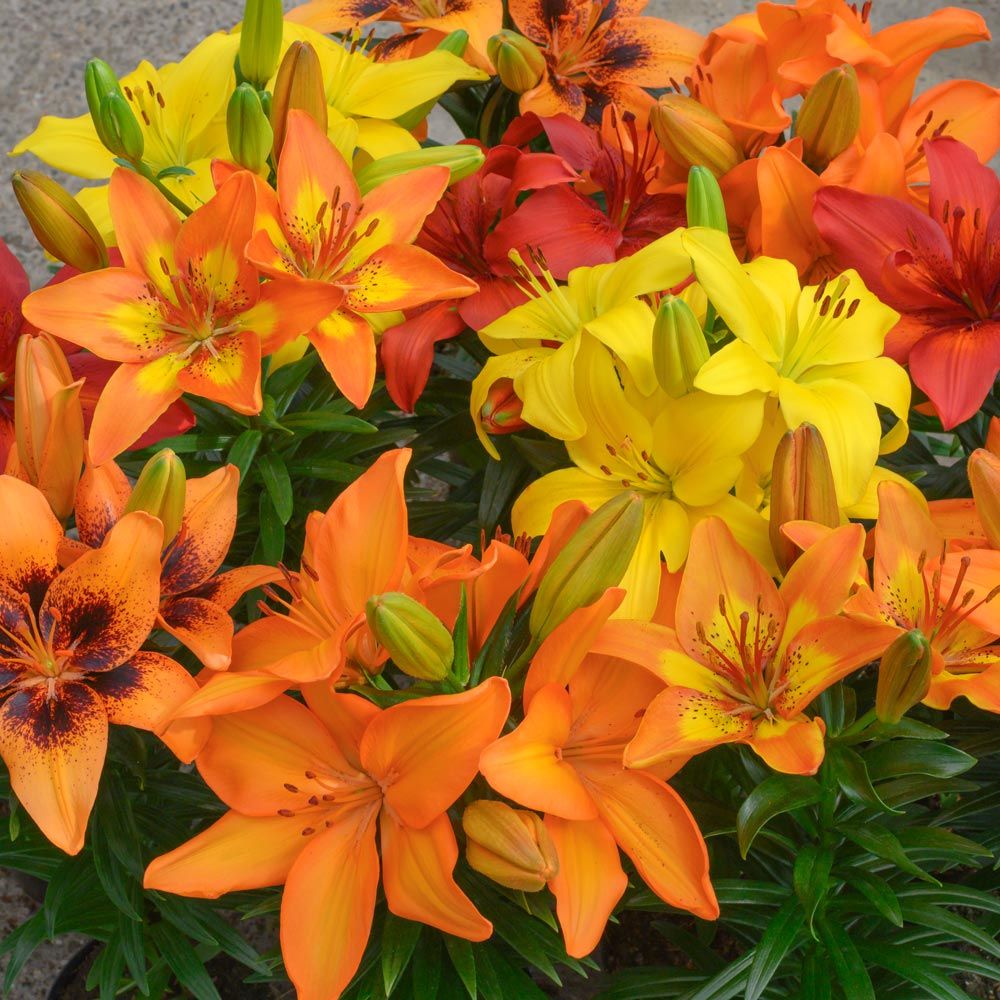 With bright hues ranging from sunny yellow to deep reddish-orange, this sultry mix of five compact Asiatic Lilies gestures toward the hotter days to come.
July to August:
Lilies for Midsummer Magic

Orienpet and Oriental Lilies grace the garden when summer is at its peak. Orienpets, a cross between Oriental and Trumpet Lilies, bloom about two weeks earlier than Oriental Lilies. Both types are notable for their large flowers, heady perfumes, and strong stems of varying heights.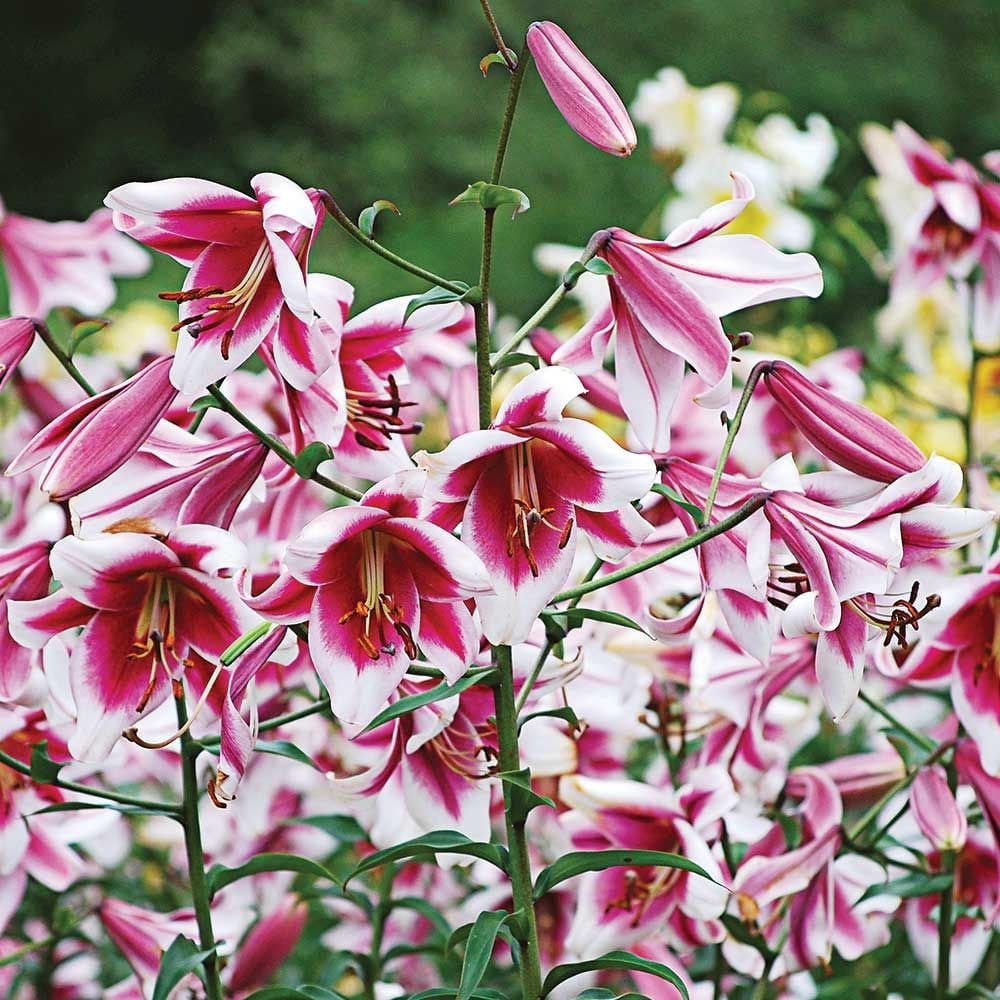 This Orienpet Lily features intoxicatingly fragrant 8" flowers, which are borne on spires up to 2′ across for longer than you thought possible.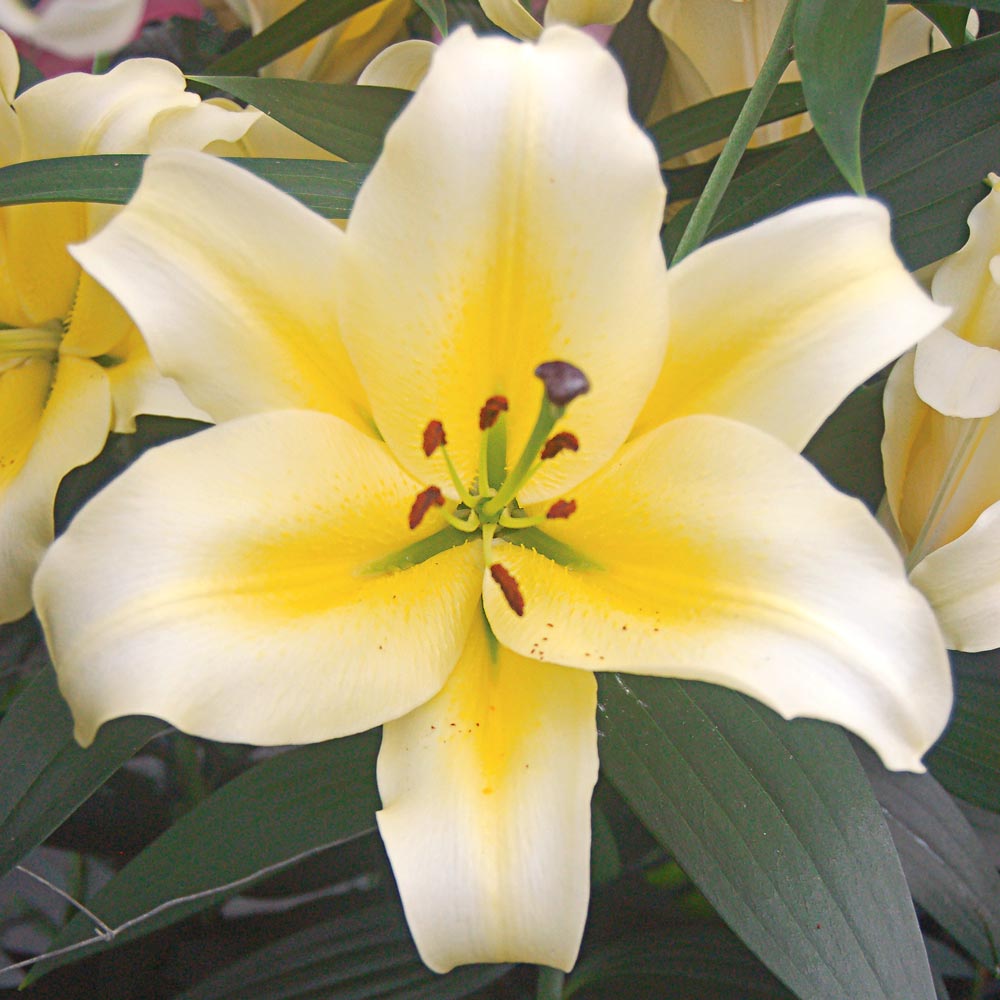 The creamy yellow blossoms of this Orienpet, with centers of pure gold, mimic the sunshine that floods the midsummer garden.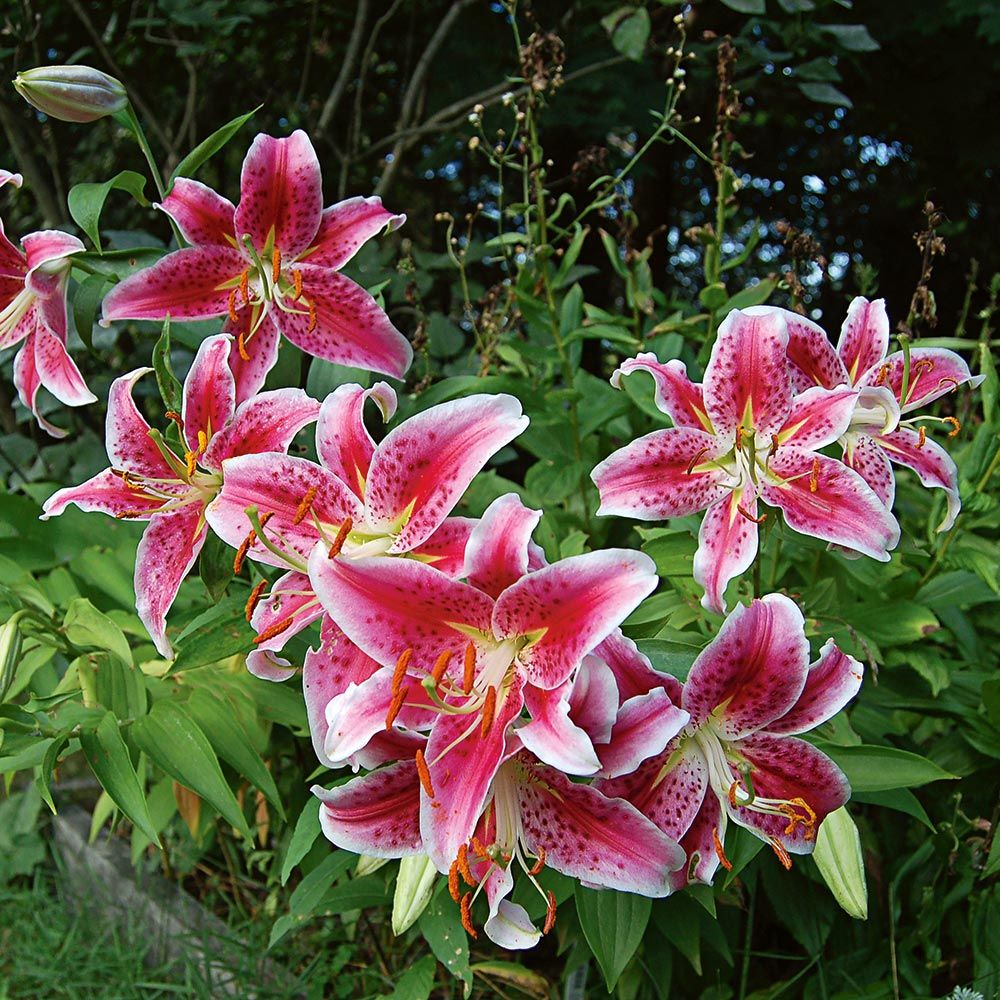 A bright star of the garden as well as the florist's trade, 'Stargazer' has upward-facing, crimson and pink blooms edged with pure white.
August to September:
Lilies to Make Summer Linger
Oriental and Species Lilies continue the vibrant show, extending the feel of summer into early fall. These late-blooming varieties sport gracefully recurved, pendent flowers that are as fascinating for their form as for their color and fragrance. The plants are exceptionally vigorous, too, with trusses of blossoms growing on stems from 4' to 7' tall. Plant some and let your summer display go out with a bang.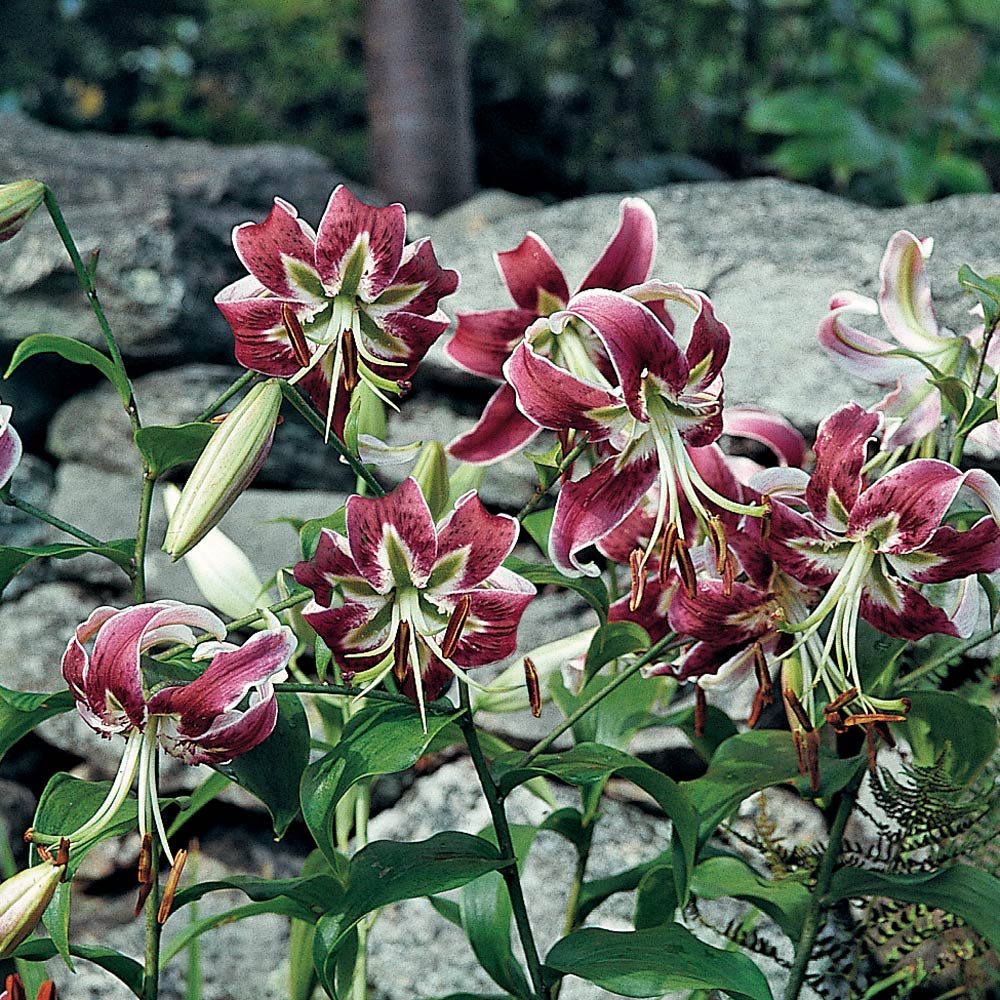 This variety of Oriental Lily can produce 20 to 50 flowers on a dizzyingly tall plant. The deep crimson flowers, with white edges and central green stars, are stunning following the summer-long progression of brightly colored blooms.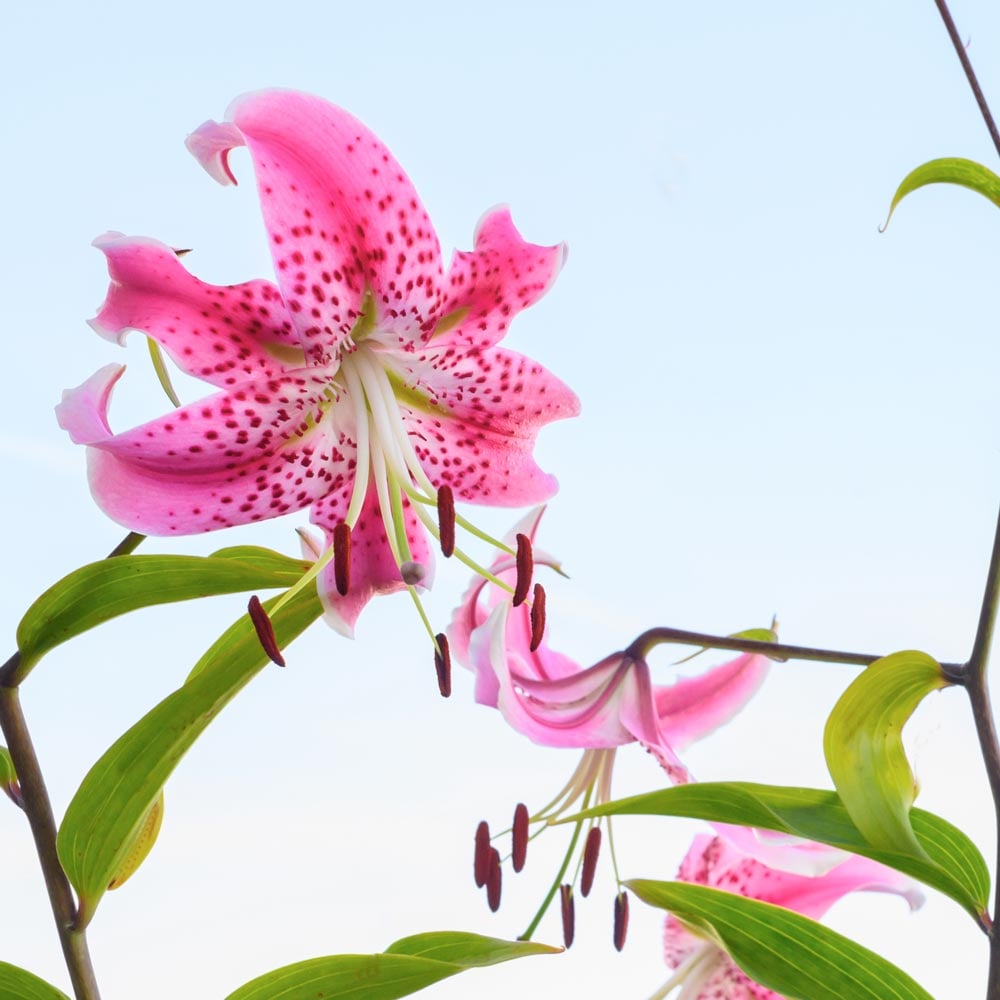 Introduced from Japan, this Species Lily dangles spotted, pink-and-white blossoms that are delightfully spicy in fragrance.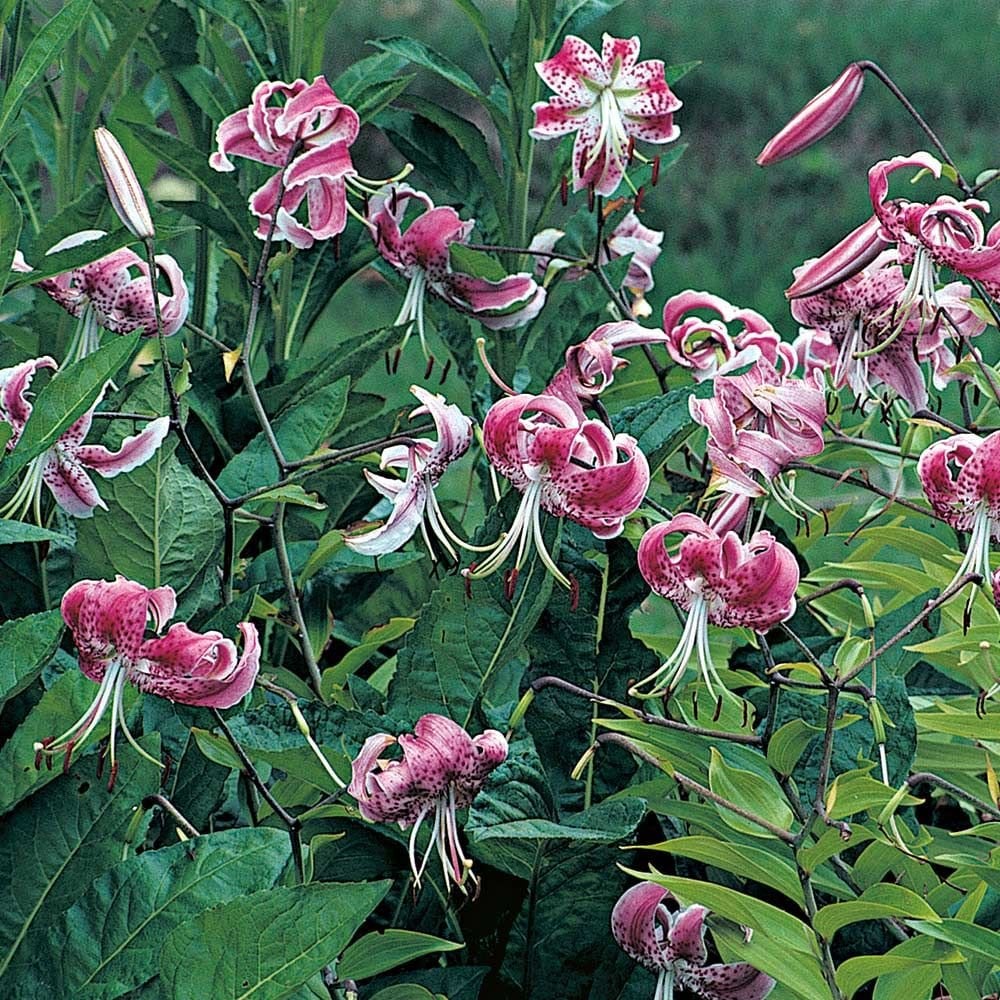 This is the last of the Lilies in our list to flower and, to our noses at least, is also among the most fragrant. Our gardens would not be complete without it.