Most gardeners enjoy growing flowers for the beauty they bring to outdoor areas. But we also like cutting blossoms and bringing them indoors in vases. For advice on how to cut and care for your own fresh cut flowers, we turned to White Flower Farm staffer Mary Altermatt. In addition to her job here in the Publications department, Mary is the owner of Mountain Meadow Flowers of New Milford, CT, purveyor of beautiful, organically grown perennial and annual cut flowers.
On her farm in New Milford, CT, she grows approximately 200 varieties of annual cut flowers from seed using organic methods. Throughout the growing season, she creates cut flower bouquets, which are sold at the White Flower Farm Store in Morris, CT, at area farmer's markets, and to private clients. She also sells flowers by the bucket so clients including restaurants can create their own arrangements.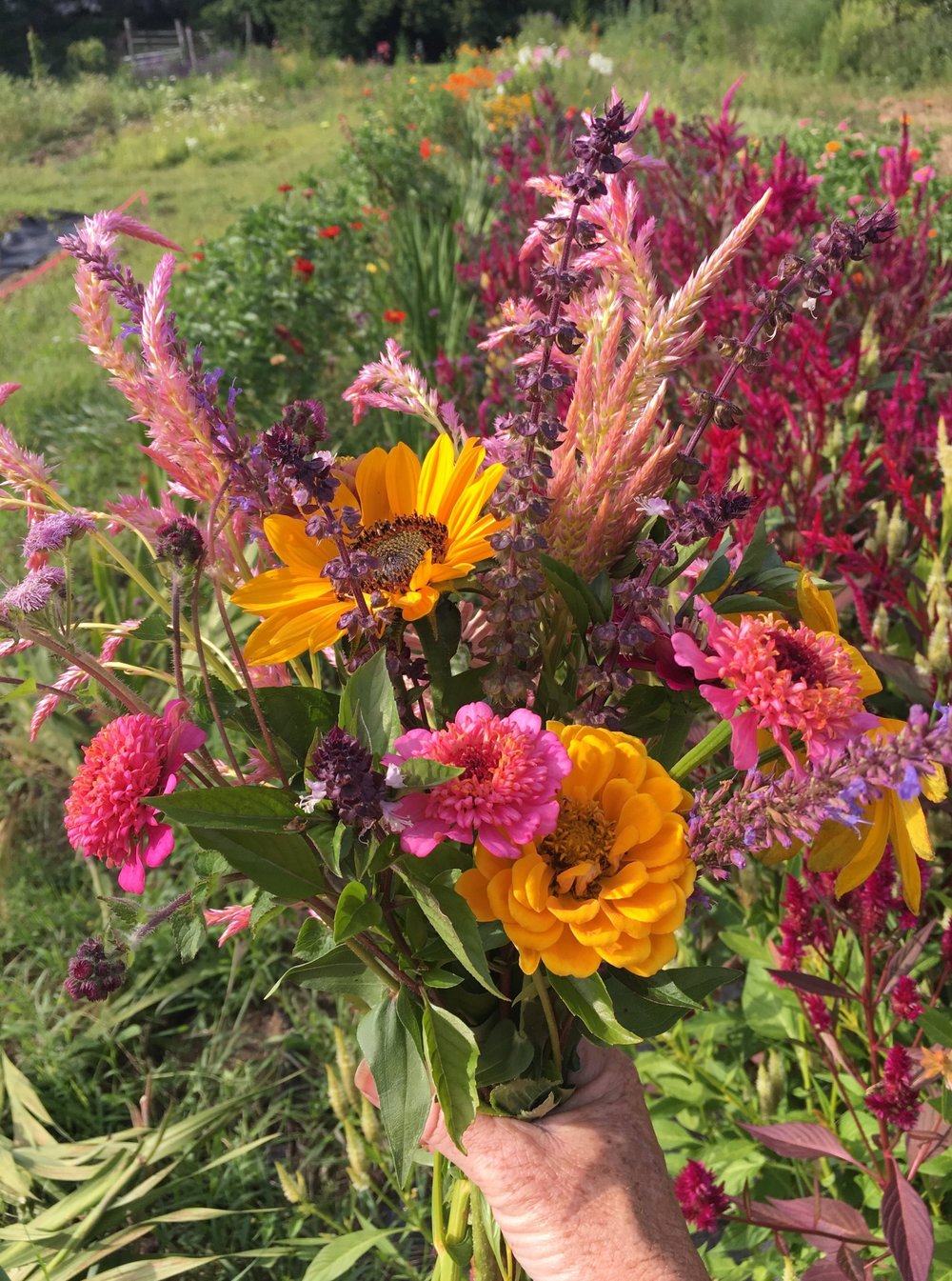 After 25 years of growing, here are some of Mary's field tips for harvesting flowers:
Have plenty of clean buckets on hand, lightweight plastic is fine. Before cutting flowers, wash your buckets, vases and pruners with a mix of 1 tablespoon of bleach to 1 gallon of water, let sit for a few minutes, rinse out and then fill with clean water, about 1/3 full. Bacteria growth in the water will clog the flower stem and prevent the flower from staying hydrated so these hygiene steps are well worth the effort. Buckets that are clean enough to drink out of is the rule of thumb.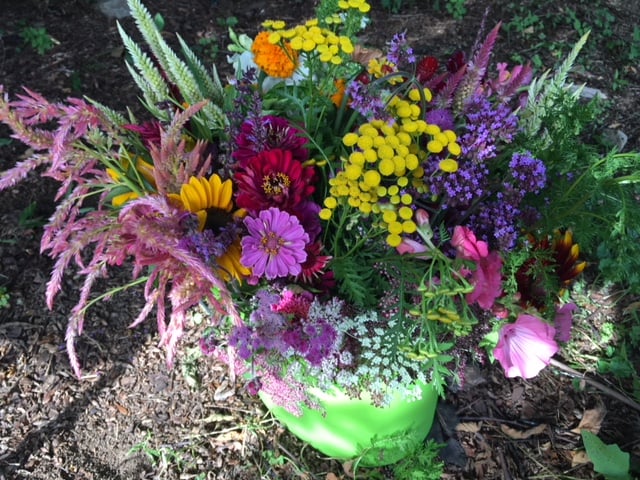 Bring your bucket to the garden, preferably left close by in the shade, so when you cut a handful of stems they can go right into the water. When cutting, be sure to use a floral knife or scissors with thin blades to avoid crushing the stems. (If stems are crushed, it will inhibit or block the uptake of water.) As you're harvesting, strip off the lower foliage that would be below the water line and shake off any excess dirt, to keep your harvest bucket as clean as possible.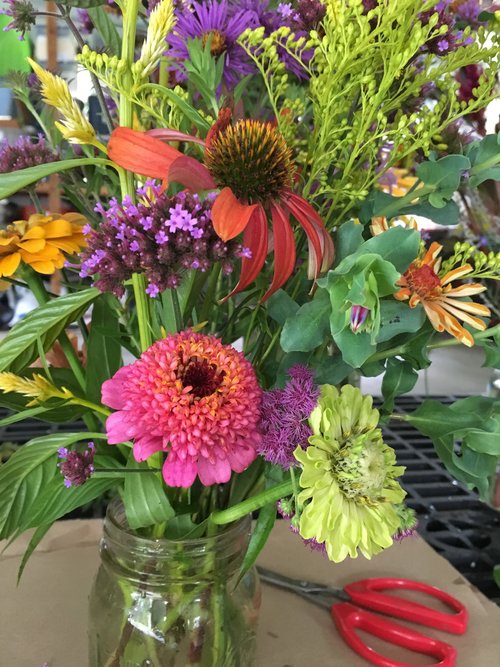 It's best to cut your flowers when they are cool and well hydrated, either early in the morning or later in the day, not in the heat of the day. Avoid harvesting flowers that are wet from rain or after watering. Damp flowers and foliage in a bucket will invite mold and fungus. Rather than over-stuffing your bucket and possibly crushing blooms, bring an extra bucket to the garden.
Do a little research ahead of time to know at what stage to harvest certain flowers. For example, a Sunflower should be cut when the petals start opening away from the center disk. A Peony should be cut before it opens at all, when the bud feels like a marshmallow.
After harvesting, bring the buckets into a cool holding area and remove any leftover lower leaves. The stems can be recut at an angle underwater. This prevents air bubbles from forming within the flower stems thereby blocking the flowers' water uptake. For some flowers, like Dahlias, which have hollow stems, you can hold each stem upside down under the faucet, fill it with running water, hold your thumb over it like a straw, then submerge it into the bucket. This will strengthen the stem and prevent collapsing.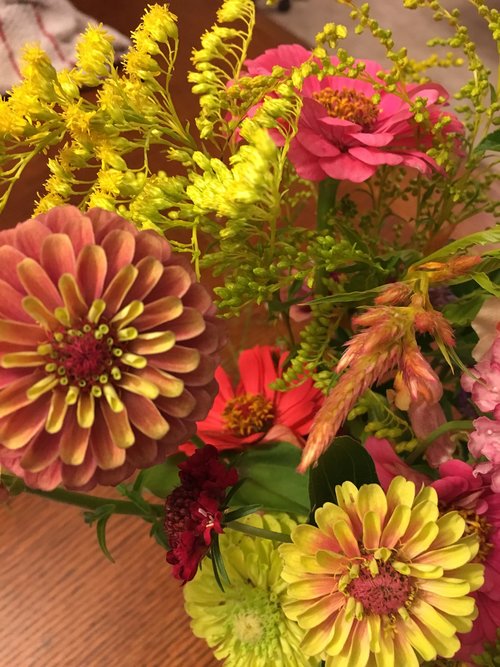 Transfer the stems to the "resting bucket" of clean water with a flower preservative, most commercial ones contain sugar for food, bleach to control bacteria, and a water acidifier. Let the flowers rest for at least a few hours in a cool spot or overnight, so they can take up plenty of water before more handling and arranging.
When it comes to arranging, Mary will provide a separate blog post with tips. But for some general guidelines, choose a color palette you like, choose a variety of heights, flower forms, and textures. Add something aromatic, if you have it, from fresh picked herbs to fragrant flowers.
After arranging your bouquet, hold it in one hand, if possible, and give a clean cut to even out the stem ends. For a longer vase life, the bouquet stems should be recut every three days and the vase water changed every other day to ensure clear uptake. If a flower completely wilts or becomes moldy, remove it from the bouquet. Display your bouquet out of direct hot sunlight and away from the fruit basket. Ripening fruit emits ethylene gas, which causes cut flowers to deteriorate faster.
For more information on Mountain Meadow Flowers, visit www.mountainmeadowflowers.com