Are you looking to stretch this year's holiday budget while still giving top quality presents that will delight your recipients? Scroll below for a handful of shopping tips from the elves at White Flower Farm: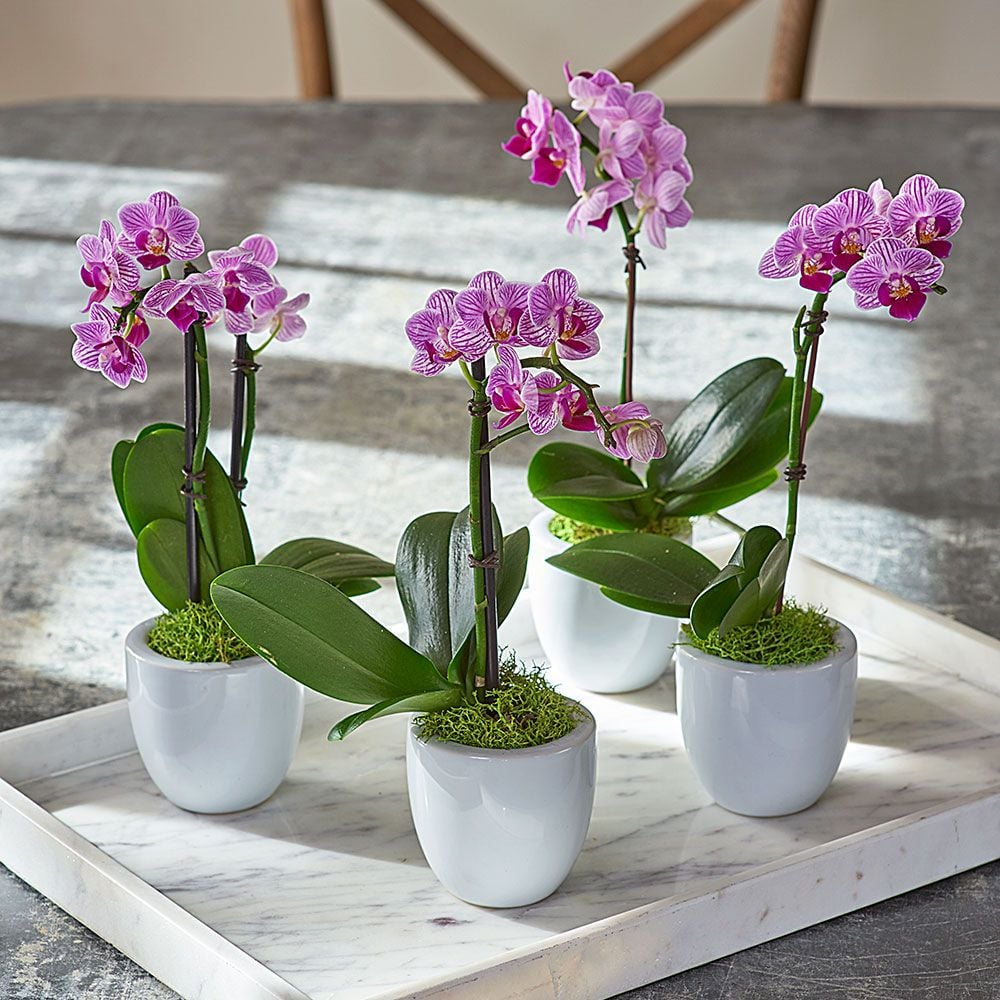 Mini Flowering Plants
Our mini flowering houseplants, which come in sets of four (starting at $65), can be divvied up to make four individual gifts. Pictured above are our Mini Orchids in white ceramic cachepots. For more mini plant options, we offer Mini Red Cyclamen in ceramic cachepots and Mini White Cyclamen in glass cachepots.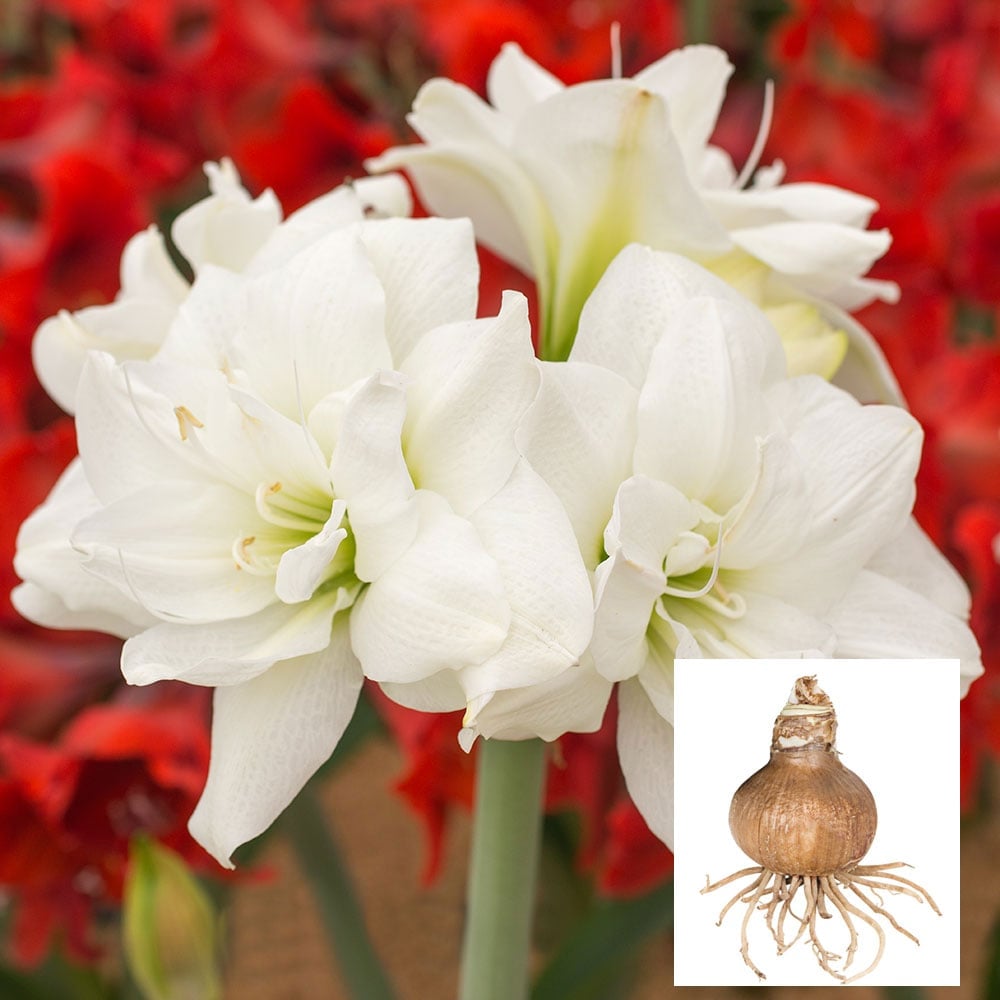 Bareroot Amaryllis Bulbs
Our premium, large grade, bareroot Amaryllis bulbs start at an affordable $23 per bulb. Wrap up a bareroot bulb and give it along with a printout of our potting tips, or go the DIY route, and pot up a few bulbs yourself to give as gifts. We offer many Amaryllis varieties, all available as bareroot bulbs.
Please see our easy guide to potting a bareroot Amaryllis bulb or growing it on pebbles.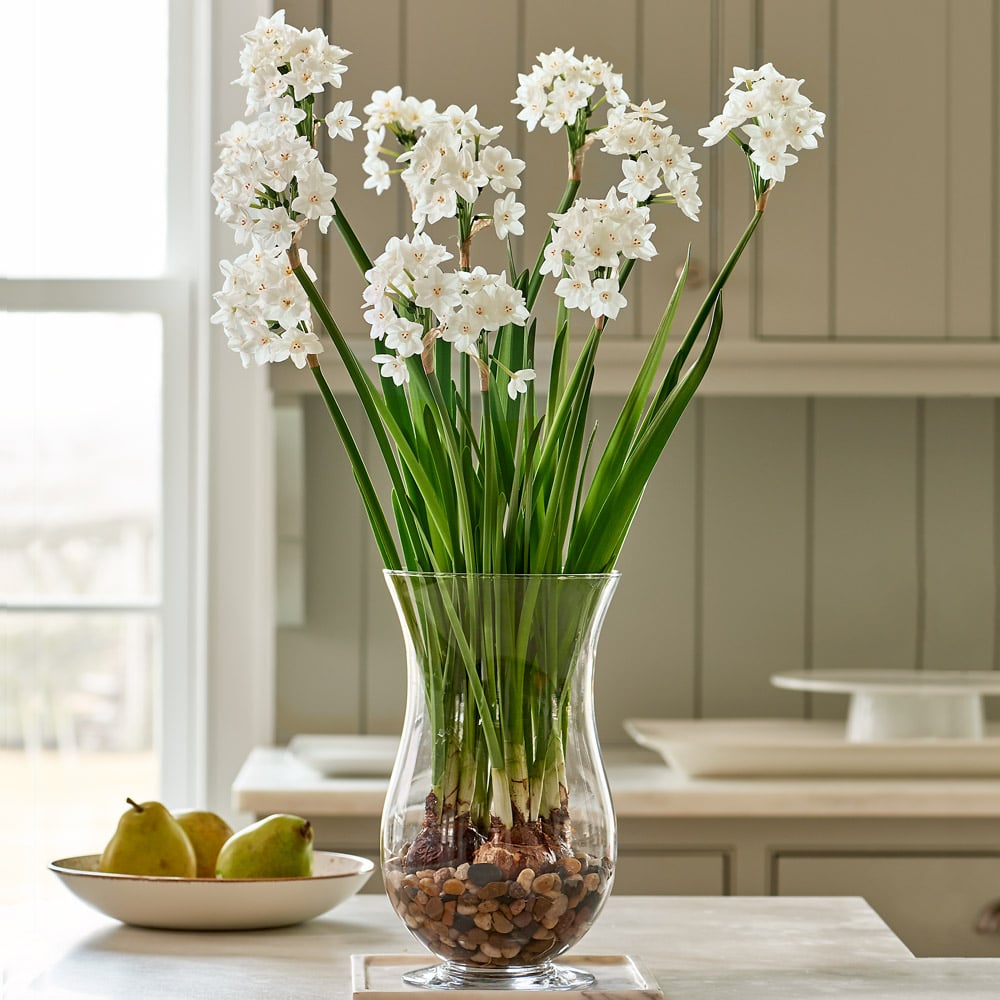 Bareroot Paperwhite Bulbs
Buy any single bag of 12 premium bareroot Paperwhite bulbs (starting at $35). Divvy them up and give the bare bulbs as is or do a little DIY project and set a few bulbs atop pebbles in  a hurricane vase or in several smaller glasses or bowls to multiply the number of gifts. Tie a ribbon around the vessels, and you have several great presents that will flower and bring fragrance to any indoor space (and smiles to the faces of your recipients).
We offer several gift options:
Bareroot Paperwhite 'Ziva' bulbs
Bareroot Paperwhite 'Ariel' bulbs
Bareroot Paperwhite 'Wintersun' bulbs
Tabletop Evergreen Quintet
Our Tabletop Evergreen Quintet ($115) includes five different mini plants along with five canvas boxes. The quintet can be divided up to make five individual gifts, each charming, lasting, and easy-care.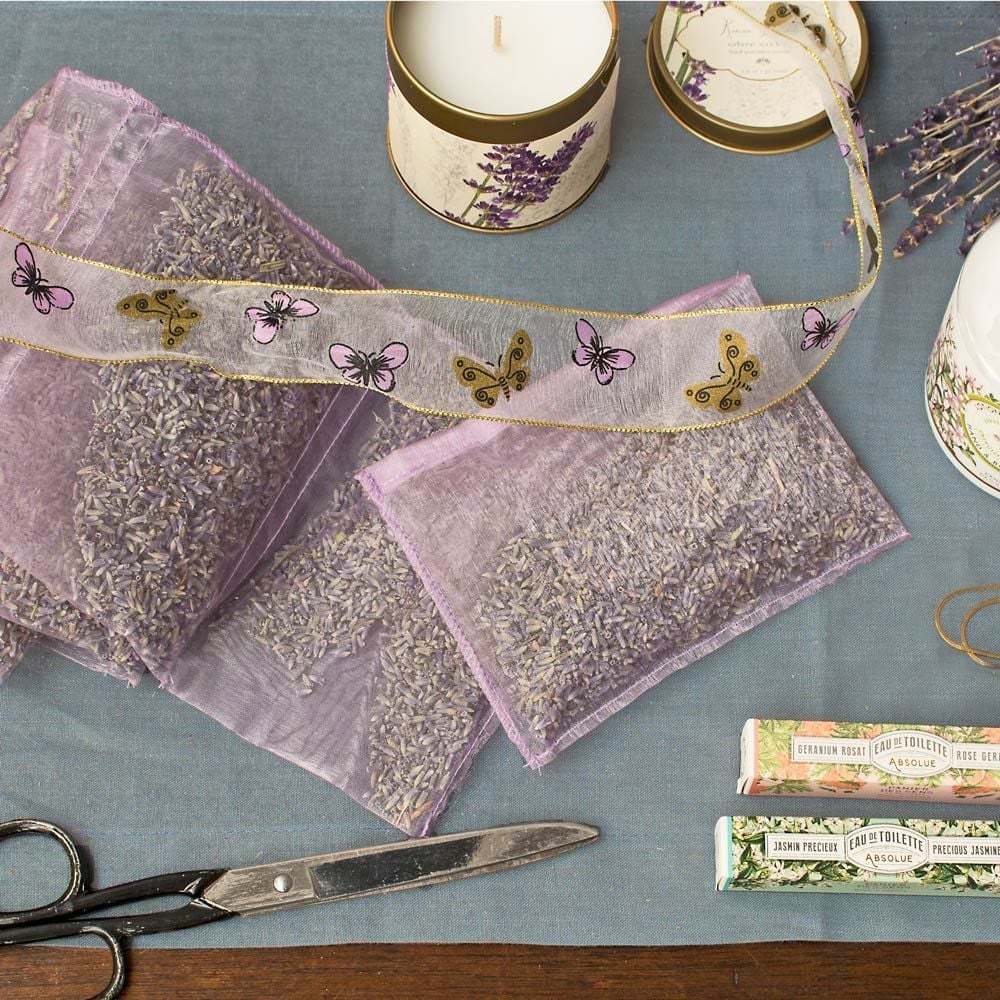 Lavender Sachets by the Yard
Our popular, fragrant Lavender Sachets by the Yard ($32) arrive as a single segmented yard of eight fragrant Lavender sachets stitched inside lilac-colored organza fabric. Simply cut apart the segments to create eight great individual gifts or stocking stuffers.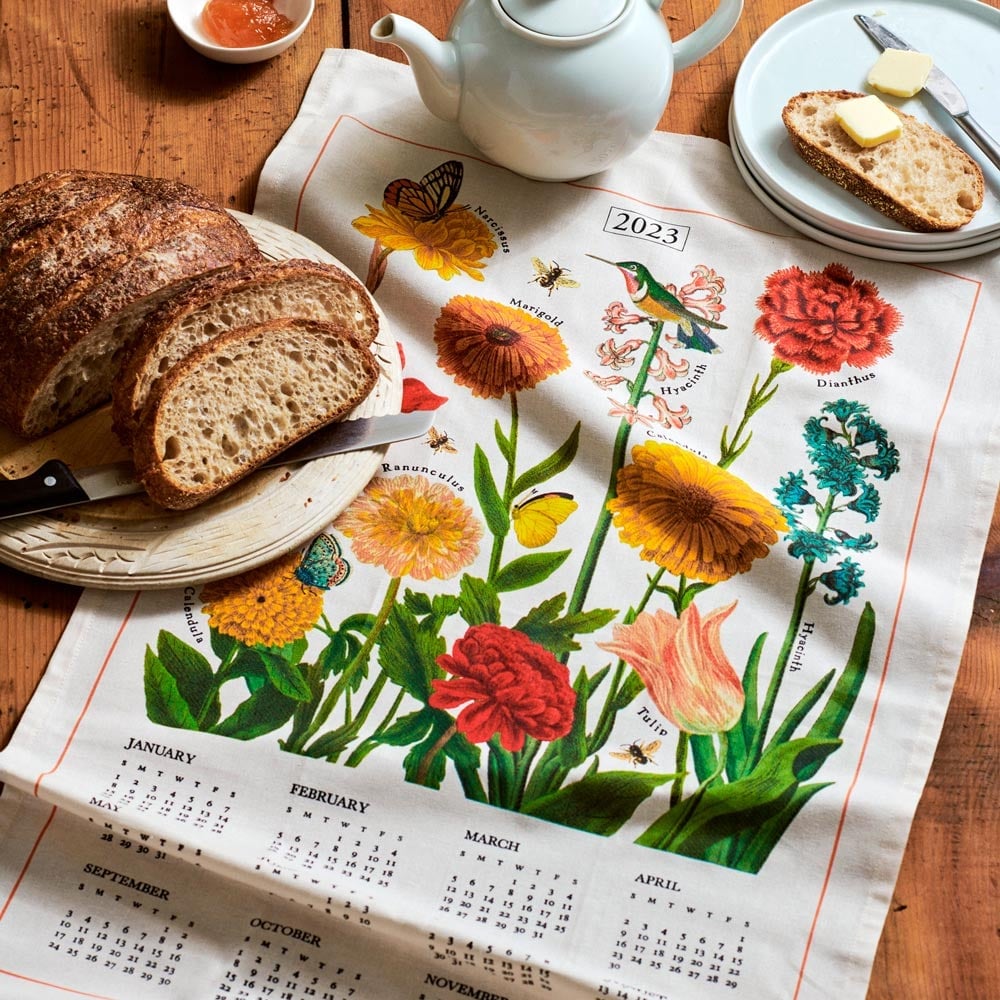 Gifts Priced To Include Standard Shipping
A number of gifts we offer are priced to include standard shipping. From lovely pre-potted bulb gardens to favorite gardening gloves and boots to stylish botanically-themed scarves and our charming new Flower Garden Tea Towel Calendar. All of these gifts make budgeting easier because the shipping charges are already included in the price. See all gifts priced with shipping included.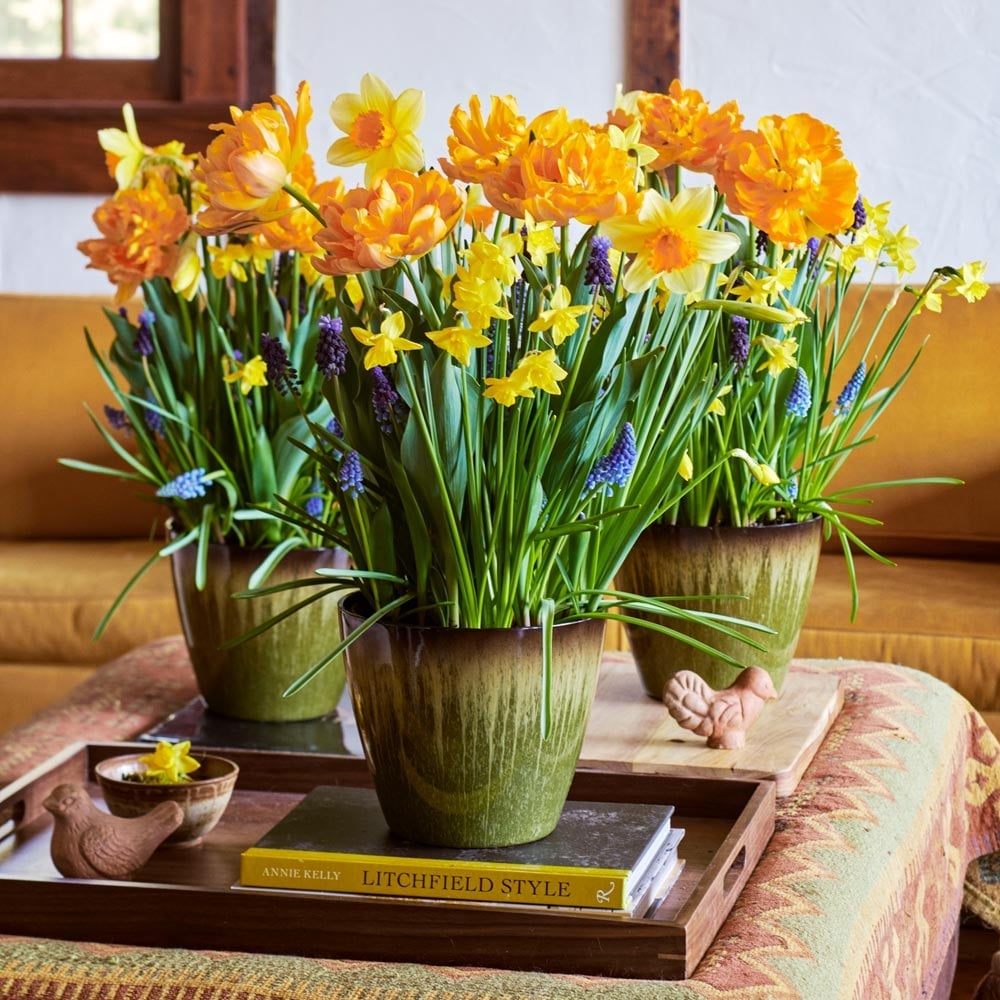 3-Gift Offers That Include Standard Shipping
Our 3-gift offers are among our bestselling items year after year, mainly because they provide a great value. For starters, choose what type of gift you wish to send: Amaryllis (red, white, pink, or bicolor); pre-potted Bulb Collections; or Citrus Samplers. We'll send three gifts of your choosing, one to each of three addresses, at a price that includes standard shipping. For all of our 3-gift offers with shipping included, click here.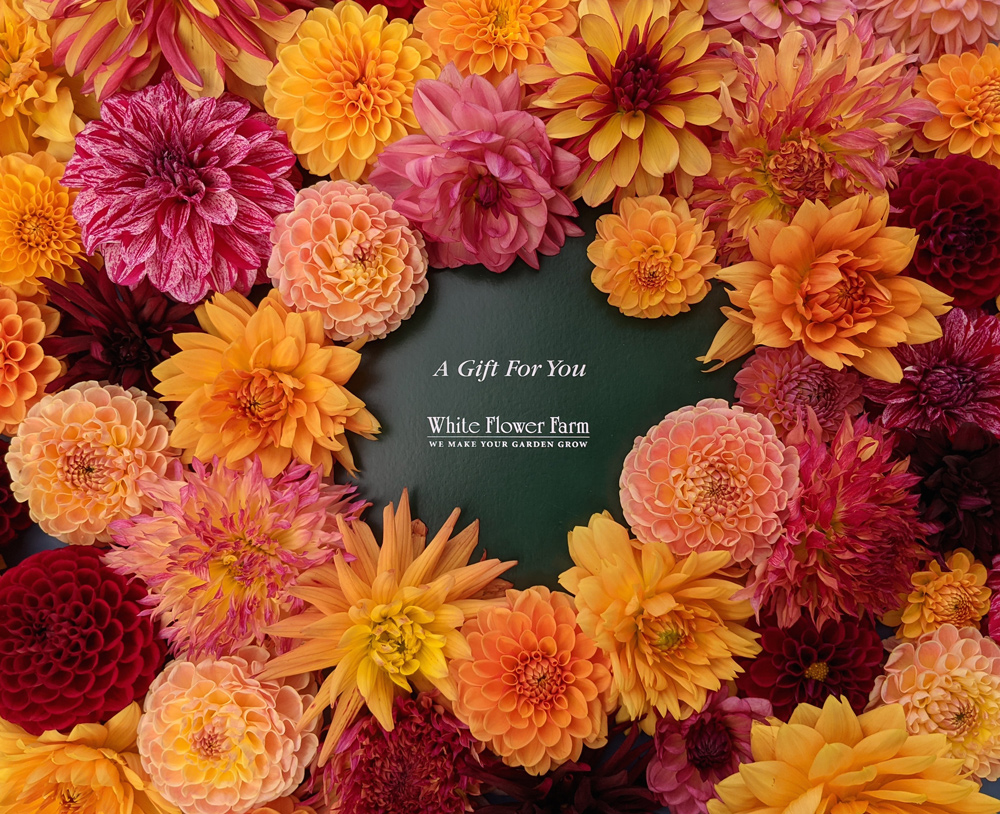 A White Flower Farm Gift Certificate
A White Flower Farm Gift Certificate never expires, and it invites recipients to choose whatever they might like from our wide array of garden plants, indoor plants, tools and gear, fresh-cut flower bouquets, seasonal decorations, botanically inspired home and garden accents, and more. Our gift certificates start at $25. Those valued at $50 or more receive a 10% discount. We send your recipient a gift certificate along with a copy of our latest catalog. Click here to order.
On behalf of the staff at White Flower Farm, we hope your holiday season is merry and bright!