Growing Monarda (Bee Balm)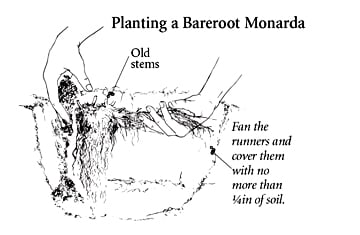 Latin Name Pronunciation: mo-nar'duh
Choose a location in full sun or partial shade with moisture-retentive soil. In dry conditions, Bee Balm is susceptible to powdery mildew.
For potted varieties, plant the crown at soil level. For bareroot varieties, plant with the old stems pointing up. Fan out the runners horizontally and cover them with just ¼" of soil.
Mulch plants in spring and irrigate during summer dry spells. Plants spread rapidly. Divide every year or two in spring to keep them in check.