Our retail store and display gardens are closed for the season. Please check back in late March to see our opening date.
Map of White Flower Farm Display Gardens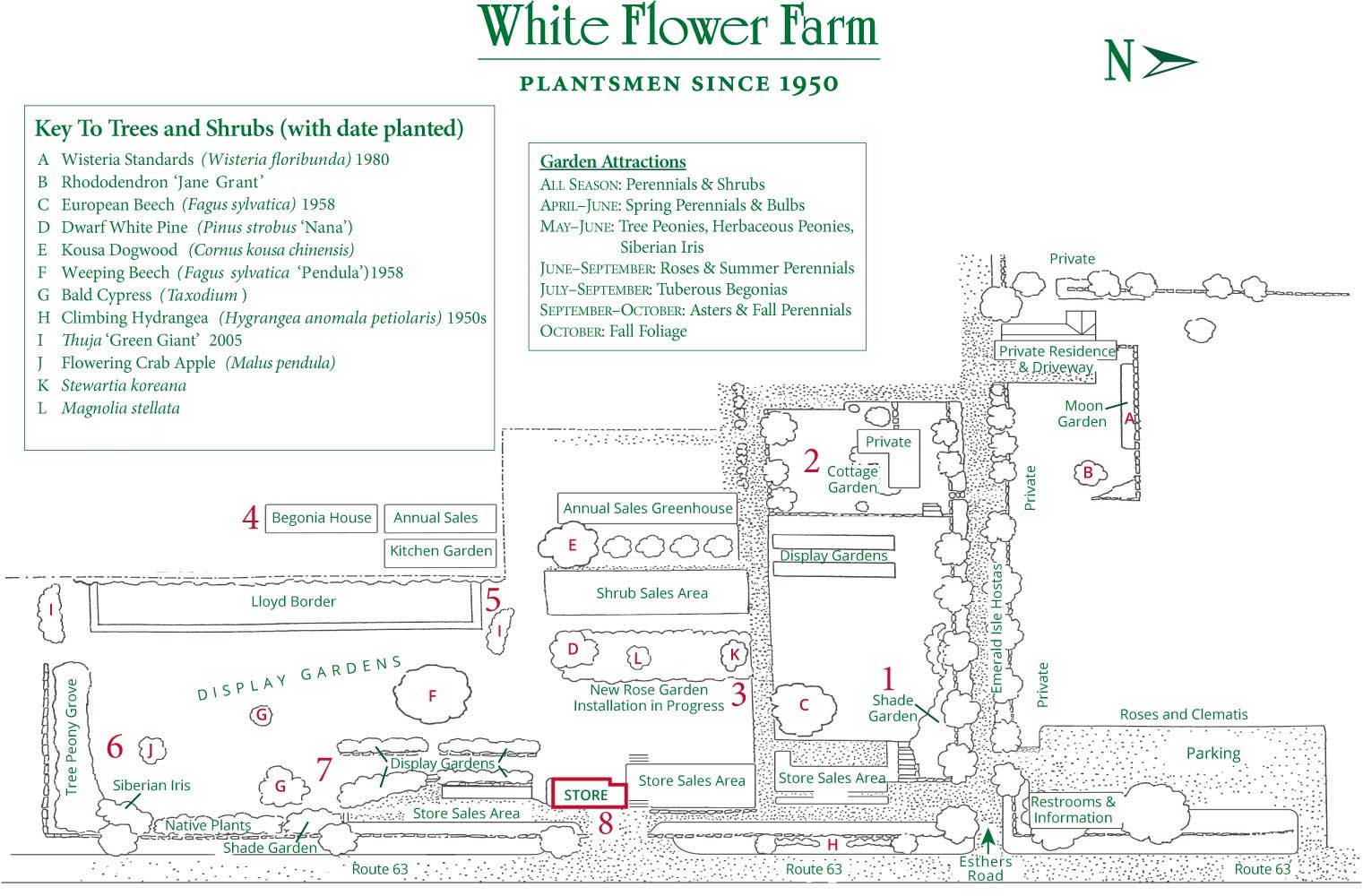 We've created a self-guided walking tour to highlight the grounds and gardens, and give a bit of insight into the history and operation of the nursery. The numbered stops on the map inside begin at the main parking lot and end at the retail store.

The house on the north side of Esther's Road was a barn when William Harris and Jane Grant, two writers from New York City, purchased the 1 1/3-acre lot upon which it sat in the late 1930s. These industrious weekenders wasted no time in renovating the barn into a country residence, then turned their energies to the landscape. Initially, all they wanted was a proper lawn and a small garden to supply cut flowers. But for Harris and Grant, as they preferred to be called, their avocation soon became an obsession and before long they started a nursery of their own. White Flower Farm takes its name from their first perennial border, the all-white garden known as the Moon Garden, which still occupies its original site. A pair of Wisteria floribunda standards there bloom in May.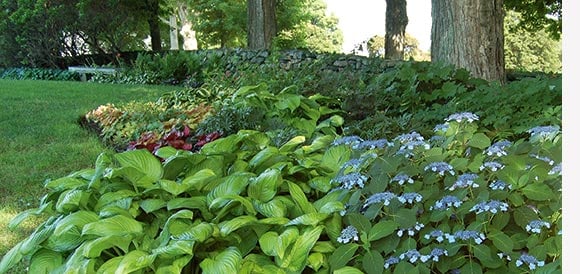 1 Shade Garden -- color and texture from minor spring bulbs, Hydrangea 'Blue Billow,' and shade-loving perennials, such as Hellebores, and colorful annuals. On the way to stop 2 be sure to take in the Hosta planting that lines Esther's Road, it dates back to 1963.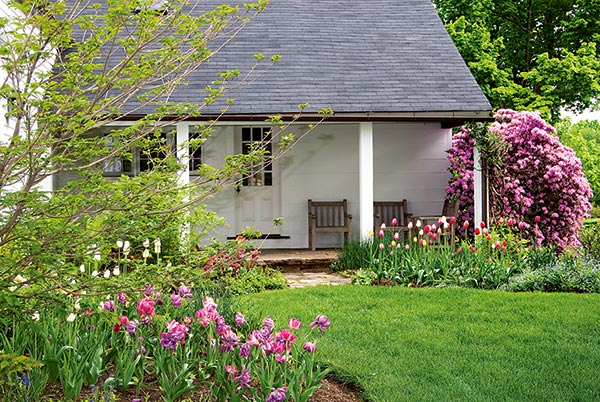 2 Cottage Garden -- set in the crook of a cape-style house that dates to 1756 and is the oldest structure on the property. Most colorful from April through June, with spring bulbs and early-flowering perennials. Of special note are the large Honeysuckle vines that frame the end of the porch and a specimen planting of Kirengeshoma for late color in the shade. Sweet Autumn Clematis covers the stone well head on the west side.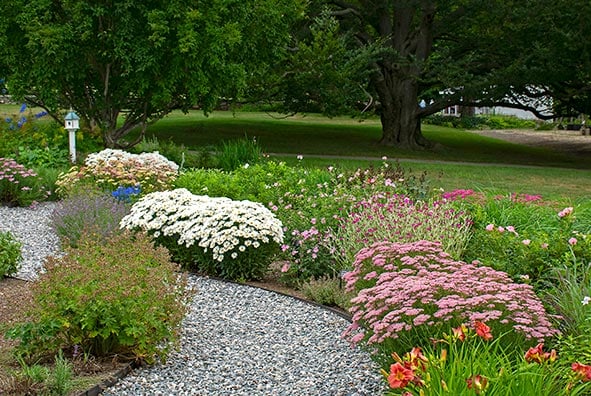 3 European Beech & Rose Garden -- As you leave the Cottage Garden and proceed down the hill in the direction of the Store, you'll pass shady display gardens on the left along Esther's Lane and shrub sales frames to the right. It's hard to miss the stately, spreading European Beech (Fagus sylvatica) in front of you. Longtime White Flower Farm horticulturalist David Smith always enjoyed telling the story of how he planted it. It was 1958, and the Beech was just a 7' tall whip no thicker than his thumb. Proceed a bit further to our lovely Rose Arbor and the bluestone path that leads through the Rose Garden. Turn right onto the path, taking care to note the multicolored bark of the Stewartia pseudocamellia tree planted nearby. Begin your stroll, and enjoy the sights and fragrances of a wide variety of Roses, from tried-and-true classics to new cultivars we are testing. The Roses are planted amid colorful drifts of various perennials that are among their preferred companions. At the end of the Rose Garden, you'll see a mature Pinus strobus 'Nana' (Eastern White Pine) on your way to the next stop.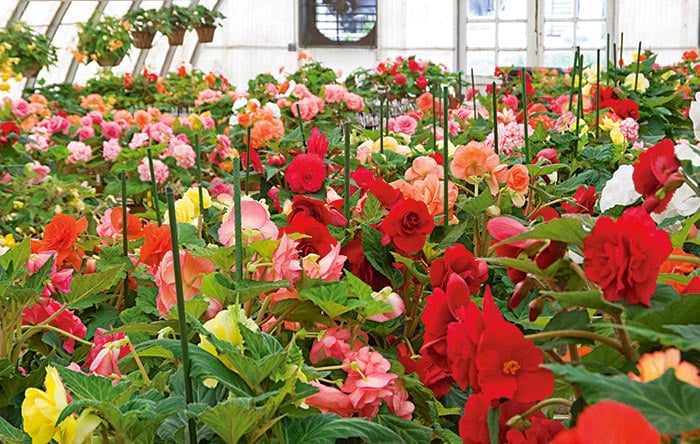 4 CLOSED THIS YEAR Begonia House -- This hoop greenhouse holds our collection of sumptuous Blackmore & Langdon Tuberous Begonias, the product of over 100 years of selective breeding. We are the sole American importer of these beauties from Great Britain. Peak bloom runs from July to September.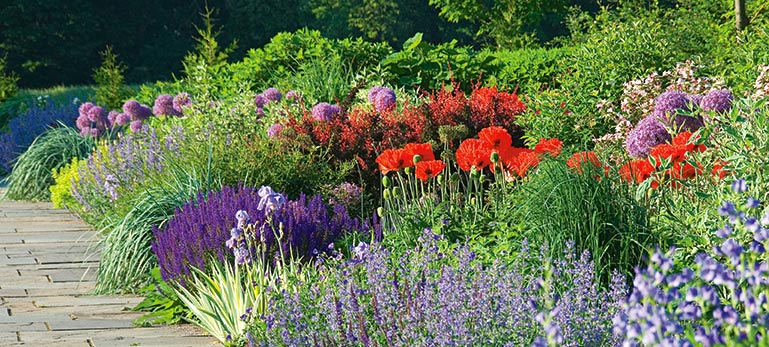 5 Lloyd Border -- Walk south to the Lloyd Border, named for the late Christopher Lloyd, superb English plantsman and garden writer. The border was designed by Fergus Garrett, head gardener at Great Dixter (Mr. Lloyd's estate in southeast England), and planting began in the fall of 2001. It is 280 feet long by 20 feet deep and contains more than 3,000 individual bulbs, perennials, shrubs, trees, and annuals from roughly 200 genera. A slate walkway frames the front of the border and a hedge of European Beech (Fagus sylvatica) forms the backdrop. Notice how blocks of plants are repeated for a sense of cohesion, large shrubs are moved forward for an element of surprise and colors echo each other from plant to plant. You can utilize these simple tips in your own home garden.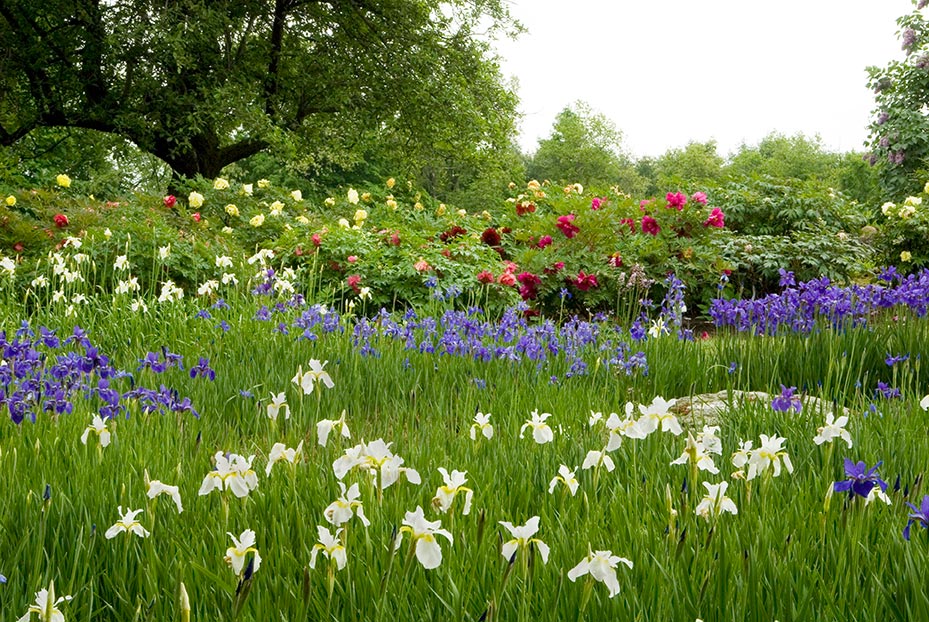 6 Tree Peony Grove with Wings Over Water Siberian Iris -- Tree Peonies have been treasured in China for at least 1,500 years--mature shrubs may carry 50 blooms measuring 8-10in across. They are worth a visit during their peak in late May and early June. The entrance to this "secret garden" is framed by a grove of old time Lilacs. The Tree Peonies are underplanted with an assortment of ephemeral spring woodland perennials such as Phlox divaricata, Bergenia, Brunnera, and Pulmonaria, among others. As you continue along the path and stone wall that parallel Route 63, you will pass our collection of Siberian Iris called Wings Over Water. These rugged and reliable plants bloom in June. Next will be a sampling of native plants to illustrate their benefit as water-wise plantings and hosts to an assortment of pollinators.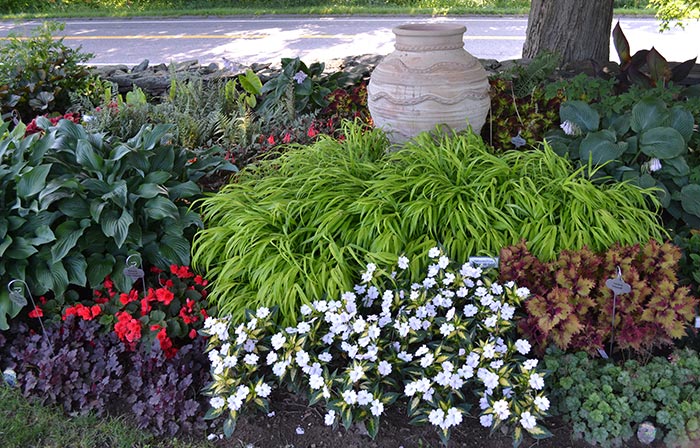 7 Shade Border -- Changing combinations of bulbs, perennials, and annuals appear here each year, and you're sure to come away with new ideas for your own garden. Be sure to make a date to view our tulips in spring and a dramatic planting of dinner plate and the newest in Dahlias in summer.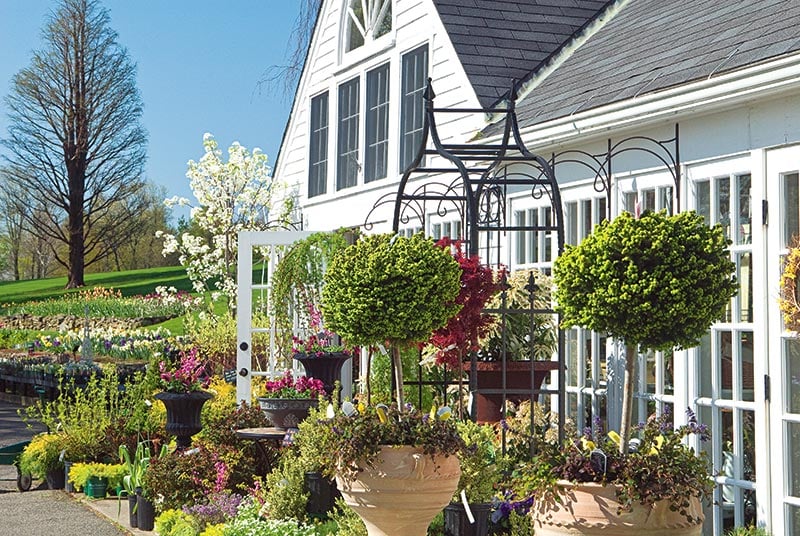 8 The Store -- Our Store offers most of the plants listed in the catalog, plus many more that space doesn't allow us to show in print, but exact duplication is not possible. You'll find hand-crafted tools, garden accessories, trellises, and gift plants for purchase. Roses galore, over 30 varieties of Clematis, collector shade plants, native plants for pollinators as well as a wide assortment of hard to find shrubs and classic garden workhorses await your discovery. Should you need assistance, just ask. We're glad to help in any way we can.