Tom Bodnar has been with us since 2008 as the Retail Manager after 15 years of prior experience in the nursery business. Tom takes great pride in bringing the best in plant quality and variety to our customers. His enthusiasm extends to both the experienced gardener looking for a specific plant and to the new gardener just getting started.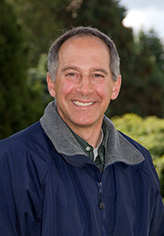 Tom enjoys giving talks, leading tours and photographing here at the farm. He finds pleasure in discussing plant combinations, marveling in the beauty of late summer perennials and surveying the expansive world of ornamental trees and shrubs. Tom is the father of three boys and is an adult mentor with the Boy Scouts of America as well as Scholarship Chairman for the CT Nurserymen's Foundation. His passion for plants is only matched by his passion and knowledge of the UConn Women's Basketball team. Don't hold it against him as he roots for the Boston Red Sox and the New York Giants.
---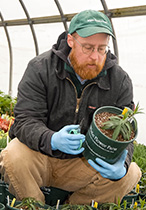 Matt Scace is a jack-of-all-trades and thus a valuable member of our team. He assists the Store Manager in all aspects of the retail operation from setting up the physical retail store to taking on construction projects and moving thousands of plants a year. He is primarily focused on bringing the best plants to our customers, as he is the head grower for the store. He manages four greenhouses full of perennials and annuals all at different stages of growth and readiness. Matt brings a keen eye and sense of detail to his work of scouting for problems and tweaking plants to look their best before they move down to the store. Matt loves to meet customers and assist them with solving landscape projects. He has a very fast wit about him that keeps the whole staff laughing. Outside of the office, Matt is a keen outdoorsman. The next time you're at the store, be sure to search Matt out.
---
Carole Gisiger
Carole is entering her sixth season with us here at White Flower Farm Store. She utilizes her background in customer service management to bring a bright, cheerful and professional attitude to her duties as our Lead Sales Associate. Carole has an inquisitive mind, a contagious laugh and strong aptitude for solving problems. In her spare time she enjoys spending time with her grandchildren, sports cars and traveling. Next time you're here at the farm be sure to ask for Carole with an "E" just like the legendary Carole Lombard – you'll find a wealth of knowledge delivered with a hearty sense of humor!
---
Jiyl Munson
Jiyl has been a valuable asset at The Store since 2009. She brings a calming nature to the hustle and bustle that goes on behind the sales counter during a busy spring season. Jiyl hails from the Green Mountain state of Vermont and has a background as a medical technician. In fact she still practices her tradecraft in the cardiology department of a local hospital. Her home gardens are overflowing with a menagerie of plants perfect for a cottage garden vignette. We often wonder how she has room for so many plants, but the beautiful results speak for themselves. Be sure to say hello to her this spring and better yet, pay us a visit during the summer months to treasure one of Jiyl's supreme cut flower arrangements. They, as well as she, are gems!
---
Catherine Montalbano
If you have visited us from late April to July 4th then you've seen Catherine busily managing our greenhouse full of colorful annuals and hanging baskets. Catherine is a Garden Advisor with plenty of gardening experience garnered from her lovely property in Woodbury, CT. She brings a photographer's sharp eye to design and color combinations for annual containers and perennial beds. In fact photography is her other passion as she captures wonderful photographs of children, couples and landscapes with her talented eye for beauty. She has been with White Flower Farm since 2010, enjoys a good meal with friends and family as well as traveling with her husband. If in doubt as to who she is, just look for the employee who is bundled up against the cold – that's Catherine-hat, scarf and three layers to keep warm! Trust her to warm up your experience shopping at our farm.
---
Ellie Jenkins
Ellie is the newbie in our cadre of garden enthusiasts here at our retail outlet. But don't let her quiet demeanor fool you, Ellie is a tough cookie and a whiz on our computer system. She's a sponge for soaking up plant information, horticultural tips and the makings of a successful garden. In her spare time Ellie likes to snowboard and hangout with her new husband and family. When you visit us, just look for the bright smile behind the counter and say hello to Ellie.