Amaryllis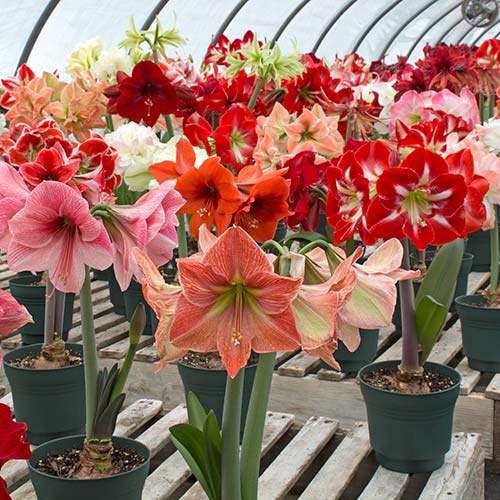 Amaryllis: The White Flower Farm Difference
We'd be pleased to deliver our top-quality, prepotted Amaryllis plants, Amaryllis bulbs and Amaryllis gifts for the holidays. Enjoy their large, dramatic Amaryllis flowers yourself, or keep them on hand as Amaryllis gifts for neighbors and friends. Even non-gardeners will enjoy watching Amaryllis bulbs grow and bloom. As always, every Amaryllis includes complete information for care and has our unconditional guarantee.
Our Amaryllis Trials
To assure that we always offer the best new varieties of Amaryllis flowers, we visit our Dutch bulb hybridizer each year to assess hundreds of Amaryllis he grows from seed. New introductions must then pass muster at our nursery before the Amaryllis flowers and Amaryllis plants can reach the pages of our gift catalogue.
Bulb Size Does Matter
Our Amaryllis bulbs are the top size commercially available (larger than what is generally seen at retail stores). These Amaryllis plants will deliver a sensational winter display, most with two stems bearing four blooms each.
How We Ship
Shipment of Amaryllis begins in mid-November. Most are preplanted in a 7-inch, green nursery pot dressed with Spanish Moss (accompanied by a wicker basket, or in other cachepots, if you prefer). Bareroot bulbs are part of complete Amaryllis flower kits to plant yourself or available individually as pre-potted Amaryllis plants on our Web site. The Amaryllis bulbs require only warm room temperatures, light, and regular watering to deliver a truly spectacular performance of blooms up to 7 inches wide, about 8-10 weeks from receipt.
Amaryllis Planting Tips
Learn more about Amaryllis
Visit White Flower Farm's Online Video Library and watch our head gardener demonstrate simple steps to follow in "How to Pot and Care for Amaryllis" and "Growing Amaryllis in Water." You'll also find detailed cultural information under "Gardening Help." To view beautiful images of Amaryllis and other flowers, visit our Amaryllis Image Library.
Amaryllis - How to plant, grow, and enjoy
GROWING AMARYLLIS: These Amaryllis bulbs are prized for their willingness to produce large and colorful blooms indoors in the dead of winter. In Zones 9 and 10, Amaryllis can also be planted outdoors in full sun and well-drained soil, with the shoulders of the Amaryllis bulbs 1in above the soil. Amaryllis Bulbs planted in the ground generally bloom in late spring or early summer. What follows are instructions for forcing Amaryllis indoors for winter bloom.
POTTING THE AMARYLLIS BULBS: Amaryllis flowers shipped in bags require potting. Amaryllis plants can flourish if you Pot bulbs individually in 6-7in pots or group 3 bulbs together in a 10-12in Amaryllis plant container. Begin by placing a well-drained Amaryllis potting mix in a plastic tub. Slowly add warm water and stir with your hand until the mix is moist but not soggy. Then fill the Amaryllis flower pot about half full with potting mix, set the Amaryllis bulb on top of the mix and fill in around the bulb with additional mix. Adjust the position of the bulb as needed, so that the top third of the Amaryllis bulb is exposed. The final level of the Amaryllis flower mix should be about 1/2in below the rim of the pot to allow for watering. Firm the mix and water lightly to settle it around the bulbs. Then follow the instructions under "Pre-bloom Care" below.
PRE-POTTED AMARYLLIS BULBS: Amaryllis flowers and Amaryllis plants sent already potted need only a thorough watering with lukewarm water to begin growing. Then follow the instructions under "Pre-bloom Care" below. Please note: Prepotted Amaryllis flowers in baskets are shipped with a layer of decorative Spanish moss on top of each Amaryllis pot. With a pair of scissors, snip the rubber band that holds the Spanish moss in place and arrange the moss around the bulb so it looks attractive.
PRE-BLOOM CARE OF AMARYLLIS: Place the pot where the temperature remains above 60°F. The warmer the temperature (70-80°F night and day is ideal), the faster the Amaryllis bulb will sprout and grow. Water only when the top inch of the Amaryllis potting mix is dry to the touch. Watering Amaryllis plants more frequently, particularly just after potting, can cause the Amaryllis bulb to rot. (If the Amaryllis pot is covered with Spanish Moss, lift the moss and pour water directly on the potting mix.) Growth of Amaryllis plants begins in 2-8 weeks. Provide ample sunshine (a south-facing window or a sunroom) as soon as the Amaryllis bulb sprouts. Rotate the pot frequently to prevent the flower stalks from leaning toward the light. The flower stalks may require support to keep from toppling; our Amaryllis stakes are ideally suited to this purpose.